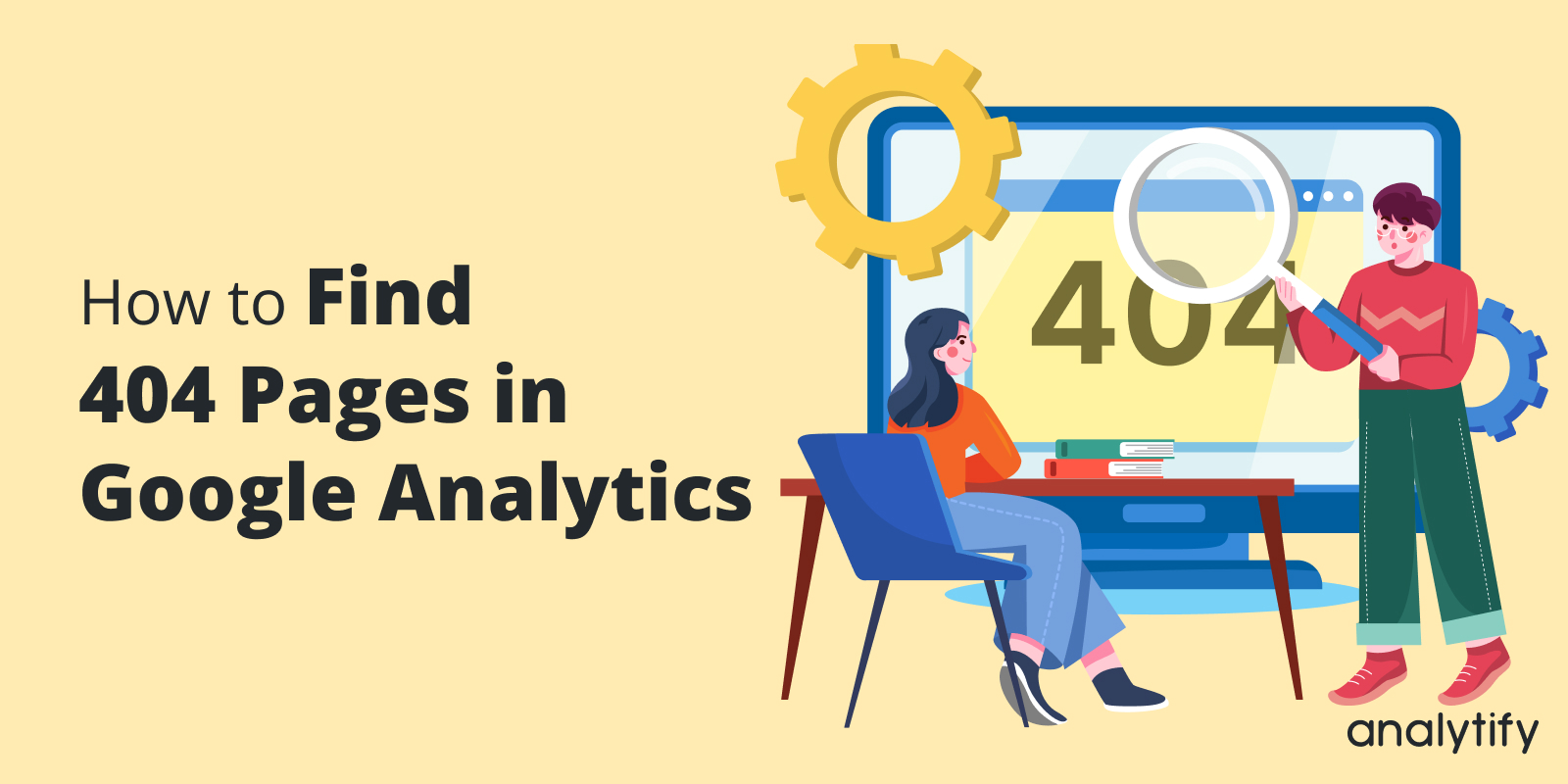 How to Find 404 Pages in Google Analytics
Do you want to find 404 pages in Google Analytics?
Broken links permanently sour up the user experience. As such, you need to find all 404 errors on your website and remove them ASAP. The good thing is that Google Analytics (and Analytify) helps you find these broken links. Once you find them, you have several options to deal with these errors.
In this article, we'll cover the basics of broken links and how you can find 404 pages in Google Analytics. We'll also cover how Analytify makes it really simple to discover the pages with broken links.
Let's go!
Table of Content
What is a 404 Error?
404 Page Not Found is an error code that is triggered when one (or more) of the following conditions occur:
A visitor enters a URL that no longer exists on your website.
A visitor types the wrong website URL (or clicks on a link that is incorrectly linked)
In addition, a 404 error could occur because of server configuration or domain resolution issues.
404 Page Not Found is an error code that is triggered when one (or more) of the following conditions occur:
A visitor enters a URL that no longer exists on your website.
A visitor types the wrong website URL (or clicks on a link that is incorrectly linked)
In addition, a 404 error could occur because of server configuration or domain resolution issues.
The most common reason behind 404 errors is dead or broken links. As your website grows, you add internal links to pages and posts to build content funnels and drive traffic to a specific portion of your website. Over time as campaigns change and pages get removed or renamed, some of the links you built earlier are no longer valid. However, if these links are on the pages and posts that receive website traffic, visitors will see a 404 error when they click on such a link.
Whatever the reason behind the error, these errors can cause visitors to bounce off your website. That's why you must invest in finding 404 pages in Google Analytics.
Why Should You Be Concerned About 404 Errors?
All errors on your website require your attention. However, 404 errors should be fixed on priority because they have a far-reaching impact on user experience and the profitability of your website.
Here are a few reasons why fixing these errors should be your priority:
Poor User Experience
When website visitors encounter a 404 error, the first and most common reaction is to close the tab or hit Return. Unfortunately, this means you lost that visitor, often for good. The worst part is that the visitor might tell their friends and family about the situation, which has a predictable impact on website traffic and reputation.
Negative Impact on SEO
Like human visitors, search engine bots also explore your website by moving from link to link. If these bots encounter too many broken links, they might flag the site as having a poor experience. This reduces your SERP position and could mean a severe reduction in organic traffic coming in from search engines.
Loss of Sales and Revenue
As the poor user experience and lack of traffic pile up, you'd find that you are steadily losing sales and revenue. This happens because of the dwindling number of visitors who land on your product pages and then convert.
As you can imagine, 404 Page Not Found requires immediate attention because, unlike other errors, this category of website errors directly worsens the user experience and impacts revenue. Fortunately, you can find 404 errors in Google Analytics very easily.
But first, here's an easier way of finding these errors.
Analytify Helps You Keep Track of 404 Errors
Analytify is a feature-rich WordPress Google Analytics plugin that simplifies tracking and monitoring website traffic and user behavior. It's straightforward to set up and connect to your Google Analytics account to bring all important information to your WordPress dashboard.
Since it pulls information from your Google Analytics account, you can see a lot of data (including traffic to 404 pages) that helps you make informed decisions.
Let's see how Analytify can help you find traffic to your 404 pages so that you have a clear idea of the traffic landing on your 404 pages. We assume that Analytify is already installed and properly configured on your website.
Go to the Analytify Settings and click the Advanced tab.
Now, scroll to the bottom of the page. You'll find a toggle with the label Page Not Found (404). Please enable it and click Save Changes to finalize the process.
Now go back to the Analytify dashboard, and you'll see information about the 404 error in several cards.
The first instance is the Top Pages By Views card, that shows the top pages that receive website visitors. If you see the website's Page Not Found URL on the list, pay close attention to the number of views. If the number is too high, it's time to investigate the underlying reasons.

404 errors get their dedicated card where you can see the URL of the page(s) and the number of hits each URL received. So, for example, if you see Page Not Found URLs in the top page's card, you should check this card to find more details about the pages.

Add a Custom Report to Find 404 Errors in Google Analytics
Google Analytics offers a simple way of tracking 404 pages via a custom report. You can easily create this report by following these steps:
1) Log into your Google Analytics account and go to Customizations. Click Custom Reports to go to the next screen. Click + New Custom Report to open the report creation form.

2) Give the report a title and move on to the content section.
Here you need to select the following options:
Set the Report Type to Flat Table
Add three dimensions: Page, Page Title, and Previous Page Path
In the Metric field, select Unique Pageviews
3) In the Filters field, add
Previous Page Path (exclude) (exact for (entrance)
Page Title (include) (Regex for 404)
4) Click Save to finalize the report.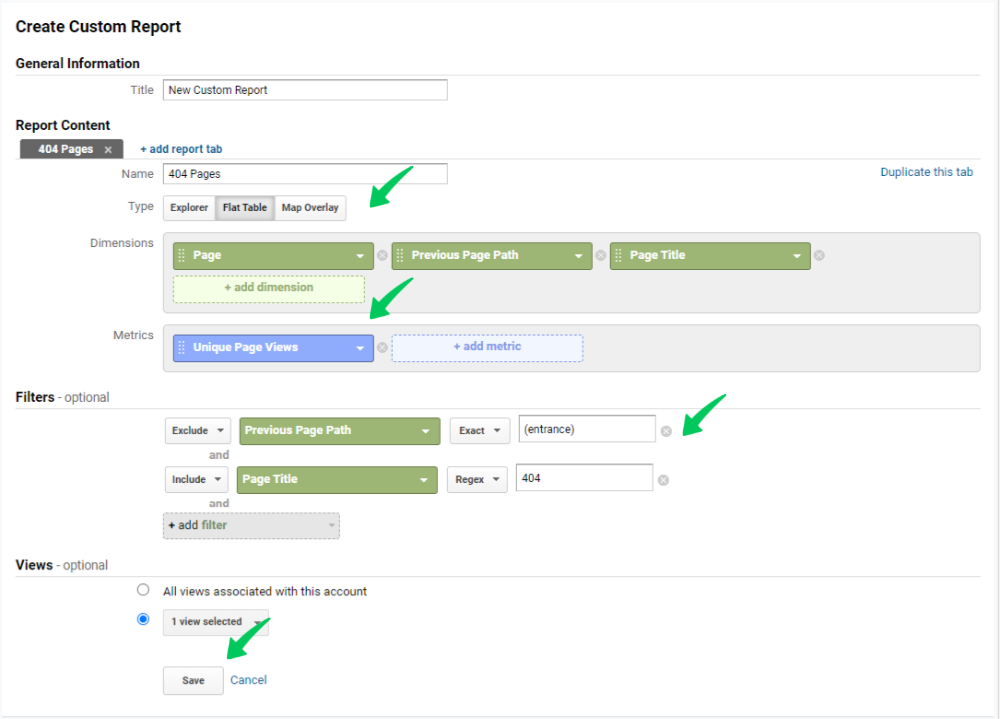 If you want to widen the net, you can add "Page Not Found" and a similar combination in the Regex field.
You'll see the custom 404 report in the Custom Reports tab.
Fixing 404 Errors on Your Website
Now that you know how to find 404 pages in Google Analytics, it's appropriate that we should now discuss some tactics for lowering the impact of broken links and 404 errors.
1. Regular Audit for Broken Links
The best thing you can do to reduce the instances of 404 errors is to keep a regular eye on 404 pages. Analytify and Google Analytics simplify reporting and discovery of these pages.
2. Set Up 301 Redirects
If you cannot remove a broken link, the next best thing you can do is to set up a 301 Redirect. This permanently redirects the link to an existing page or post on your website. When setting up 301 Redirects, remember to match the link's anchor text to the new source.
You can either set up the redirects manually or use an SEO plugin such as Yoast to automate the process.
3. Create a custom 404 page
You need to create a catch-all 404 page that is displayed when the server cannot find the page or post requested by the users. This page should have a search function and a list of links that visitors might find helpful. If it matches your brand voice, make the page funny or exciting to make sure the visitor doesn't close the tab immediately.
Conclusion
We hope you now have a clear idea of how to find 404 pages in Google Analytics. As you saw, Analytify offers a much simpler solution to the challenge of tracking 404 pages on your website. However, remember that you should always monitor 404 errors and redirect or remove the links to improve the website's user experience.
Frequently Asked Questions
Should I worry about 404 errors on my site?
It would help if you were proactive in removing 404 Page Not Found errors because these errors can directly impact the website traffic and revenue.
Can I set up redirections by hand?
You can. However, we recommend doing this through an SEO plugin such as Yoast to minimize the hassle and avoid any issues.
That's all! You can also check outHow to Measure Social Media ROI With Google AnalyticsandAll About Google Analytics Events vs. Goals.
Not using Analytify yet?What are you waiting for?