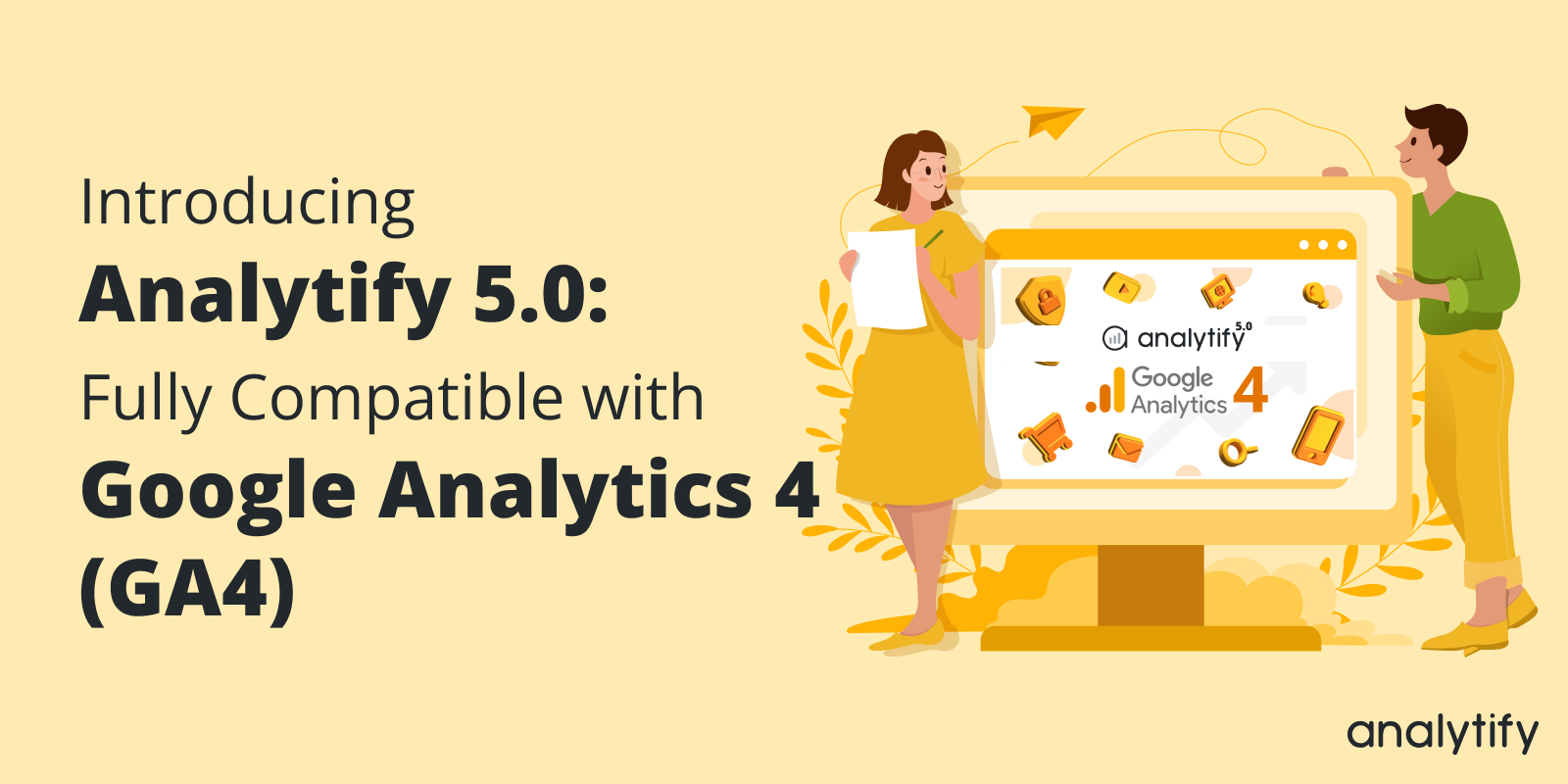 Introducing Analytify 5.0: Fully Compatible with Google Analytics 4 (GA4)
In the past few months, we have been working hard to make sure our users can take full advantage of the new Google Analytics 4 (GA4) version.
Today, we announce that Analytify 5.0 is now available and fully compatible with Google Analytics 4. With the new version of Analytify, you'll get more detailed insights from your Google Analytics 4 data in the WordPress dashboard.
Analytify 5.0 offers a range of powerful features that make tracking and analyzing your website's performance easy, including real-time data, event tracking, advanced segmentation, and more. Additionally, we've improved the user experience of Analytify with a new design that makes it easy to access the insights you need.
In this post, we'll walk you through what Google Analytics 4 is and how you can connect your website with GA4 using Analytify.
Let's get started!
Table of Contents
What is Google Analytics 4 (GA4)?
Google Analytics 4 (GA4) is the latest version of Google's popular web analytics platform. It was released in October 2020 and is designed to help your businesses better understand your customers' behavior across various devices and platforms.
GA4 uses an event-driven data model, which means that instead of tracking pageviews and sessions, it tracks user interactions and events such as clicks, scrolls, and video plays. This new approach provides a complete picture of user behavior and allows businesses to gain insights into how users engage with their website or app.
One of the biggest benefits of GA4 is its integration with Google's advertising platforms. By linking GA4 with Google Ads and other marketing tools, you can get a complete view of your customer journey from ad click to conversion. This can help you optimize your ad campaigns and improve your ROI.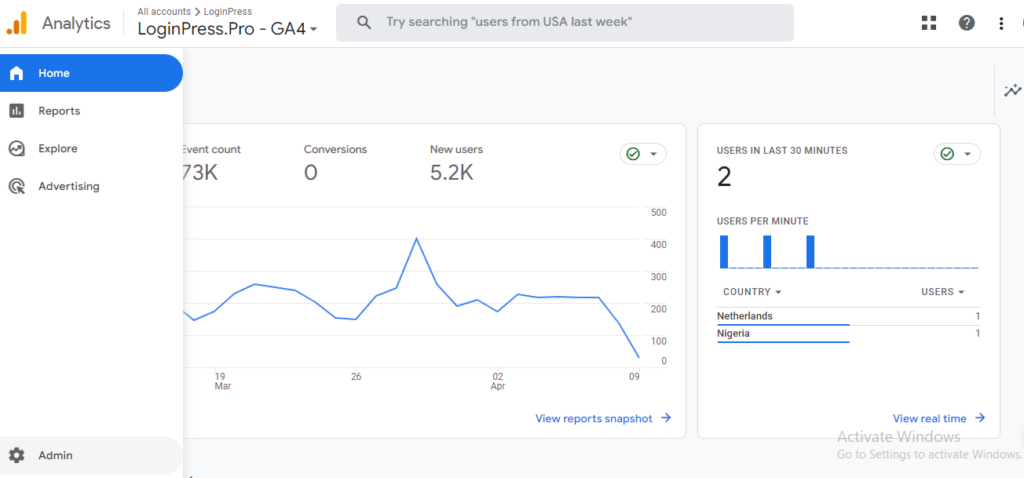 How Analytify Maximizes the Power of GA4 & WordPress
Analytify is a plugin that can help you maximize the power of Google Analytics 4 (GA4) and WordPress.
Here's how Analytify can help you:
Enhanced Tracking with GA4
Analytify is optimized for GA4, which means you can take advantage of all the new features and capabilities of GA4. For example, GA4 can track cross-device and cross-platform behavior, and Analytify can help you visualize this data.
Easy Integration with WordPress
Analytify offers a seamless integration with WordPress, which means you can quickly and easily set up GA4 tracking on your website. No need to fumble around with code or spend hours configuring your GA4 account!
User-Friendly Interface
Analytify's interface is user-friendly and easy to navigate. You can view important metrics like pageviews, sessions, and bounce rates and get detailed insights by drilling into specific reports.
Customizable Dashboards
Analytify offers customizable dashboards, which means you can choose which metrics and reports you want to see at a glance. This can be especially useful if you have specific goals or KPIs that you're trying to track.
E-commerce Tracking
If you're running an online store on your WordPress site, Analytify can help you track your e-commerce performance. You'll be able to see metrics like revenue, conversion rates, and average order value and track specific products and categories.
Real-time Tracking
Analytify offers real-time tracking, which means you can see how your website performs. This can be especially useful for running a time-sensitive promotion or marketing campaign.
How to Connect Google Analytics 4 (GA4) with Analytify 5.0
Setting up Google Analytics 4 with Analytify is a quick and easy process. Here's how to do it:
1. Download or Update Analytify
First thing first, you'll need to make sure you have the latest version of Analytify installed. If not, then you can download it from your WordPress dashboard. If you're using a Pro version of Analytify, you'll need to update it.
Here's the guide on How to install and update the Analytify Pro version.
2. Connect Your Website to GA4 
Next, you need to authenticate your Google Analytics Account with Analytify.
Note: If you have already logged into your Google account, please log out and then log in again to authenticate the GA4 property.
To do this, go to Analytify Settings >> Authentication and click Log in with your Google Analytics Account."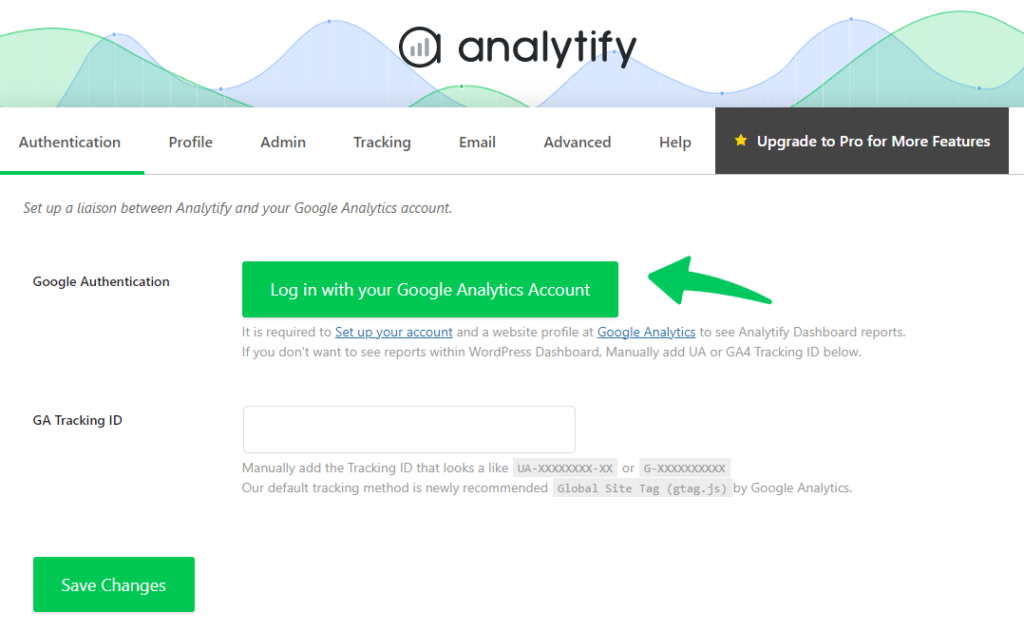 After clicking "Log in with your Google Analytics Account," you will be redirected to the Google Accounts Authentication page; you have to select the Google Account associated with your Google Analytics account.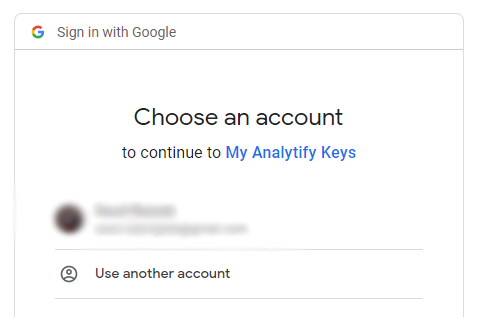 In the next step, you will be asked to Allow the permissions. You have to click on the Continue button.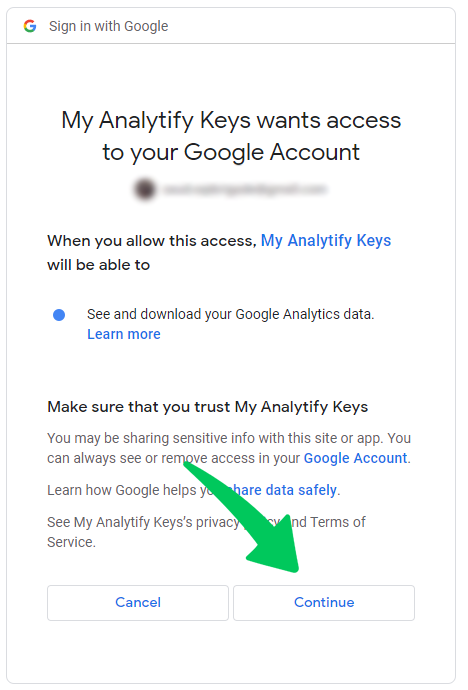 And that's it! Your Google Analytics account is now successfully connected with Analytify.
You will be redirected back to Analytify >> Profiles. You must select "Profiles for posts" and "Profile for the dashboard."
"Profiles for posts" is the profile used for tracking users.
"Profile for dashboard" is the profile used for showing stats on Analytify's Dashboard.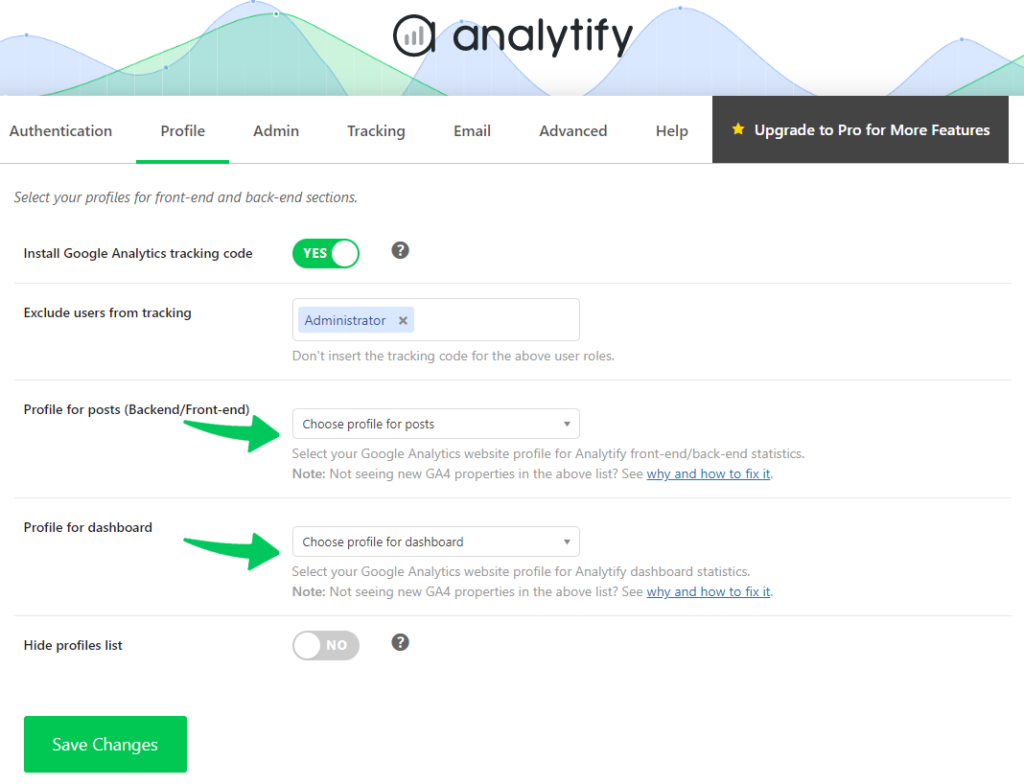 For most people, both these options will be the same. After selection, click "Save Changes."
Important Note: If you cannot see the GA4 property in the profile tab, you will need to navigate to the Settings > Advanced tab and choose the GA4 property from the Google Analytics Version dropdown menu.

And that's it! You have successfully connected Google Analytics 4 with Analytify. Now, you will be able to track and analyze valuable insights about your website's performance.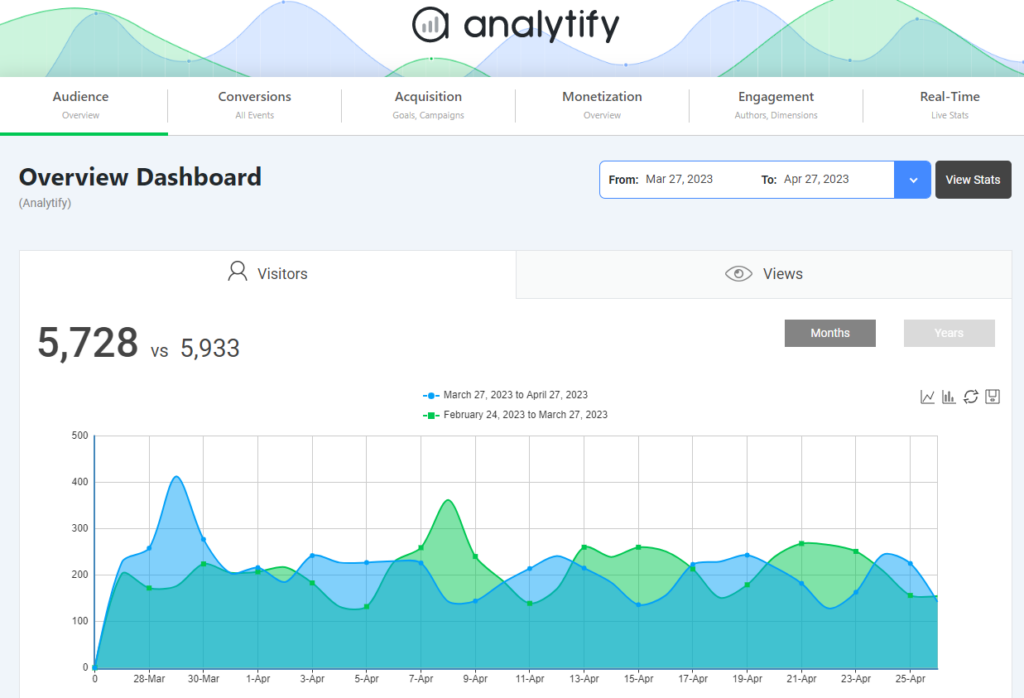 Conclusion
In conclusion, Analytify 5.0 is an excellent tool for businesses looking to maximize the power of Google Analytics 4 and WordPress. With its enhanced tracking capabilities, easy integration, user-friendly interface, customizable dashboards, e-commerce tracking, and real-time tracking, Analytify can help you gain valuable insights into your website's performance.
By following the simple steps outlined above, you can quickly and easily connect Google Analytics 4 with Analytify and start analyzing your website's data.
Try it out today and see how Analytify can help take your website's performance to the next level.
Not using Analytify yet? What are you waiting for?