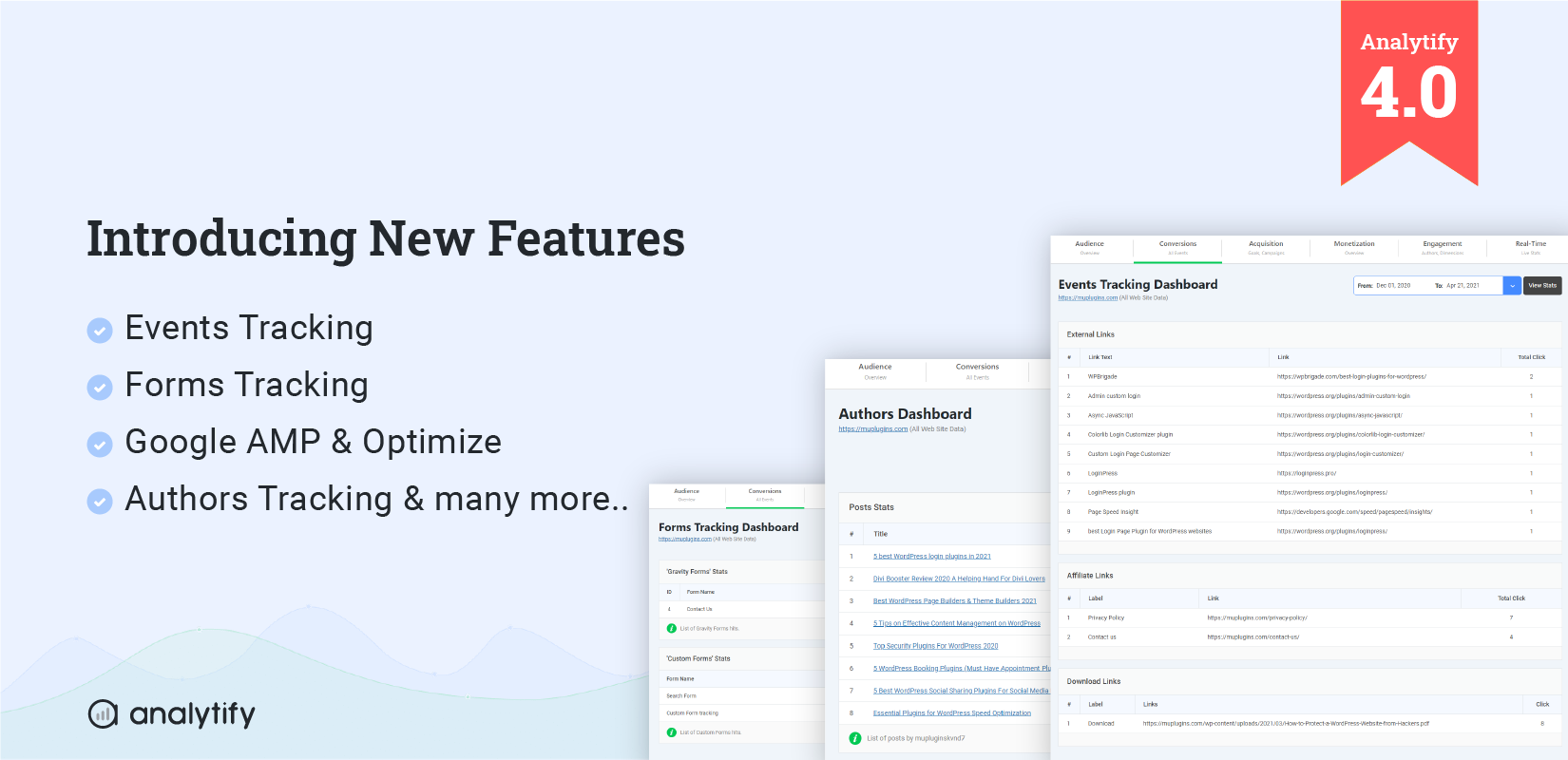 Introducing Analytify 4.0 – New Pricing And More Advanced Features
Today we are pleased to announce an improved version of our plugin i.e. Analytify 4.0.
In this latest version, we have introduced the following key features to help you drive the most out of our tool.
Author Posts Insights
Events Tracking Reports
Dimensions Analytics
Forms Tracking Dashboard
Search Terms Reporting
Google Optimize
Google AMP Pages tracking
While we are working on Google Analytics 4 integration, these are a few major updates we have rolled out in Analytify.
Let's dive in and see how each of the new features can help you achieve your goals.
Author Posts Insights
If you are running a multi-author blog or a website, then keeping note of top performing authors is a must. With our new Author Posts reporting you can easily check performance for each post.
This feature will help you identify which author is driving the most traffic, generating engagement, and even the bounce rate.
Events Tracking Reports
Are you struggling with getting insights on Downloads or Outbound link clicks?
Well with Analytify's Events Tracking Reports your Analytics will have the power to track how many downloads your PDF or a course received in a given time period.
Analytify makes it possible with the custom link attribution feature to make sure the process is easy for beginners.
Dimensions Analytics
With custom dimensions, you can track what matters the most to your business. Using Analytify's Dimension Analytics you can display key performance metrics right in your WordPress dashboard.
The glance view of Dimensions Analytics will let you track high traffic posts, high engagement categories, and much more.
Forms Tracking Dashboard
As a business owner it is quite important to be aware of the conversion and interaction points on your website.
Analytify's Forms Tracking Dashboard will let you keep an eye on the number of views your forms are getting and also the form conversions.
This feature makes it easier for non-technical users to get the most out of their Analytics as you don't need to be a developer or analytics expert to set up this conversion tracking.
Search Terms Reporting
Do you want to listen to what your users are saying?
Well, with the Search Terms Reporting you can find out what search terms or phrases your visitors are using in your site search box. This will enable you to discover new keywords and content ideas you can target for existing and new users.
These are the kind of topics and keywords that are more closely aligned with your target audience.
Google Optimize
Conversion Rate Optimization is an integral part of optimizing the key conversion points of a website. Google Optimize is a native Google Optimization Platform that lets you run A/B tests based on past data. But setting up Google Optimize in your websites would require technical knowledge.
With this feature, you simply need to add your container ID in Analytify Google Optimize and you are all set for AB tests without any coding.
Google AMP Pages Tracking
AMP allows your website to be highly responsive for mobile devices. With AMP in place, your pages will follow and /amp/ string in the URL. And these Accelerated Mobile Pages require a different Analytics tag.
Our new feature will place this tag with a few clicks and will help you track performance from these pages right in your WordPress dashboard.
These are a set of new updates that we have been working on in the past few months to ensure our users get the best.
So what are you waiting for? Click here to get started with the improved Analytify today!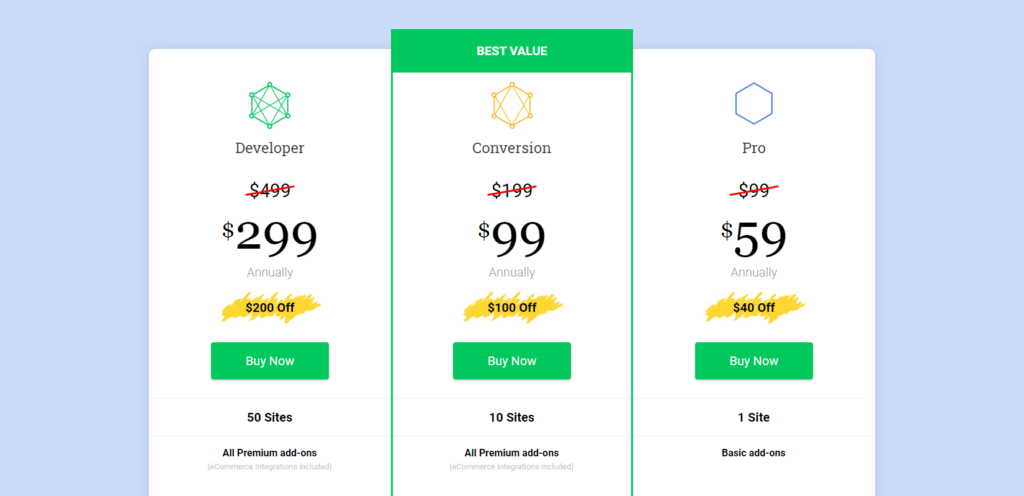 We simplified pricing in 3 easy plans and discarded our old pricing which had bundles with different add-on combinations.
We are always eager to listen to customer feedback in making Analytify the best Google Analytics WordPress plugin.
If you have any feedback please let us know through the comments below or contact us, until then hang on to our future updates.