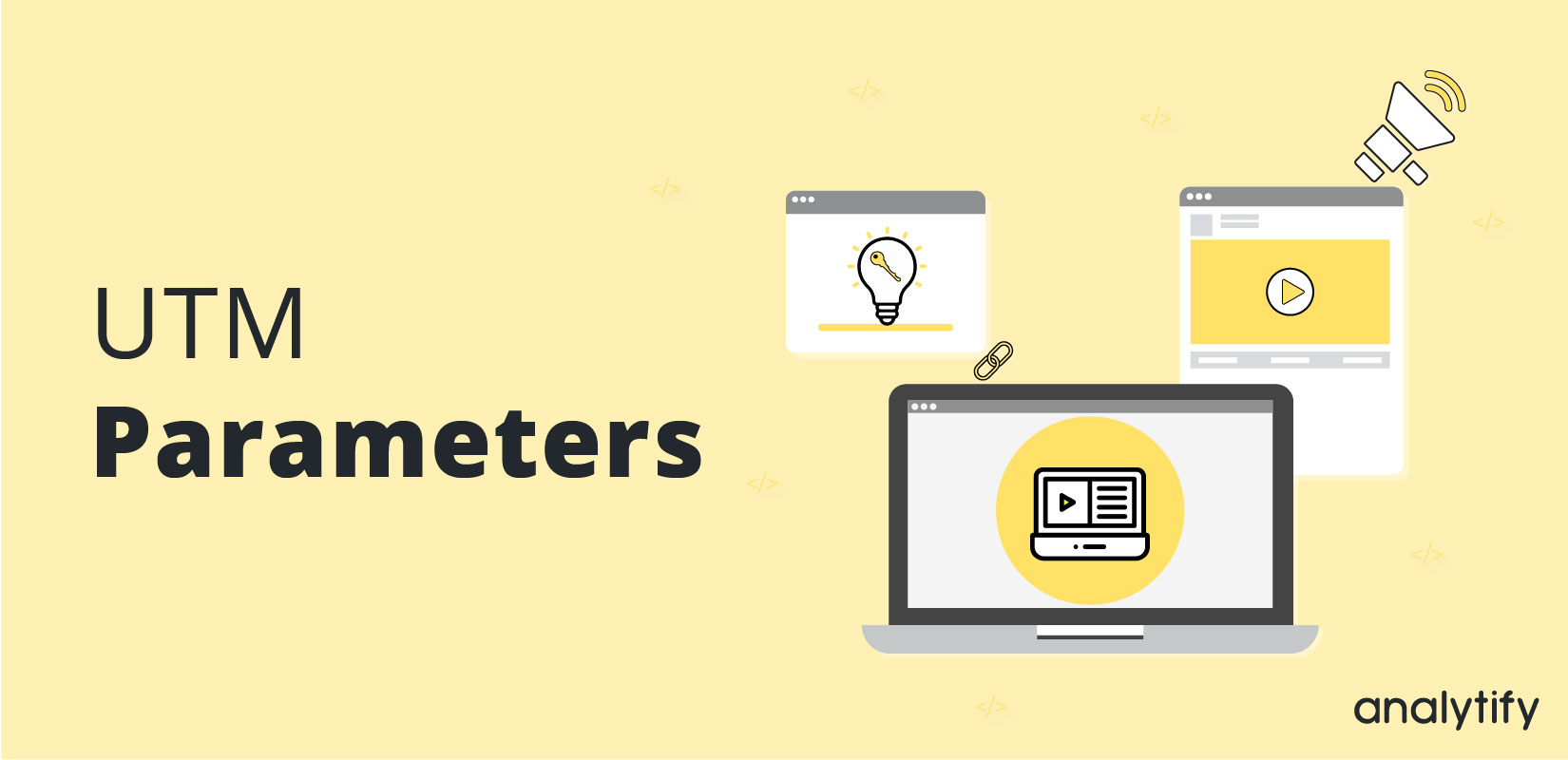 Beginners Guide to UTM Parameters
Would you like to know which marketing campaigns drive the most traffic on your Website? or you want to know how well your email newsletters are doing?
This is where UTM parameters will help you to analyze your marketing campaigns. UTM parameters will help you to track multiple campaigns that you are running and provide you data you will need for campaign optimization.
In this article, we will discuss the UTM parameters and how you can use these parameters to improve your marketing strategies and boost your conversions.
Table of Content
What are UTM Parameters
Urchin Traffic Monitor (UTM) Parameters or Tags are small pieces of code that you have to add at the end of your product or website URL for the tracking of different campaigns.
With code or parameters, you can easily track and see how effective your marketing campaigns are and how the visitors or audience is interacting with your website through these marketing campaigns.
A normal URL of website looks like
URL: https://abc.com
But if you add UTM tags or parameters in your URL, it will look like this
UTM Tags URL: http://abc.com/?utm_source=newsletter&utm_medium=email&utm_campaign=newyearsale2020
Now, you know that what are UTM tracking parameters, let's learn about these tracking parameters and how they work in marketing campaigns.
How UTM Parameters Work?
Campaigns URLs contain UTM codes or parameters that works like any other clickable links. But when a user or visitor clicks on the UTM link, Google Analytics uses these UTM parameters or tags to differentiate each URL from the rest of the URLs.
Google Analytics uses the UTM parameters to store or record information like the number of visitors, clicks, keywords, traffic sources, and more.
There are 5 tags in UTM URLs.
UTM Parameters List
1) Source(utm_source)
This parameter will show you the traffic sources, which means that from where your website visitors come like Facebook, Twitter, Google, or Email newsletter.
2) Medium(utm_medium)
This parameter identify the medium of your traffic for example Email.
3) Campaign(utm_campaign)
You can add the campaign name or any keyword related to your promotion campaign in your UTM URL with this Parameter to track the campaigns according to their name like summer sale, new year sale or Christmas sale, etc…
4) Term(utm_term)
If you running a PPC campaign for your promotion, then this tag or parameter helps you to identify the paid keywords for your PPC campaign.
5) Content(utm_content)
This tag or parameter will help you to know or see which element, like CTA or banner, the user or visitor clicked, and you can easily optimize your ad or campaign.
Why We Use UTM Parameters?
1) Measure Social Media ROI
UTM parameters or tags will help you to analyze the social media efforts that you have put in your social media marketing by adding the UTM tags or parameters into your social media links.
So, you can see which campaigns are more effective for the generation of conversions and traffic.
Based on the analytics of your campaigns by using the UTM parameters in your campaigns links you can easily measure the return on investment (ROI) of your social media marketing activities.
For example, you are running a giveaway campaign and want to see which social media marketing platform best for your products social media marketing. You can add UTM tags to your URLs for each social media marketing channel and then you can see which Social Media platform is best for your campaigns to generate leads and traffic.
2) Track Email Newsletter Performance
Would you like to know which newsletter campaign is generating more leads and visitors for your website? So, you can add UTM parameters in your links that you will use in your Email Newsletter campaign.
You can append UTM tags or parameters to your URLs in Newsletter and get analytics about the performance of your email campaigns.
UTM tags also helps you to identify which emails are not performing well. So, you can avoid those email templates or designs in future.
3) Find the right place for ad banner
If you are going to run multiple campaigns, then its very important to know where to place the ads. UTM tags or parameters will help you to find out which websites are good for your ad placement and which area of the website is good for the ad banners placement.
For example, you have placed two banner ads for the same product. One ad is placed in the sidebar and another ad is placed on the footer of the website.
Analytics data from your UTM tagged URL shows that your sidebar banner ad is performing well and generate more traffic instead of a footer banner ad. This data will help you in the future where you need to put your banner ad for future campaigns.
4) Track the Effectiveness of CTAs
You can easily track the effectiveness of CTAs (Call to Action) means you can find out which type of call to action is generating the traffic.
By adding the UTM parameters or tags to different CTAs, you can easily analyze and learn about the CTAs text to use, the color selection, design and size of button or CTA, and its placement. Then you can use this analytics data for optimizing and boosting the conversion through CTA.
5) Conduct A/B Testing
If you are going to conduct A/B testing on your website, then UTM parameters or tags will help you to differentiate links pointing to the same products or webpage.
The Content tag or parameter (utm_content) is specifically used for the A/B testing of the website. By using this parameter you can tell your Analytics tool where the link is placed, like logo, within the text, or any image.
How do you Create UTM links/Parameters in Google Analytics?
There are two methods of creating UTM links/Parameters for Google Analytics.
First, you can create them manually and the second method is you can create UTM links/Parameters by using the tools.
In the manual method, UTM code becomes very lengthy and there is a chance that you will make a mistake during the creation of the UTM link, as a result, you can't get the analytics of your campaign.
So, there is a simple and automated way to create a UTM link by using the Analytify UTM link builder.
Analytify is one of the amazing Google Analytics WordPress Plugin and lets you create UTM links in an instant.
Let's say you are going to run a Black Friday campaign. Simply, you need to enter the details in the Analytify UTM link builder.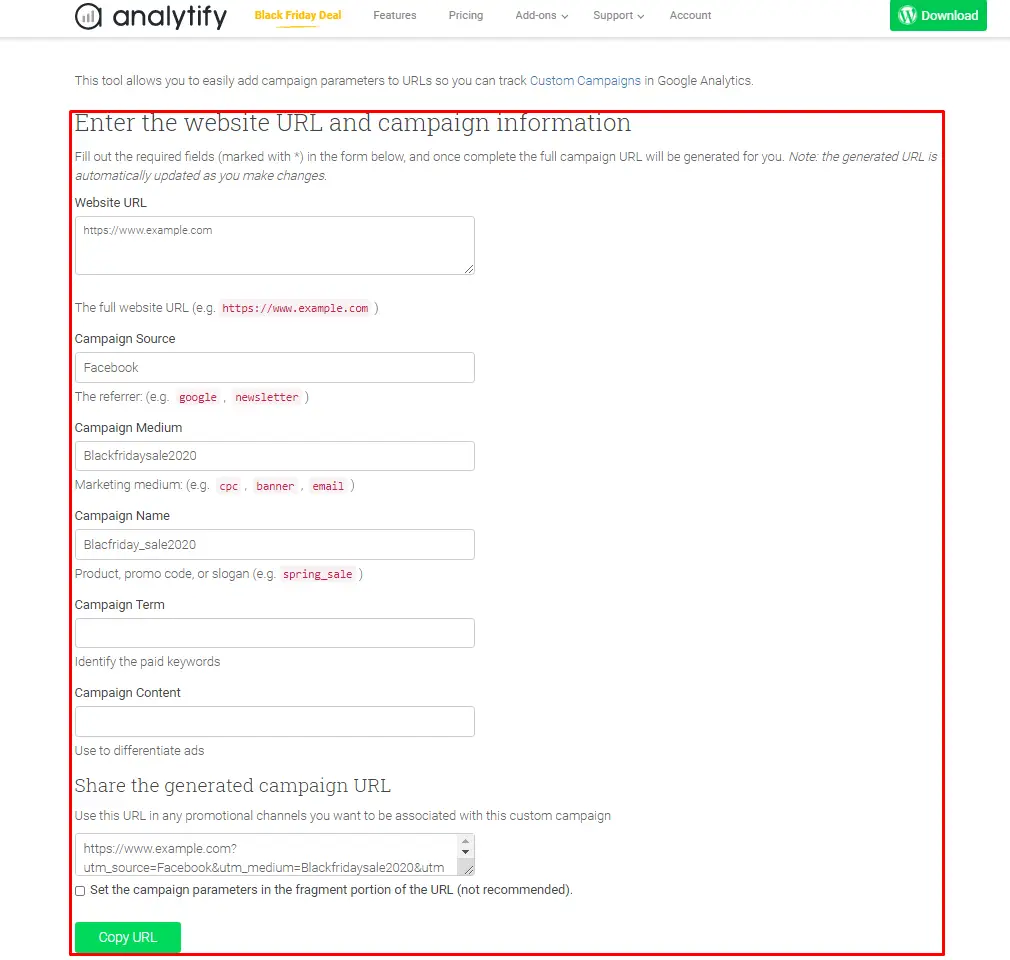 After providing the details in the UTM link builder you will get a link in the "Share the generated campaign URL" field. Simply, you need to click on the Copy URL button and copy the URL and you can use this on Facebook for tracking.
How you can track UTM Campaigns or links in Google Analytics?
You can view the report of your campaigns in Google Analytics. Simply you have to navigate the Acquisition option in Google Analytics and click on the Campaigns then click on the All Campaigns. Now you can see the performance of all your campaigns in Google Analytics.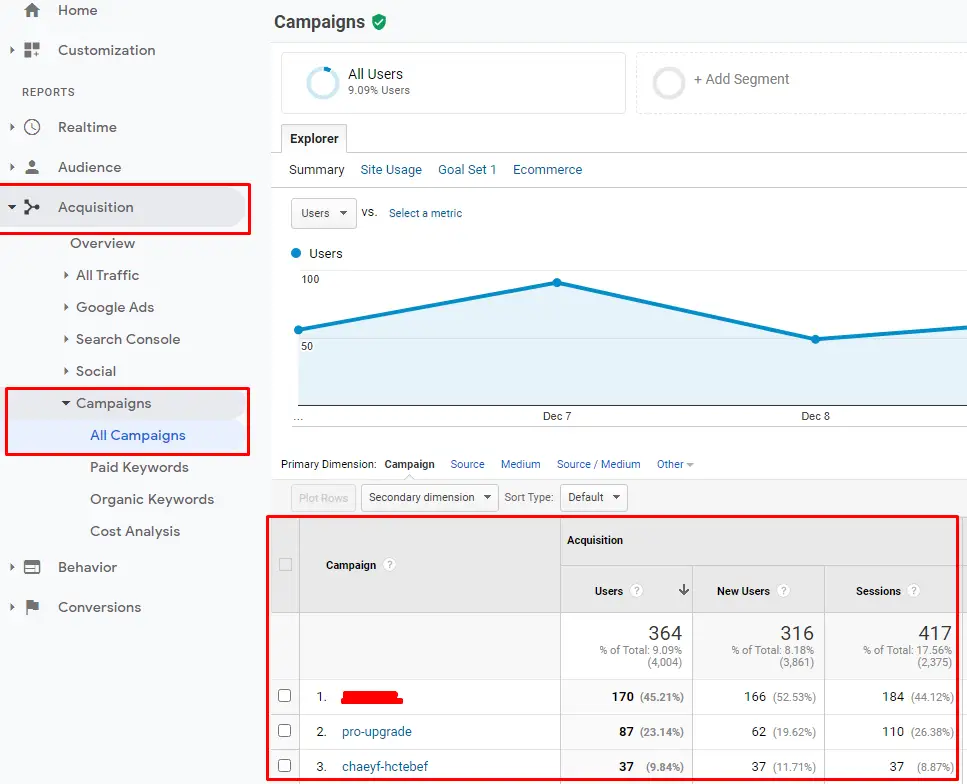 Conclusion
Once you know that how to create and use these UTM links in your campaigns, the amount of information you will get from your campaigns in Google Analytics is going to be very useful for you to run campaigns in the future, which means that UTM campaigns will help you to know that which platform is beneficial for you and form which platform you can easily generate lead and convert them in potential customers.
"So, what are you waiting for, go and launch your Campaigns and let us know how it goes."
Frequently Asked Questions