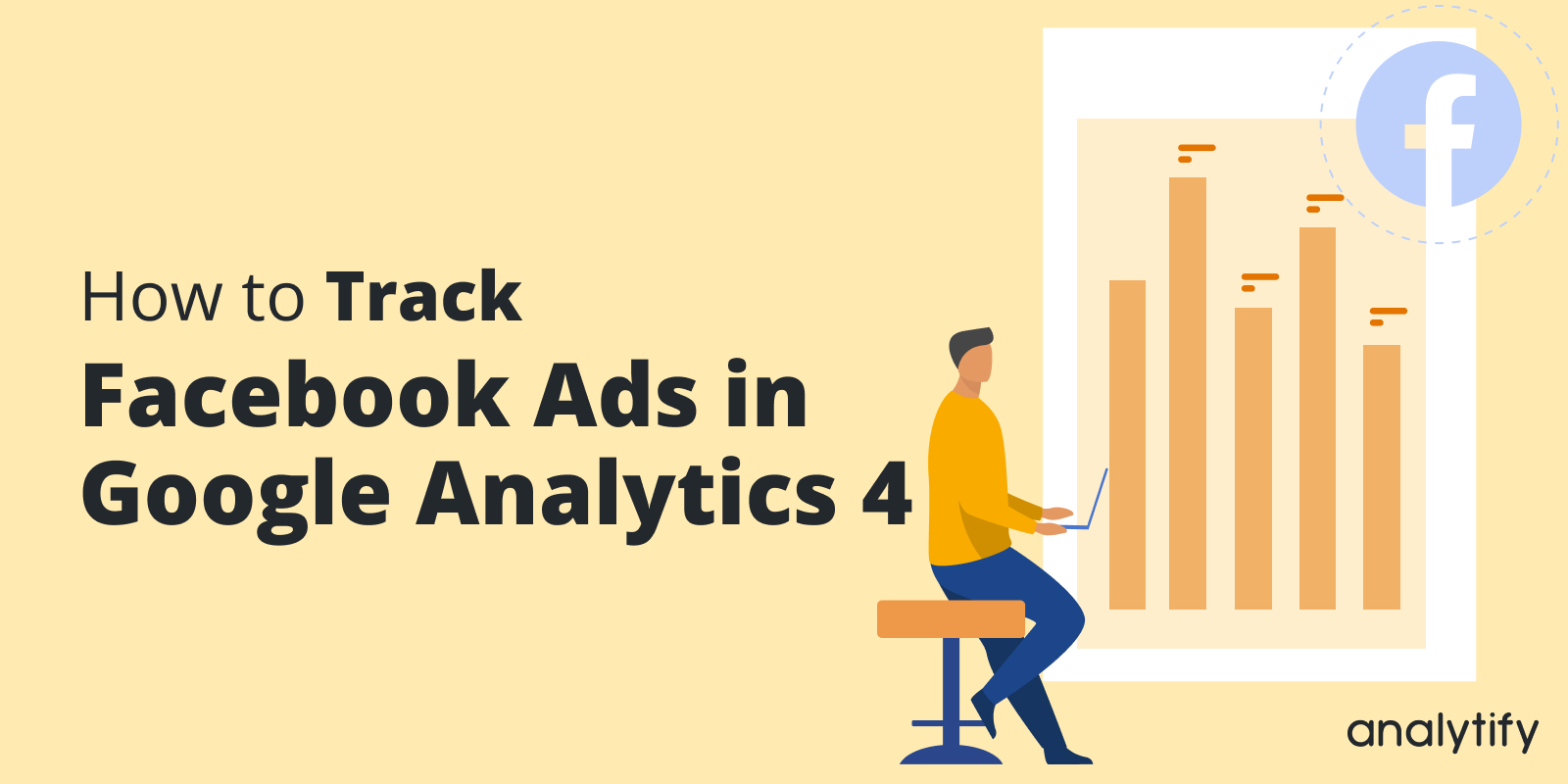 How to Track Facebook Ads in Google Analytics 4
Have you been thinking about how to track Facebook Ads in Google Analytics 4?
Facebook has a massive audience that you can reach via Facebook Ads. While marketers spend a lot of time deciding the audience, copy, and creatives, they often overlook tracking the results.
In this article, we'll discuss how you can use Google Analytics to track the traffic that Facebook Ads send to your website.
Table of Content
Why Should You Track Facebook Ads in Google Analytics 4
Facebook Ads are a rich source of traffic and conversion for many businesses.
As with all marketing campaigns, Facebook Ads campaigns require proper tracking and measurement to find out the ideas that best convert the Facebook audience into website visitors and beyond.
Facebook Insights is a fantastic tool for measuring and reporting the performance of your Facebook Ads. You can see the reach of the ads, information about the target audience, and the actions they took in response to the ads.
Despite all the benefits and details offered by Facebook Insights, we suggest you include Google Analytics in your ads performance reporting process.
Here are two reasons why you should track Facebook Ads with Google Analytics.
1. More Accuracy in Ad Performance Data
Facebook Insights is a platform-specific reporting tool that does a great job of tracing ad performance on the Facebook platform. However, Insights can't track users once they move away from Facebook.
When you add Google Analytics to the reporting mix, you can now track the users who interacted with your Facebook ads and clicked over to your website. You can easily track the traffic that Facebook ads send to your website and how these visitors interact with your website.
2. Compensate for Third-party Privacy Settings
Privacy has become the central theme these days, with brands like Apple cracking down on user data collection and tracking by platforms such as Facebook.
These changes affect the way Facebook collects and reports data.
Google Analytics compensates for these challenges by adding to the data collected by Facebook Insights. Thanks to this combination, you can get a pretty good idea of audience behavior.
Why's There a Difference in Google Analytics and Facebook Insights Data?
When you track ads' performance with Facebook Insights and Google Analytics, you might notice discrepancies in data.
This happens because of the privacy-related changes many platforms have implemented in the wake of privacy laws such as GDPR.
Many marketers view this data discrepancy seriously because it complicates sales attribution and calculating the ROI of Facebook Ads spend.
The solution to this data discrepancy is easy enough – follow the process in the next section to find how to track Facebook Ads in Google Analytics 4.
How to Track Facebook Ads in Google Analytics
The process of tracking Facebook Ads in Google Analytics has the following steps.
1. Generate a Trackable Link
The first step of the process is to generate a trackable link, also known as a UTM.
A UTM consists of several parameters that pass on contextual information about the ad to Google Analytics.
You can find popular UTM generators by Facebook and Google that can generate a trackable UTM based on the information you add to the form.
We'll use the Analytify UTM builder to create a UTM that you can use in the Facebook Ads campaign to help Google Analytics track the ads' performance.
When building the UTM, you need to provide the following information to uniquely identify the ad and the campaign in Google Analytics.
Website URL: This is your website's main URL.
Campaign Source: Enter facebook here so that Google Analytics can attribute all traffic coming from the UTM to Facebook.
Campaign Medium: This parameter identifies the type of traffic coming to your website. If you're tracking conversions, enter CPC. On the other hand, enter CPM if you're tracking impressions.
Campaign Name: Use the name of the larger campaign you wish to track. For instance, we've used facebook_Summer_Sales to identify all Facebook Ads campaigns that are part of the summer sales seasonal marketing campaign.
Campaign Term: This parameter usually contains keywords for paid ad campaigns. However, for our Facebook Ads campaign, we'll use this parameter to identify the ad set.
Campaign Content: This is where you can enter the name of the individual ads.
The UTM builder produces the following trackable UTM link:
www.example.com?utm_source=facebook&utm_medium=cpc&utm_campaign=facebook_Summer_Sales&utm_term=discount_July&utm_content=carousel_ad_1
If you need to dig deeper into the details of UTM, we have a great article covering the process of UTM creation.
2. Add the UTM Link to the Ad URL
Now that you have the UTM, it's time to create the ad.
Go to the Facebook Ads Manager and create the ad. In the field for website URL, add the UTM link.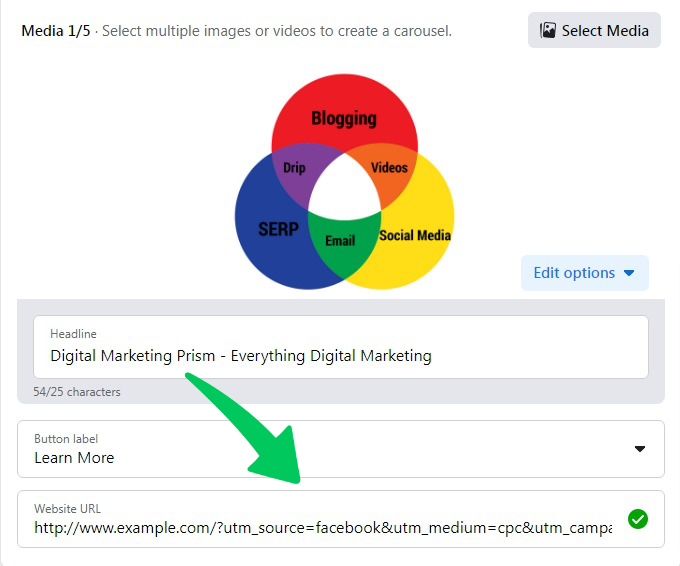 Remember to choose the appropriate CTA button to increase the CTR. The CTA text should follow the creatives of the ad and should encourage viewers to take the required action.
Check and preview the ad and make it live. 
3. Track Facebook Ads in Google Analytics 4
The Facebook ad with the trackable UTM is live and appears in the feeds of the target audience. You can now see the traffic coming in from the ad.
Navigate to Reports>>Acquisition. Next, select the dimension Source/Medium to see the report. 
You can now see the traffic coming in from the Facebook ad campaign.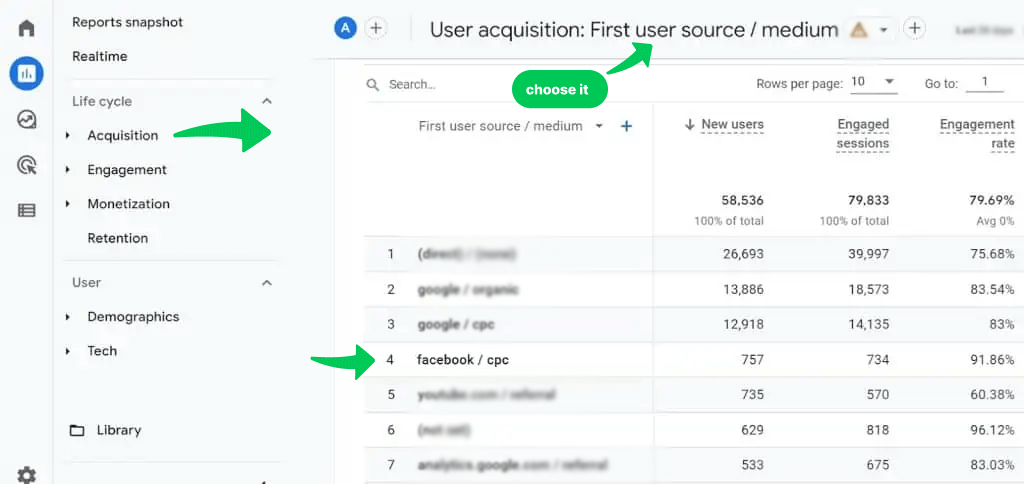 Track UTMs in Analytify
If you have a WordPress website, you can use Analytify, a WordPress Google Analytics dashboard plugin that brings essential information to your website.
Analytify has a dedicated dashboard for tracking the traffic coming in via UTM. To see this traffic, go to the Analytify dashboard and hover over Acquisition.
From the drop-down menu, select Campaigns. You can see important metrics such as Users, Sessions, Bounce Rate, and Revenue for each UTM source.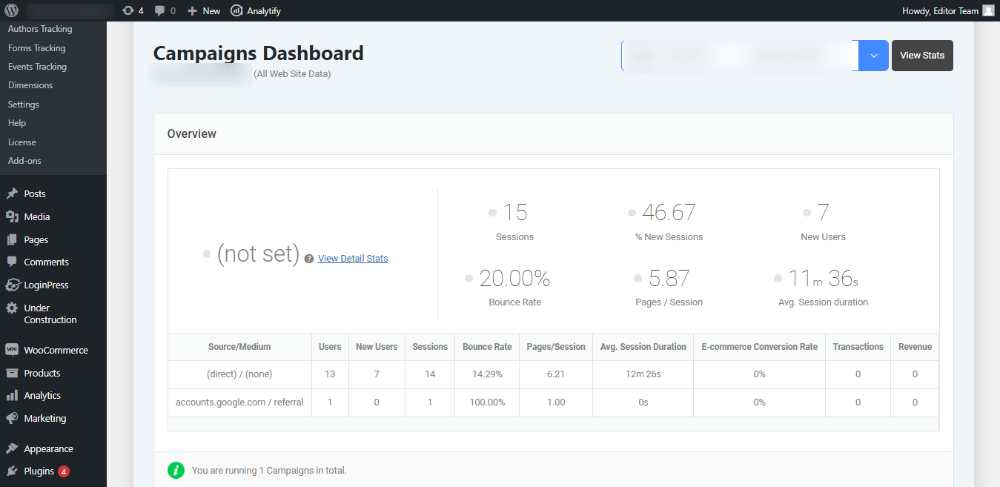 Conclusion
We hope you now have a clear idea of how to track Facebook ads with Google Analytics 4.
Facebook Ads can potentially bring in traffic and conversions for your business. However, you need to know the traffic arriving at your website from each ad so that you know what works for your audience.
Google Analytics is a powerful tool for tracking traffic coming in from the UTM included in the Facebook ads.
Let us know what parameters you prefer to add to the Facebook Ads UTM and how you track this UTM.
Frequently Ask Questions
Can I link my Facebook Page to Google Analytics?
You can't directly link a Facebook page to Google Analytics. However, you can use UTM to push data to Google Analytics.
Can I upload Facebook campaign data to Google Analytics?
At the moment, Google Analytics can only pull data from other Google products.
Do I need to add values for all UTM parameters?
You need to fill in the mandatory fields such as source, medium, and name. However, the more parameters you add, the more detailed results you can see in Google Analytics.
That's all for how to track Facebook ads in google analytics guide. You can also check out How to Use Google Analytics to Increase Traffic and 10 Facebook Ads Targeting Tips To Skyrocket Your Conversions in 2022.
Not using Analytify yet? What are you waiting for?