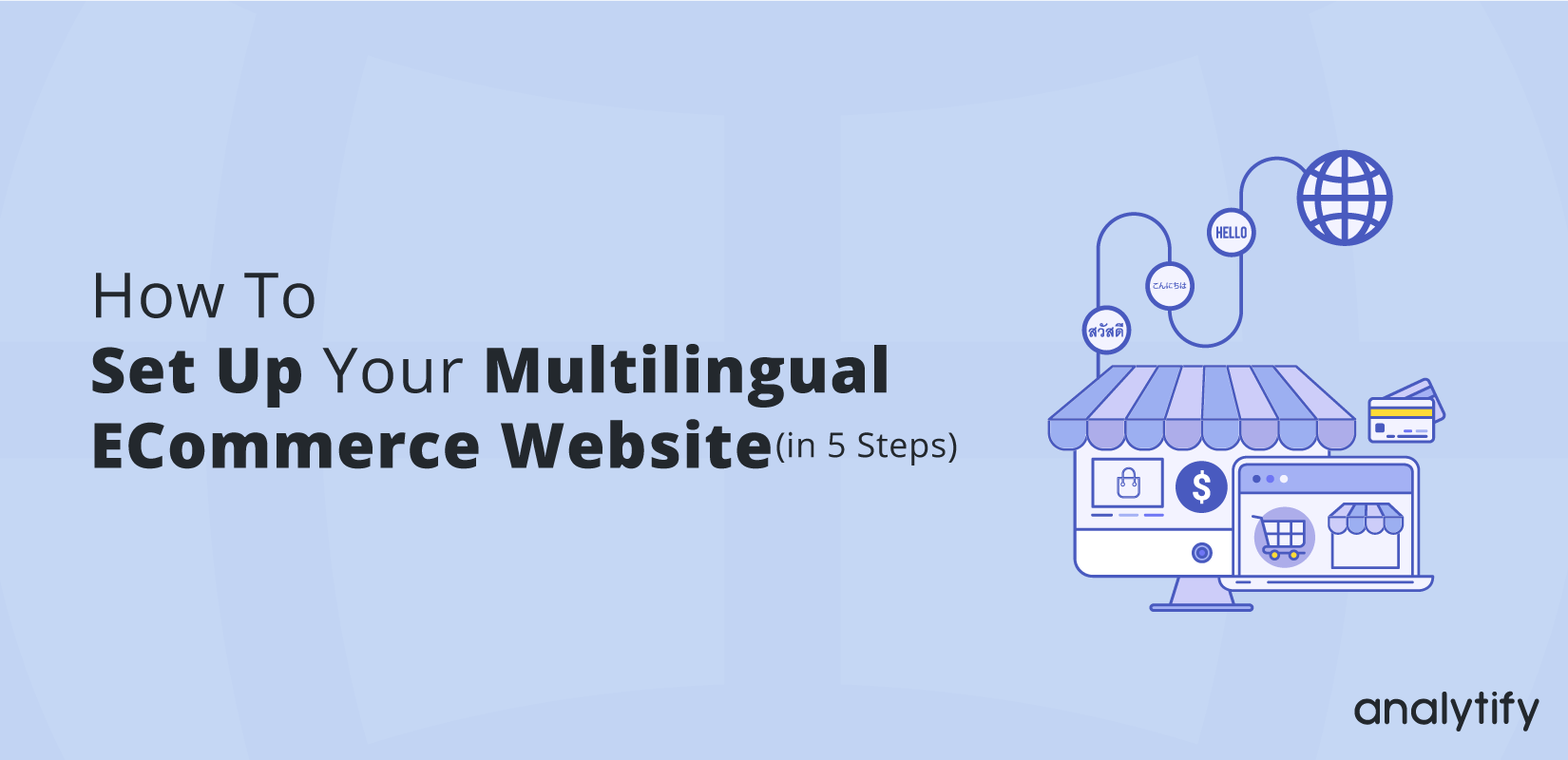 How to Set Up Your Multilingual ECommerce Website (in 5 Steps)
How to grow business sales and revenue, is the common challenge that most eCommerce entrepreneur faces around the world. If you have all the right frameworks in a single place then it would be very easy to set up multilingual eCommerce website.
The eCommerce website having a multilingual feature can help your business to reach maximum audiences rapidly and in a user-friendly style.
Creating a user-friendly online store is a big task, thus adding functionality that will help you to sell your products internationally will make your website development task much more difficult.
But you might be known for the best content management system on the internet i.e. WordPress which is the perfect answer to your question and helps you to build a flourishing eCommerce website.
You should use WordPress because it is user-friendly and comes with a number of readymade eCommerce WordPress themes that you can choose as per your need to increase your website functionality. Within a matter of minutes, you can also set up an eCommerce store quickly.
In this post, you will find the guidelines to set up multilingual eCommerce website First, we will explain to you how to s WordPress and we will help you in selecting the best eCommerce template plus we suggest you some plugins that can be integrated to add multilingual eCommerce functionality to your website.
Table of Content
Select the best hosting provider and install WordPress
More than 38% of the web is powered by WordPress websites. That means more than billions of websites on the web are created with the WordPress platform. This is enough number to convince you that WordPress should be the first choice among other CMS.
You will have to add a host before installing WordPress. There is plenty of hosts which are responsible for providing a variety of services, Cloudways is one of the best-managed WordPress hosting platform, Their basic plan starts from 10$/Month Plus Nexcess is also a reputable hosting provider for WordPress sites with stellar technical support. They offer a 14-day free trial and plans start at $19/month.
So it would be great to compare all those hosting services with a variety of options they provide. As per your business requirements, you can choose the perfect host.
Once you decided the host and signed up, now you will be able to install WordPress very quickly and easily. Some of the hosting providers also offer some great support.
Choose the best eCommerce theme
You will now have to choose a theme after you are done with the WordPress installation. The theme is very important to choose wisely as the overall look of your website will depend on it plus some additional functionality will be determined by the theme you choose.
To set up multilingual eCommerce website, you will find there are plenty of free and premium WordPress themes available that you can choose from.
You can choose free eCommerce themes from WordPress.org or you can refer to the three premium eCommerce WordPress themes listed below.
Shopzee is a modern and professional-looking WordPress theme that can be used to sell physical products online such as bags, accessories, hardware products, cosmetics, etc. you will be able to create a store within no time. without adding a line of code it would allow you to customize the complete overall appearance. Thus Shopzee is best for beginners and professionals too.
Another great option would be the SKT Appliances Pro. It allows you to sell electronic appliances, headphones, mobile accessories, home appliances, electronic gadgets, and other hardware and digital products online.
Thus, eCommerce WordPress themes can be customized to sell any type of product online. It is easy to customize as it comes with multiple options and drag and drops page builder to set up multilingual eCommerce website.
Install eCommerce plugins
Plugins can be defined as addons of WordPress that will add new functionality to your existing WordPress website. You will find that there are thousands of plugins available on the WordPress plugin repository. Thus it is crucial to choose plugins carefully.
If you are searching for an eCommerce plugin that you will find both free and premium versions available. The most well-known eCommerce plugin is WooCommerce. So let's checkout.
You can easily convert your simple website into an eCommerce store by adding the WooCommerce plugin. Knowing the fact that more than 28% of eCommerce websites are created with WordPress, you can get an idea that how the WordPress eCommerce plugin is preferable by everyone.
From your website, you can sell digital or physical products plus you can sell affiliate goods. WooCommerce is a free plugin but to get some extra functionality you can add paid extensions.
If you want to track your eCommerce website product performance then you can use Analytify Plugin one of the best Google Analytics plugin that will help you to track your website performance.
Optimize and interpret your content
The better way too boost your sales and to grow your reach would be to make your website multilingual friendly.
The biggest care that most people have while creating a multilingual website is SEO i.e. search engine optimization. SEO is the process of increasing your website's performance and ranking on search engine results. There are so many factors to consider that affect the performance of the website. and one of the factors is translation which can be problematic and difficult
You can make your website multilingual with the help of a WordPress multilingual plugin known as Weglot. Creating a multilingual website will not impact SEO. Rather than this Google will love your website because it is one of the best practices to do make your website more reachable to the clients. Actually, Weglot follows all practices so that your pages that get translated can be indexed on top of the search engines such as Yahoo and Google. This clearly means your website will be searchable in new markets.
Weglot is a freemium plugin that actually works by finding and transforming all your website content. Does not matter from which your content is coming. It will actually translate each and every content present on your website. Weglot will translate countless products very easily. You will also be provided with an option to translate the content manually.
Features are
Search engine optimized
Compatible with eCommerce WordPress themes
100+ translation languages are available
On your website make sure to provide currency conversion
If your website and its content can be translated into different languages, then it should consist of the feature i.e. multiple currencies. The currency conversion option will help your audiences to check the product prices in their understandable currency. Thus they will be able to make purchases seamlessly.
Conclusion
creating a multilingual website will help you to boost your sales by reaching maximum audiences. Thus, the multilingual website creating task can be breathtaking you just need to choose eCommerce WordPress themes, plugins, and tools wisely.
Frequently Asked Questions
Does WordPress support multilingual?
WordPress doesn't support multilingual pages or posts out of the box. It supports localization and translation via various multilingual plugins
What is the best WordPress multilingual plugin?

WPML and Polylang are the best WordPress multilingual plugin