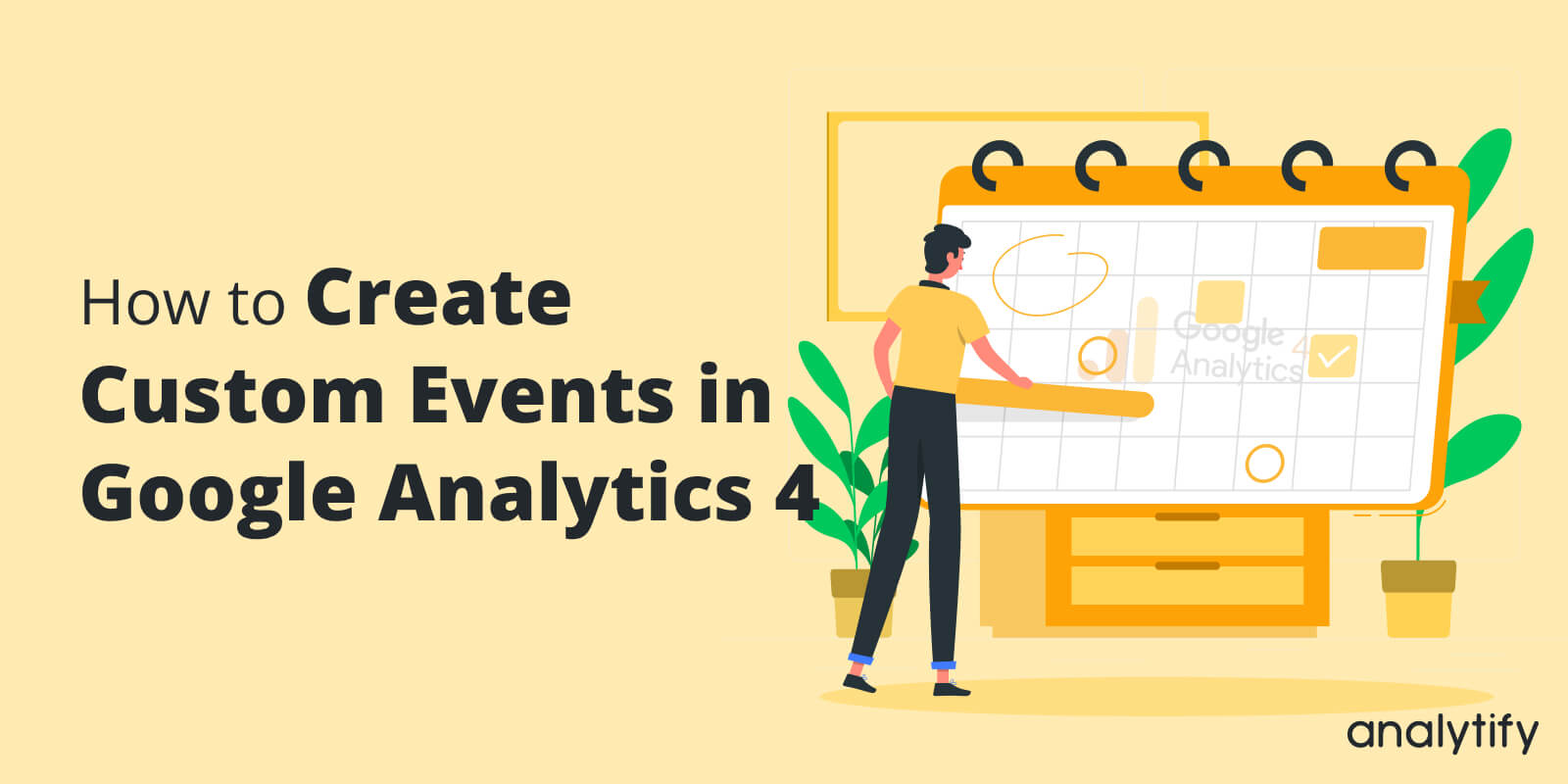 GA4 Custom Events: What Are They and How to Create Them?
Are you ready to elevate your website's performance with using GA4 Custom Events in your analytics strategy?
Well, you're in the right place! In the ever-evolving world of digital marketing and website analytics, staying ahead is the name of the game. One way to do that is by understanding and harnessing the power of GA4 Custom Events. But what exactly are they, and how can you create them to pin-point your analytics?
In this blog, we'll talk about Google Analytics 4 custom events. We'll explore what these events are, why they matter, and most importantly, we'll show you step-by-step how to create custom events in GA4.
So let's get started!
GA4 Custom Events (TOC)
What are the Different Kinds of Events in GA4?
Before talking about custom events, let's briefly discuss overall events in GA4.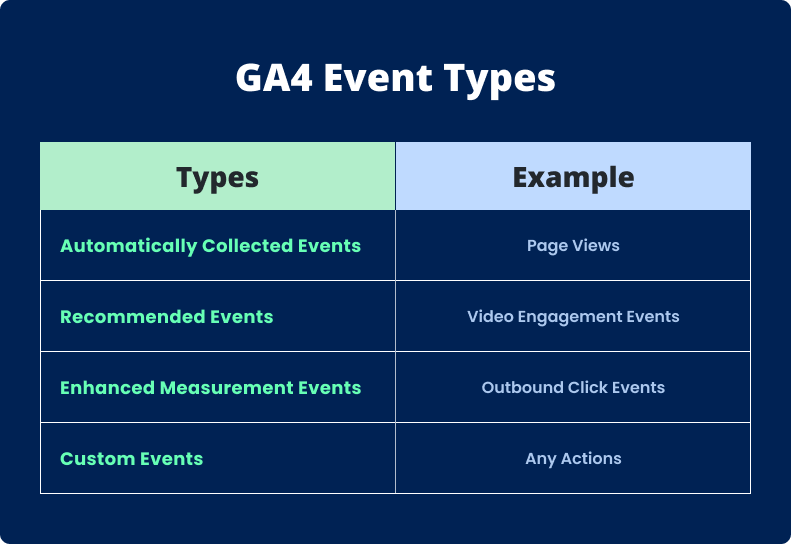 In GA4, there are four different types of events.
1. Automatically Collected Events
GA4 keeps track of these events automatically without any configuration by you. Examples of automatic events are page views, scroll events, and site search events.
2. Recommended Events
GA4 recommends these events based on the category of your website or app. These events can give you more information about how users act and how engaged they are. Events like video engagement, file downloads, and site search events are some examples.
3. Enhanced Measurement Events
These will give you more information about how people use your website or app. They are turned on by default in GA4 and don't need extra settings. Scroll depth events, outbound click events, and site speed events are all examples of enhanced measurement events.
4. Custom Events
You can make these events to track actions or behaviors of users that are unique to your website or app. It's important to remember that not every website or app can use every type of event. Before adding any custom events, you should carefully think about your tracking needs and goals.
What are GA4 Custom Events?
Before we plunge into the process of creating custom events in Google Analytics 4, let's first know what these events are.
GA4 Custom Events, in a nutshell, are specific interactions or actions that you want to track on your website. These interactions could be anything from button clicks and form submissions to video plays and downloads. Unlike standard events, which GA4 tracks by default, custom events are tailor-made to suit your unique tracking needs.
Suppose they are custom-made tools for gathering data on the activities that matter most to your website's success. With custom events, you can move beyond the basics and gain deeper insights into user behavior. This, in turn, enables you to make informed decisions and optimizations for your website.
To understand the power of custom events, consider scenarios like:
tracking the number of users who signed up for your newsletter,
monitoring how many visitors viewed your product demo,
or even keeping tabs on how often your "Add to Cart" button is clicked.
These are just a few examples of what custom events can help you measure.
The beauty of GA4 Custom Events lies in their adaptability. You define what you want to track, and Google Analytics 4 provides the tools to do so effectively.
Why do You Need to Make Custom Events in GA4?
It's important to make custom events in GA4 for a few reasons:
To Fit the Needs of Your Business
Custom events let you track user actions or behaviors that are specific to your website or app. With the insights from custom events, you can create targeted marketing campaigns that resonate with your audience's actual interests and interactions.
Understand User Behavior
Custom events give you more detailed information about how users interact with your website or app. By keeping track of custom events, you can learn more about how users move around your site, what they pay attention to, and when they leave. It can help you find parts of your site that need to be fixed up or made better.
Gain Deeper User Insights
Custom events allow you to delve beyond standard metrics and gain a more profound understanding of how users interact with your site.
GA4's default events aren't always the most accurate, but custom events can be. With Custom Events GA4, you can keep track of things like the price of a purchase or the category of a product, which can help you analyze your sales data better.
Better Marketing and Advertising
You can track specific marketing or advertising campaigns by using custom events. It lets you see how well your campaigns are doing and make changes to make them work better. Custom events can also be used to divide audiences into smaller groups so that marketing efforts can be more targeted.
These reasons emphasize the significance of custom events in GA4. They empower you to make data-informed decisions, optimize your website, and ultimately achieve your online objectives more effectively. Now, let's move on to the practical part: how to create these game-changing custom events in Google Analytics 4.
Now, let's dive into the exciting process of creating these custom events.
How to Create Custom Events in Google Analytics 4 (Step by Step)
To create custom events in GA4, you have to follow the following steps:
Step 1- Navigate to Admin and select GA4 Property
Log in to your GA4 account and navigate to the admin section by clicking on Admin.
Then, select the desired GA4 property.
Follow the screenshot below: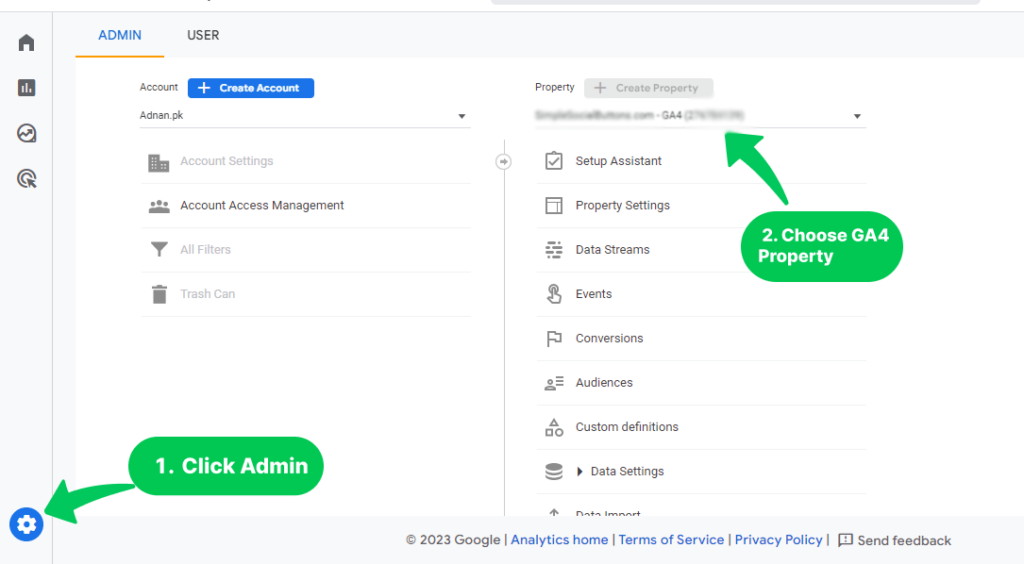 Step 2- Select Events Tab
First, click on Events and then select the Create Event button to start creating a new custom event.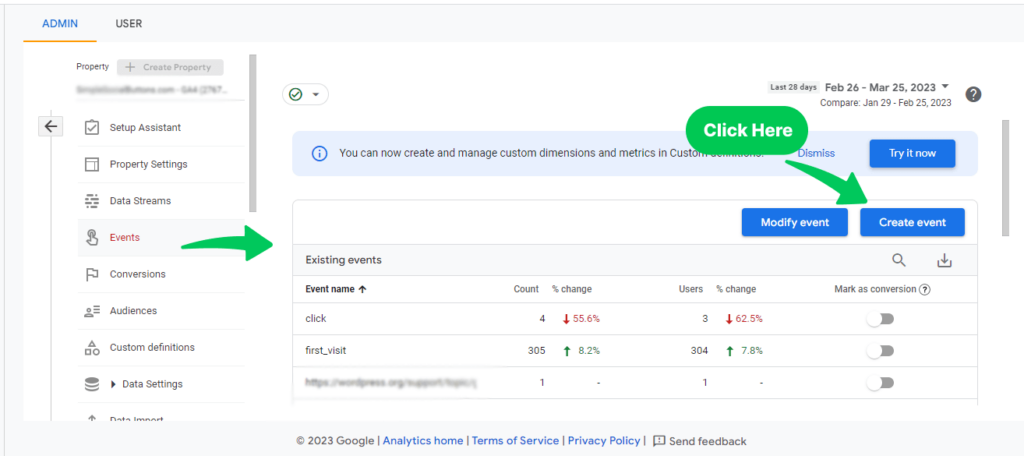 Step 3- Choose the Desired Data Stream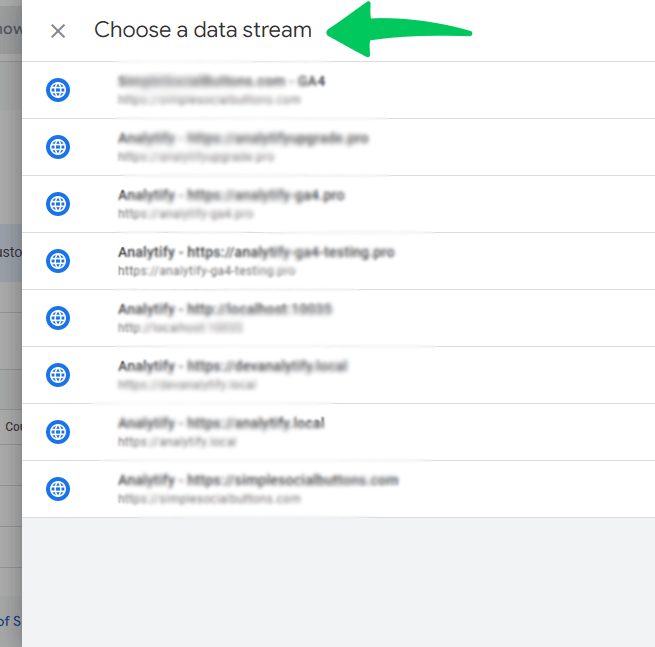 Step 4- Start Creating GA4 Custom Events
After choosing the data stream, you'll be navigated to the next page.
Click on the Create button.

Step 5- Create a Custom Event
Enter a name for your custom event. The name should be clear and descriptive. It should show what action you want to track.
Define the event parameters, which are the pieces of information that you want to track with your custom event.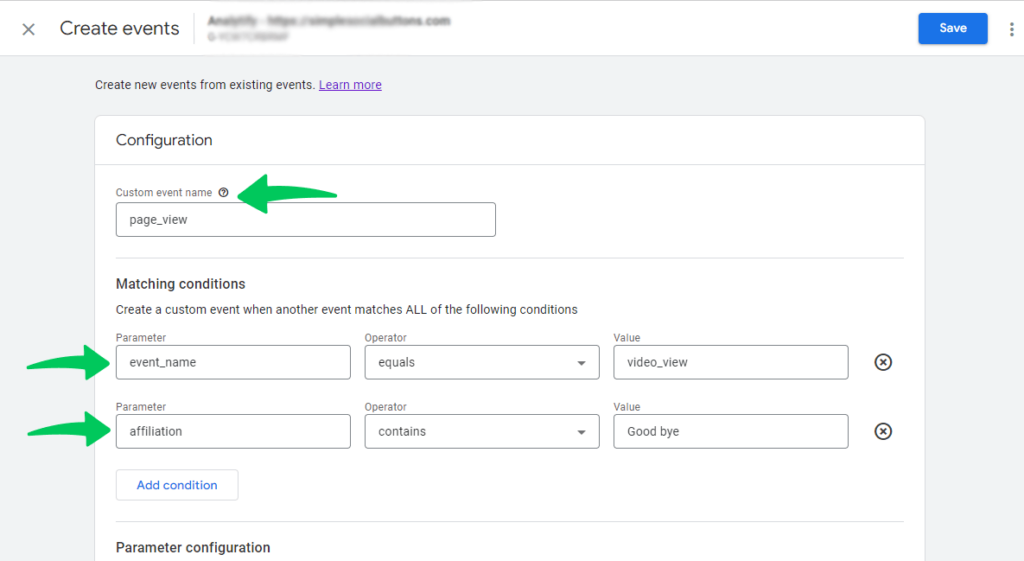 Step 6- Parameter Configuration & Save the Custom Event
Tick mark the box next to Copy parameters from the source event.
Then, click on Save in the top right corner.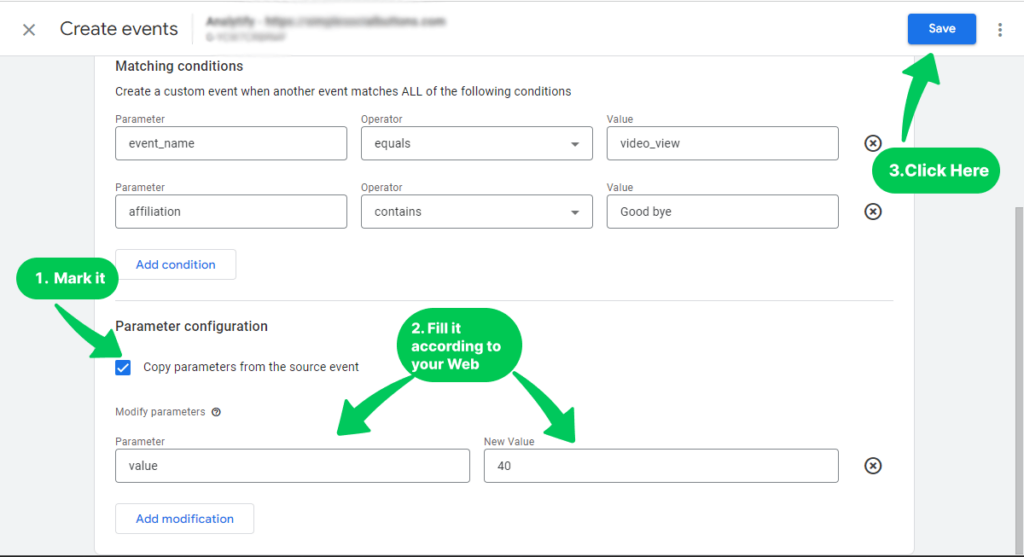 Your event will be created successfully.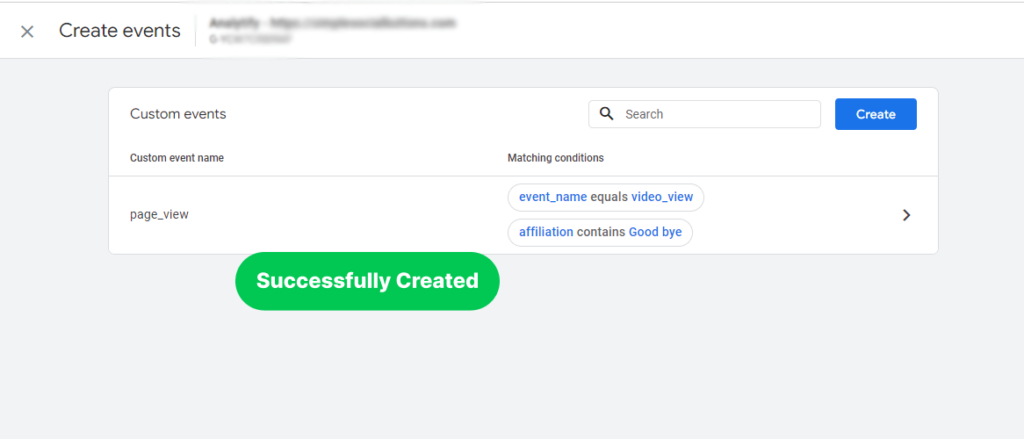 How to Test Custom Events in Google Analytics 4?
Follow these steps to test custom events in GA4:
Open the GA4 property whose custom event you want to test.
Navigate to Reports >>Realtime.
And then, scroll down to Event count by Event Name Column.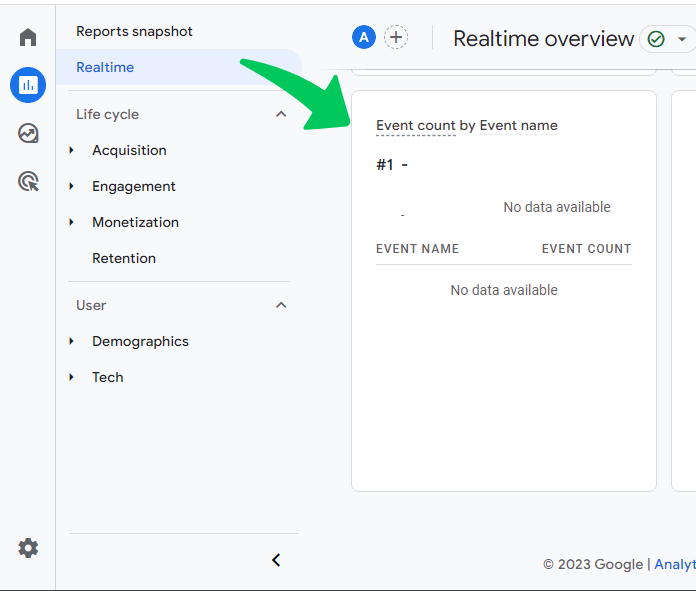 If the custom event doesn't show up in the "Events" section, make sure the event was set up correctly and that it was sent to the right GA4 property.
Note: However, keep in mind that custom events may take up to 24 hours to appear in your reports.
Use Analytify to Track GA4 Custom Events in WordPress
As we looked into the practical aspect of custom events in Google Analytics 4, it's important to mention that simplifying the process can significantly enhance your experience. It is where Analytify, the best WordPress Analytics plugin, steps in to make your life easier.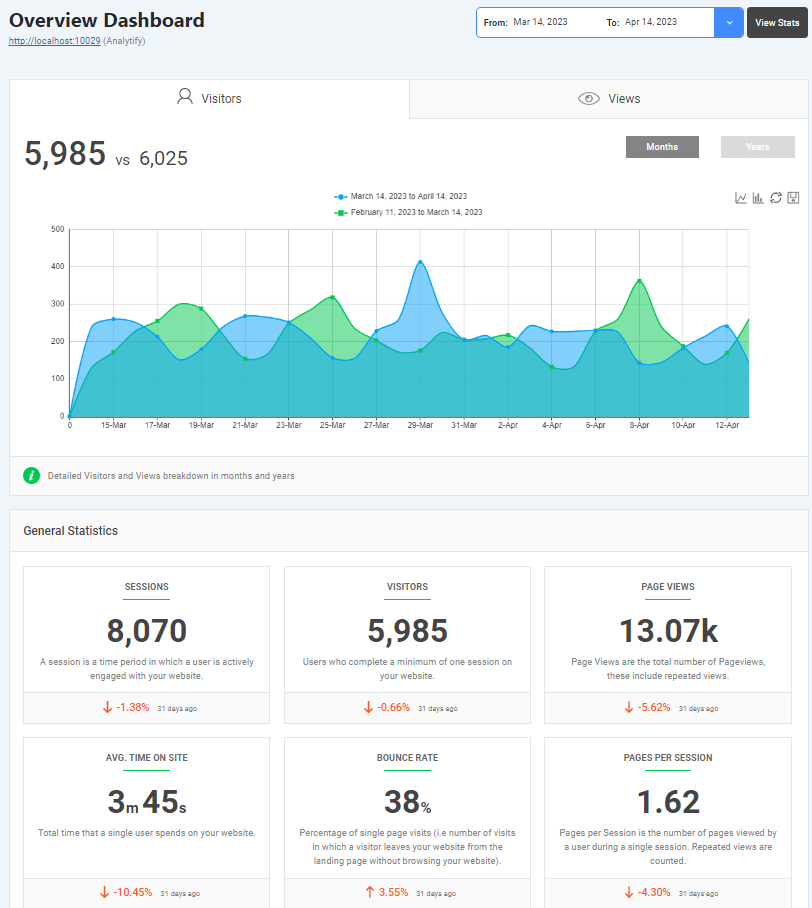 Analytify offers a seamless solution for tracking events on your WordPress website, complementing Google Analytics 4. Here's why it's a valuable tool:
1. User-Friendly Setup: Analytify's user-friendly interface ensures that even those with limited technical expertise can easily set up event tracking for WordPress.
2. Real-Time Reporting: With Analytify, you can access real-time data on how your events are performing, allowing you to stay informed and make timely adjustments.
3. Comprehensive Event Tracking: The plugin covers a wide array of events, including page views, downloads, outbound link clicks, and more, providing a comprehensive picture of user interactions.
4. Customization: Analytify offers customization options, allowing you to define specific events you want to track and tailor them to your website's unique needs.
5. Integration with Google Analytics 4: Analytify seamlessly integrates with GA4 so that you can monitor and analyze your WordPress events directly within your familiar Google Analytics interface.
In addition to these features, Analytify offers an Events Tracking Addon that takes your event tracking capabilities to the next level.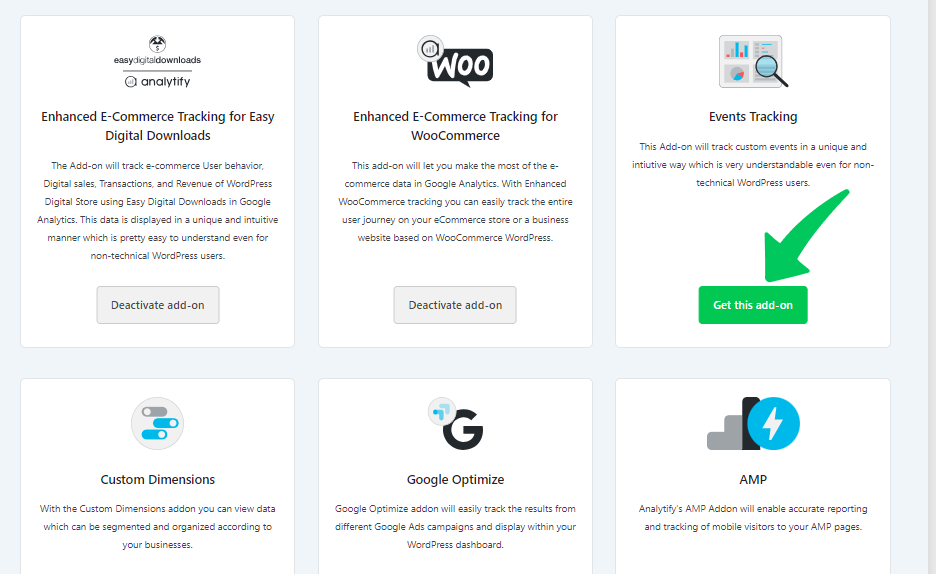 This addon extends your ability to track custom events even further, allowing you to gather more specific data about user interactions on your WordPress site.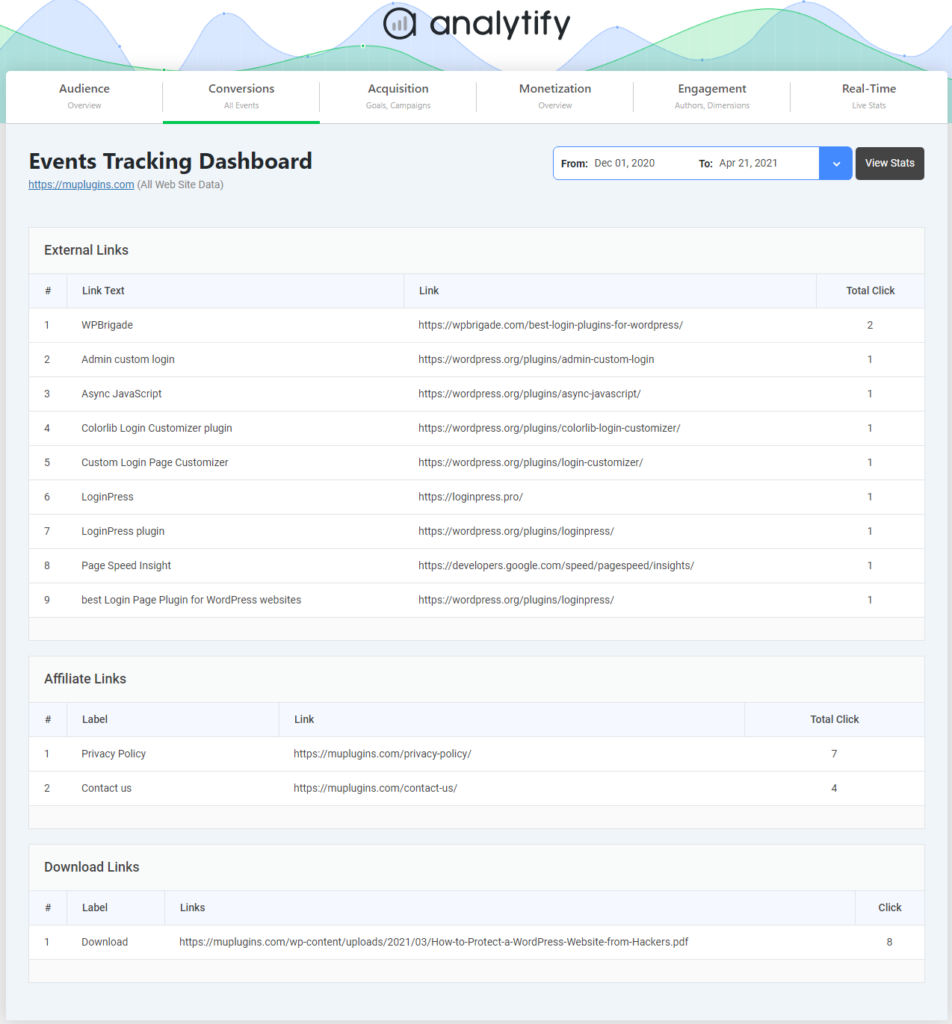 Read: How To Get Started With The Events Tracking Addon.
By using Analytify and its Events Tracking Addon, you'll be well-equipped to easily create and monitor custom events in GA4, ultimately boosting your website's performance and helping you achieve your digital marketing objectives. Now, let's move on to the step-by-step guide on how to create custom events in Google Analytics 4, utilizing the power of Analytify.
Limitations of Custom Events
You can make custom events that can be tracked in your analytics reports with Google Analytics 4 (GA4). Even though this feature helps get specific information about how users behave, there are some things you should know about custom events in GA4:
Limits on the Number of Custom Events
Each property can only have 500 custom events in GA4. It means that if you reach this limit, you won't be able to make more custom events for that property.
Limits on the Number of Parameters
Each custom event in GA4 can have up to 25 parameters. If you need more parameters, you'll have to put them in different custom events.
Limits on the Names of Events
Event names can only have letters, numbers, and underscores. Also, the name of an event can't begin with a number or an underscore.
You Can't Collect Data from the Past
You can't track custom events from the past. It means that if you create a custom event after a specific user action has happened, you won't be able to track that action for historical data.
There Aren't many Options For Exporting Data
Custom events that can only be exported as part of a full export of GA4 data. Custom events cannot be exported on their own at this time.
GA4 Custom Events FAQs
What Are GA4 Custom Events, and How Do They Differ from Standard Events?
GA4 Custom Events are specific interactions or actions that you define and track on your website, tailored to your needs. Unlike standard events that GA4 tracks automatically, custom events are user-defined and offer more flexibility in tracking.
 How Can I Create Custom Events in Google Analytics 4?
To create custom events in GA4, you need to set them up using the GA4 tracking code or through a plugin like Analytify. You can specify the event parameters and triggers to monitor user interactions effectively.
In GA4, how many Custom Events can I make?
GA4 allows you to create up to 500 Custom Events per property. If you want to keep track of more than 500 events, you'll have to make more than one property.
What types of parameters can be added to Custom Events in GA4?
GA4 lets you add different kinds of parameters to Custom Events, such as numbers, currency codes, and product IDs.
Why Should I Use Custom Events to Track User Interactions on my WordPress Site?
Custom events provide a deeper understanding of how users engage with your WordPress site, enabling you to optimize content, enhance user experience, and boost conversions. They help you focus on what matters most to your website's success.
Conclusion
In this article, we've explored GA4 Custom Events and their pivotal role in website analytics. These events allow you to tailor your tracking to specific user interactions, offering deep insights that can boost user engagement and conversions. With Analytify and its Events Tracking Addon, the process becomes even more accessible. By creating and monitoring custom events, you empower your website with the knowledge needed to compete in the market.
To sum up, making custom events in Google Analytics 4 is a must if you want to get accurate data that you can use to improve your website or app and make smart business decisions.
We hope this article has helped you understand GA4 custom events in detail.

If you haven't connected your WordPress site to Google Analytics yet, use Analytify to integrate them. You may also like to read How To Integrate Analytify With Google Analytics 4 (GA4).
What's the most exciting custom event you've ever created or tracked on your website using GA4 or a similar tool? We'd love to hear about your experiences and the impact it had on your website's performance.
Share your stories in the comments below!