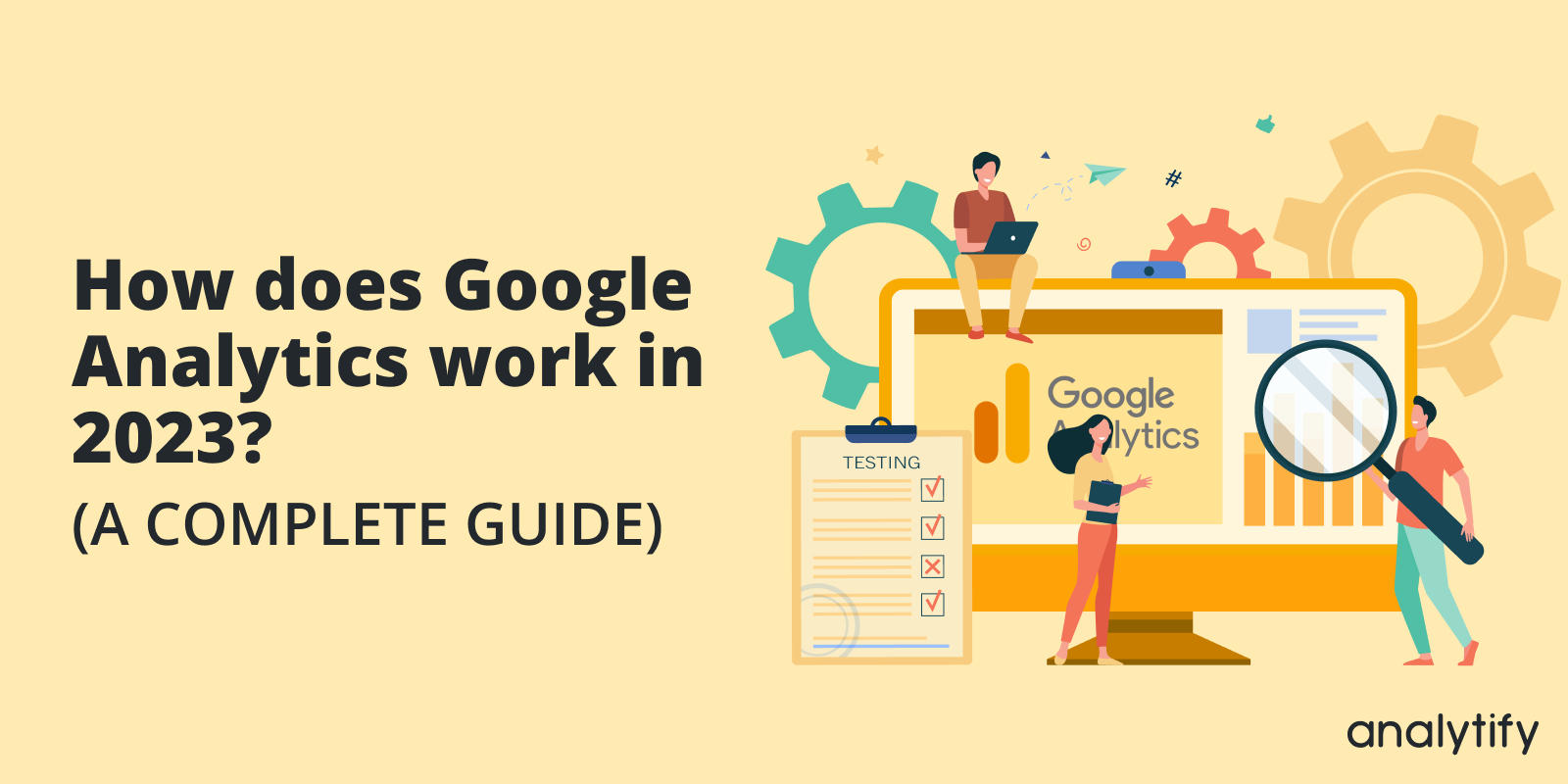 How Does Google Analytics Work In 2023?
Do you want to know how does Google Analytics work in 2023? If yes, you are at the right place.
Google Analytics is the best way for digital marketers to know web performance. In an ever-evolving digital world, where things change quickly, learning new updates to compete in the market is so important. Now that Google Analytics 4 is out, there's no better time to get started and improve your marketing strategies.
In this blog, we'll explain in detail how does Google Analytics 4 work.
Let's get started!
What is Google Analytics 4?
Google Analytics 4 (GA4) is the latest version of Google Analytics that lets you measure traffic and user engagement on your websites and apps. It is designed to give more profound user-focused insights with better tracking features. It has a more user-friendly interface.
Looking closer, we'll see that GA4 isn't just an update; it's a radical reinvention of Universal Analytics.
Let's see how the dynamic shifted:
Google Analytics 4 vs. Universal Analytics
When it comes to GA4 vs. UA, there are some significant changes that anyone interested in analytics should know about. It comes with a lot of cool new features that excite many businesses. GA4 is an excellent shift from Universal Analytics (UA) because it greatly focuses on events tracking. So, what does this mean for people who own websites and people who sell them? GA4 gives you a more user-centered view of data so you can learn more about how people use your website. You can learn more about how users act and adjust your plans by keeping track of certain events, like when a button is clicked, a form is filled out, or a video is played.
GA4 is based on an event-driven approach, which makes it more adaptable and comprehensive than Universal Analytics.
It provides a comprehensive account of user interactions. Also, if we compare GA4 to Universal Analytics, GA4 emphasizes user privacy and integrates better with Google Ads. It also has better reporting features and predictive metrics.
But that's not all. GA4 also has an advanced reporting system. Its new features allow you to make your GA4 custom reports and look at data.
One of the best things about GA4 is that it can track across platforms better than UA. In today's digital world, where users can easily switch between devices, it's important to have a complete picture of their path. GA4 steps up to the plate by giving a more complete picture of how users connect across different platforms.
It gives marketers valuable information about how users act. Using machine learning techniques, GA4 allows marketers to predict users' actions and make data-based decisions. This ability to guess opens up a world of possibilities for businesses, allowing them to improve their strategies and stay ahead of the competition.
One thing is evident in digital analytics, which is constantly changing; moving to GA4 is a must. GA4, which is set to become Google's future standard for analytics, promises to change how we measure and understand how people use our websites and apps. So, if you still need to switch, now is the time.
What is Google Analytics Used For?
Google Analytics is a crucial asset for any online business, and it's more than simply a tool. In today's data-driven world, more than just being online is needed. You must also know how to make the most of your online presence. If you're concerned about your online success, you need Google Analytics to help you achieve your goals.
You might be wondering why you need to analyze the web performance deeply and the importance of data collected through Google Analytics.
Collecting authentic data to make the right marketing decisions is very important.
"Without data, you're just another person with an opinion." W. Edwards Deming once said.
According to a Forrester report, companies that make data-driven decisions are likely to make 6% more money than their competitors.
Google Analytics gives insights based on facts that are very helpful for making business plans.
Google Analytics helps businesses understand their website traffic, user behaviors, and other important metrics.
If you're a beginner in the world of Google Analytics, you might be thinking, what does Google Analytics measure?
Let's explore GA4's key features to answer it in detail.
Important GA4 Features
Audience Demographics: Google Analytics helps to learn about your audience in terms of demographics, location, device kind, and even what they're interested in.
Traffic Sources: It helps you determine which marketing strategies successfully bring visitors to your site. This can come from various sources, including organic searches, paid ads, social media, direct visits, or backlinks from other sites.
User Behaviour: It helps to analyze user behavior, such as which pages users interact with, how long the interaction is, and when they depart your site (behavior analysis).
Conversion Tracking: You can also do conversion tracking. For example, you can track how well your site achieves your goals and know the user path to achieve more conversions (like buying something or signing up for your email).
Analyze Content Strategies: Analyze the site's content to determine what users like best. Something handy for honing content strategies and improving reader participation.
Events Tracking: You can do event tracking to track and analyze the specific actions on your site, such as file downloads, video plays, link clicks, and widget use.
Web Performance: Last but not least. With the help of Google Analytics 4, you can learn your website performance metrics. Like how long it takes for pages to load and where users may have encountered problems.
Google Analytics 4 provides detailed reports and analytics about all these features, which we'll discuss later in this article.
How to Use Google Analytics 4
Follow the below simple steps to set up Google Analytics 4 for your website or app by creating a Google Analytics 4 property, adding a data stream, and integrating your Google Analytics with your WordPress site.
Step 1: Create a New GA4 Property
Note: We assume you already have a Google Analytics account. If you don't, you must create a Google Analytics account and follow the steps below.
Sign in to your account on Google Analytics.
Click the Admin button, which is usually at the bottom left of the screen.
Under the Account section, choose the account you want to set up GA4 for.
In the Property section, click on Create Property.
Fill in the property Name and click on Next. It can be the name of your website or business.
Fill in Business Information and click on Create.
After clicking Create, you'll be redirected to the Data Stream page.
Step 2: Set Up Data Stream
Once you've created the GA4 property, you'll be asked to set up a data stream (Web, iOS, Android).
Let's choose Web for a website.
Enter your site's URL and the name of your stream.
Then, tap Create Stream.
Type in the information about your website (URL, name, etc.) and then click Create.
After this, you'll be navigated directly to the Web Stream page. Here, by clicking on the Web, you'll be redirected to Stream Details.
Step 3: Install the Tracking Code
Find Installation Instructions by clicking on View Tag Instructions. To set up data collection, you need to integrate your WordPress site to the Google Analytics account.
You can install Google Tags manually, through Google Tag Manager, and also with Analytify, the best Google Analytics WordPress plugin.
We suggest you install it with Analytify. It's the best option if you don't know complex methods or want a smooth, hassle-free integration without any coding. Moreover, you can also see analytics from your WordPress dashboard with a user-friendly interface.
Read How To Add Google Analytics 4 to WordPress (Easy Way) to find out more.
Step 4: Add Google Analytics Property to Your WordPress Site.
We hope you've installed Analytify successfully. Now, navigate to Analytify Dashboard >> Settings >> Authentication tab in your WordPress dashboard.
Note: If you haven't installed Analytify yet, follow How to Install And Activate Analytify Pro Plugin.
You've to click on Log in with your Google Analytics Account.
You'll be navigated to the next page. Here, choose an account to continue with Analytify.
Now, you have to provide the requested permissions. Then select Allow, as shown in the below screenshot:
After your Google Analytics account is connected, you'll be taken back to the Analytify settings page on your WordPress homepage.
From the drop-down box, choose the Google Analytics profile (GA4 property) you want to use for your WordPress site and click Save Changes.
All done! You've successfully created your Google Analytics account and integrated it with your WordPress site.
Google Analytics Reports (How do they work)
Google Analytics Report is a comprehensive dashboard that allows you to monitor and display multiple GA metrics. It helps online businesses see how visitors engage with their websites.
Even though Google Analytics 4 has a comprehensive interface and reporting system, many users look for more straightforward options like Analytify to simplify the reporting process and get more insights on your WordPress dashboard.
Integrating Google Analytics 4 with Analytify lets you see Google Analytics data straight into your WordPress dashboard. You'll be able to analyze different metrics and your web performance in a user-friendly way, even if you don't understand statistical figures. Read more on How to Integrate Google Analytics 4 with Analytify.
Let's look at some important features of Google Analytics reports:
1. GA4 Realtime Report
Realtime report in GA4 shows what is going on on your website currently. It shows active users in real time, what pages they are looking at, their geographical location, and more.
It helps to monitor sudden jumps in traffic, test new marketing campaigns, track new content immediately, and watch how users interact in real-time. For example, if you just started a new marketing campaign or posted new content, you can see how it's doing immediately and change your strategy if needed.
However, if you find GA4's real-time data too much to handle, Analytify's real-time stats are easier to read and understand from your WordPress dashboard.
2. GA4 Events Tracking Report
In GA4, events are the ways that users engage with content. The Events Report shows all these events, such as video plays, downloads, and form submissions.
With the help of events tracking data, you can focus on the most interesting features or material for your audience if you know what users interact with the most.
Bonus: Analytify makes event tracking easier and provides data straight on your WordPress dashboard.
3. GA4 Conversion Reports
Conversions, which in UA used to be called Goals, are completed journeys or user activities useful to your business. GA4 Conversion reports show how these important things are going.
Monitoring conversions is an important part of determining ROI and the success of different marketing strategies.
4. GA4 User Exploration
GA4 Exploration lets you dive deep into individual user trips by showing the path and actions of users.
If you successfully explore how each person acts, you can find patterns or problems that might be neglected in general analytics.
5. GA4 Monetization Reports
Monetization reports GA4 are measures and data points showing how much money your online presence makes. In Monetization reports, you can see information about e-commerce, subscription, and ad revenue.
Enhanced e-commerce reporting in GA4 details the online sales process, customer behavior, and how the overall e-commerce performance pans out.
It tracks key performance indicators (KPIs) such as income, transactions, conversion rate, average order value (AOV), and more. This makes it easy to see how much money you're making and keep track of each source of income.
Read our guide: Everything You Need to Know About Monetization Reports GA4
6. GA4 User Attributes Report
This report gives you a lot of information about your users, such as their demographic details, gender, and tech details, i.e., the browser they use.
It's important to know who your audience is if you want to improve the user experience and make sure your material or content is suitable for the right people.
7. Facebook Traffics Reports GA4
In Google Analytics 4, you can also see how many people come to your website from Facebook, how long they stay, which pages they visit, and other details. But, you would need to connect Facebook to your Google Analytics account. Read How to Track Facebook Traffic in Google Analytics 4 (GA4) for details.
To see the Facebook traffic report, navigate to Reports>>Acquisition>>Traffic acquisition.
After scrolling down, you have to type Facebook in the search bar and press Enter from your keyboard. You'll have a report showing only the traffic from Facebook.
So, Google Analytics 4 has robust features to help you make better business choices.
Alternatively, plugins like Analytify make the process even easier, making analytics more accessible to people of all skill levels on the WordPress dashboard.
Remember that data is only as valuable as the insights you can get from it. These tools are made to help you get those insights.
Frequently Added Questions
Conclusion
We've thoroughly covered how does Google Analytics work in 2023.
Key takeaways:
What is Google Analytics 4
Google Analytics 4 vs. Universal Analytics
The key features of Google Analytics 4
How to set up Google Analytics 4 in simple, easy steps
How to get GA4 analytics reports
Google Analytics is a handy tool, and its latest version, GA4, is a significant upgrade from its previous versions regarding interface and analysis. The focus is now on the users, events, and their journey through your website or app.
If you want to learn more about Google Analytics 4 for your business, read How to Improve Google Analytics 4 Engagement Rate (Easy Guide)
We hope this blog has helped you comprehend how Google Analytics work.
We'd like to know if you have successfully created your GA4 property. What other challenges you face analyzing your website using Google Analytics?
Tell us about your experience in the comments.