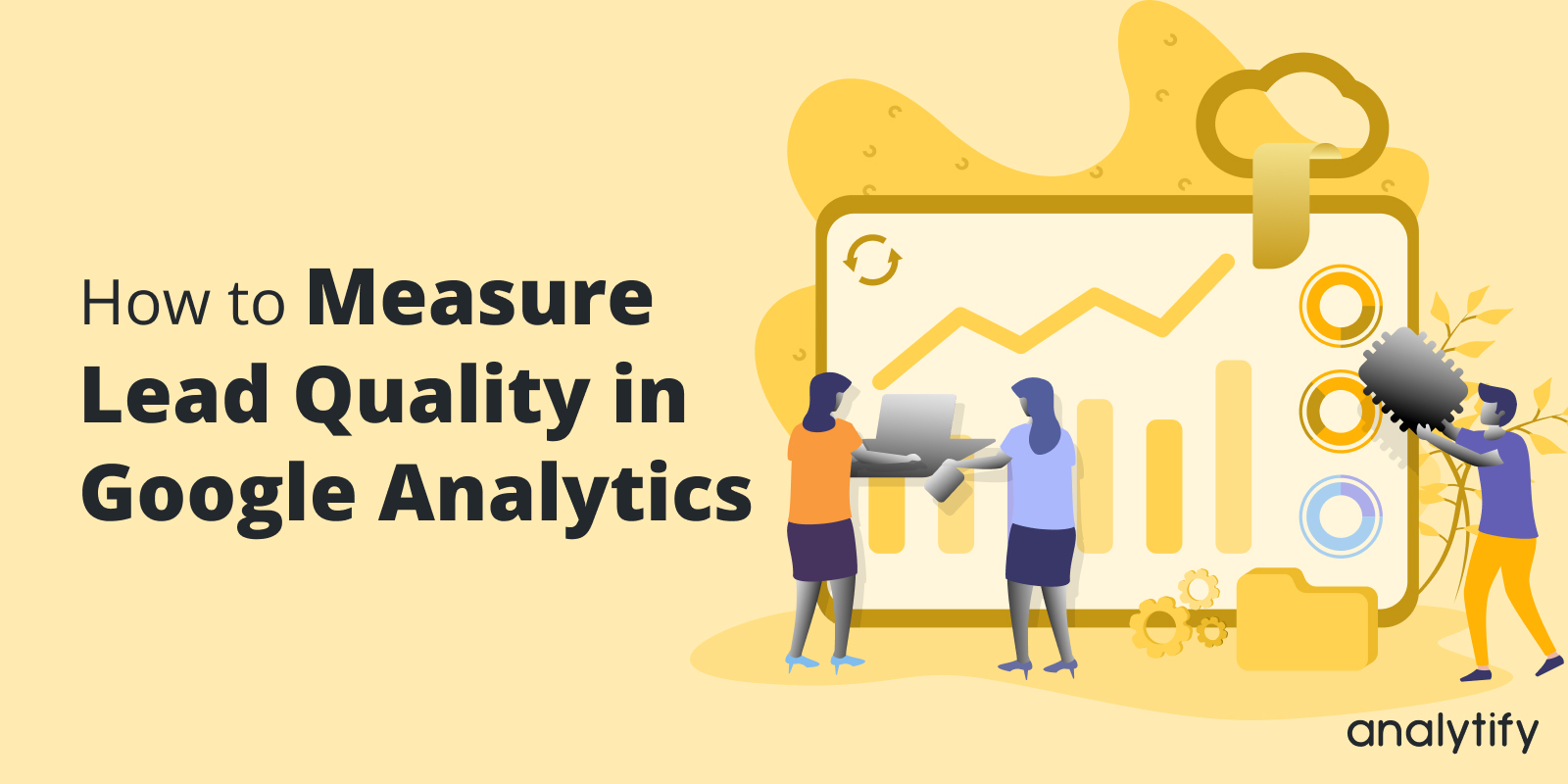 How to Measure Lead Quality in Google Analytics 4 (GA4)
Do you want to understand how to measure lead quality on your website?
Many people overlook the quality of the leads because they assume that the volume of the leads would make up for the lack of quality. However, as they soon learn, no number of leads can make up for the lack of quality.
In this article, we'll cover the main concepts in lead quality and how to measure lead quality using Google Analytics.
Table of Content
What is The Quality of a Lead?
The quality of the lead is a direct measure of how likely a lead will convert. Put simply, the higher the quality of the leads you collect, the easier it is to convert them into customers.
For many marketers, the main target is increasing the number of visitors arriving at the website. Web traffic is the core metric for many marketing campaigns. However, as many marketing experts believe, a higher volume of website traffic doesn't always translate into paying customers.
Why is Lead Quality Important for Marketing and Brand Awareness?
The challenge of improving the leads' quality is more than just increasing website traffic. Traffic is just an aspect of the idea.
That's why you can have poor sales or conversion despite having a good inflow of visitors. If you dig a bit, you'll find that although the visitors are coming to your website, they aren't the type of visitors who want to convert.
This often happens when you want to maximize traffic without focusing on your target audience in the campaign.
When it comes to how to measure lead quality, here's an example that highlights the quality versus quantity debate.
Consider a SaaS that offers a high-ticket subscription to its services. Suppose the marketing team runs social media campaigns targeting user segments that prefer free or more competitively priced products. In that case, the number of subscriptions won't increase, even though the website receives a lot of traffic. This happens because some of the traffic is low-quality leads that thought the offered services were not a good fit for their requirements.
In the context of ROI and the brand's reputation, low-quality leads can result in a loss of time and effort for the sales team. As a result, you see a low closing rate and correspondingly low traffic-to-conversion ratio.
How to Measure Lead Quality in Google Analytics
Google Analytics is one of the best traffic and user behavior tracking platforms out there. It is an excellent tool for understanding lead quality and how leads arrive at your website. However, you need to understand how Google Analytics track leads and how you can use it to judge the leads' quality.
But first, let's go into the details of how you can determine whether a lead is a good fit for your business objectives. For digital businesses, a lead is counted when any of the following actions happen.
File Downloads
Businesses often offer PDFs, Pitch Decks, eBooks, and similar "lead magnets: at various stages of the marketing funnels.
Form Submission
Businesses often place contact and lead-gen forms on various pages on the website. When one of these forms is submitted, you have the details of the interested lead.
Traffic at Specific Landing Pages
If you're receiving traffic at specific landing pages custom-built to deliver your offer, a portion of the traffic will avail of the offer and convert.
Use Goals to Track Leads
In Google Analytics, goals act as counters that show the count of goal completion. For instance, destination goals trigger when a user lands on a specific page. Every time this happens, the counter increments.
When you use goals to track leads, Google Analytics also shows you the goal path report highlighting users' exact path to complete the goal. You'll often see certain lead magnates in these reports; you can use them in marketing campaigns to bring in higher-quality leads.
Google Analytics has a great article that covers the basics of goals, including how to set goals and view relevant reports. 
How to Measure Lead Quality With Analytify
Switching tabs between your website and Google Analytics can get tedious, particularly when you're planning campaigns and need data to plan out activities.
Analytify connects to your Google Analytics account and shows relevant data in your website dashboard. You can imagine the ease this brings to campaign and goal planning.
When considering how to measure lead quality, you can use the three lead examples (file downloads, form submission, and traffic at landing pages) to measure the quality of the leads. To help you out, Analytify offers add-ons that specifically track these leads.
We'll now explore these functionalities to show how Analytify add-ons help you evaluate leads.
Form Submission
Forms are an important lead-gen tactic where you present several forms to the visitors. These forms collect mandatory and optional information and help you take targeted action that moves the needle for your business.
Here's how the form tracking dashboard presents lead-related data.
The good news is that Analytify works equally well with all popular form plugins, including Gravity Forms and Contact Forms 7.
File Downloads
If you offer files at any stage of your marketing funnels, file downloads can be an important indicator of lead quality. For example, users might be interested in your services or products if they download a file. Analytify allows you to set the types of files (for instance, PDF and RAR) and then present a report of the file downloads. This report can be seen in the Events Tracking dashboard tab.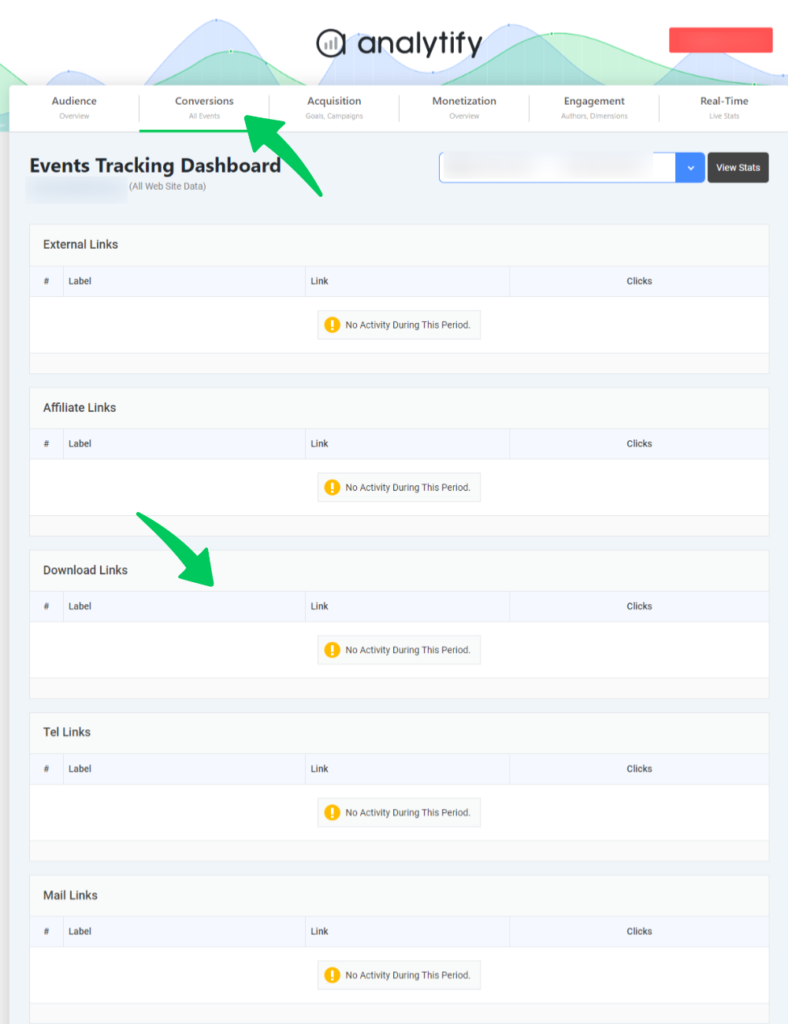 Conclusion: Measure Lead Quality
We hope you now have a clear idea of how to measure lead quality with Google Analytics. First, we described the idea of lead quality and then showed you how Analytify can help you leverage Google Analytics to understand the leads landing on your website.
Frequently Asked Questions
Are all leads equal?
Unfortunately no. All leads you collect are unequal and don't have the same chances of converting into customers. Your sales team can give you a good idea about lead quality.
Is Google Analytics a good solution for tracking lead quality?
Google Analytics collects a lot of information to help you evaluate lead quality. Unfortunately, you need to go through several reports to get this information. To save time, we suggest you try Analytify, a great Google Analytics plugin that brings all essential lead data to your website.
That's all! You can also check out How to Measure Social Media ROI With Google Analytics and All About Google Analytics Events vs Goals.
Not using Analytify yet? What are you waiting for?