How to Set Up Phone Call Tracking in Google Analytics
Are phone calls an important lead-gen channel for your business?
You can set up call tracking in Google Analytics to see the leads and related information to understand the share of phone calls in your leads. When you set your phone number tracking, you are tracking the leads generated when website visitors click the phone numbers you mentioned on your website.
In this article, we'll show you a simple way of call tracking in Google Analytics and then go into the details of how Analytify can help you see the information in your website dashboard.
Table of Content
What is Call Tracking in Google Analytics?
You might think phone calls are a dying medium in this age of instant messages and email. However, almost every business website includes a phone number in their contact information.
Many people find calling a business a convenient way of getting quick answers without waiting for email replies. As such, phone calls remain an important "first-contact" way of generating leads. Because of this, you want to know your lead's share of phone calls.
Specifically, you want to find out how many website visitors clicked the phone number you mentioned on your website. These visitors are great potential leads because they are interested in calling you and discovering more about your products, services, and offers.
While you can opt for a third-party call tracking solution, Google Analytics presents enough information for your decision-making process. In addition, chances are you are already using Google Analytics to track website traffic; the call tracking solution discussed below doesn't add additional load to your website. This is important because there is always a chance that third-party solutions could slow down your website and affect performance numbers and SEO scores.
How Can You Set Up Call Tracking in Google Analytics?
Important: The following discussion assumes that you have placed your phone number as a clickable HTML element. This is an essential requirement because we'll track the clicks on this link during the call tracking process.
Like most processes, Google Analytics offers several ways of setting up call tracking. For instance, you can use a combination of Google Analytics and Google Tag Manager to set up triggers on your website. Alternatively, you can add a custom JavaScript that triggers an event every time visitors click the phone number. Note that this method requires you to add a custom snippet to your website. We suggest we avoid this method if you aren't proficient in website code editing.
Let's start with setting up the goal that helps us track the click event.
Set Up the Phone Number Click Goal
To create a goal in Google Analytics 4, go to Admin and click Goals, under All Web Site Data.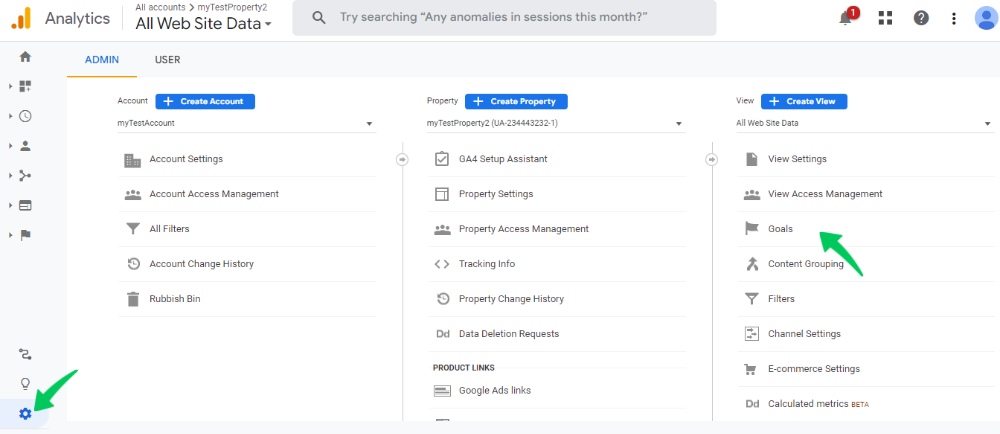 You'll be taken to the Goals screen, where you need to click the red + NEW GOAL to add a new goal.

On the next screen, you see a form where you enter descriptive details about the goal.
Remember to give a descriptive name to the goal for easy identification in reports and goal lists. Set the Type as Event (to make sure the click event is tracked correctly). When done, click Continue to go to the next screen.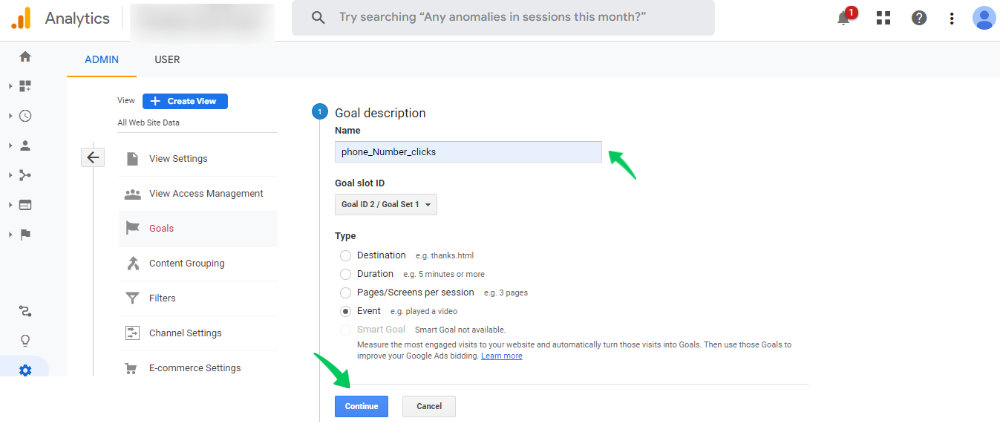 On the next screen, you need to provide the technical details that Google Analytics would use to determine goal completion.
Start by assigning a category to the goal. For example, we chose Phone Call Tracking. However, you can use a different label to suit your tracking requirements.
Next, you need to add an Action. For our purpose, this should be set to click.
Finally, you can set a Value for the goal. This important decision would reflect the value of call tracking in your overall lead-gen and marketing processes. You need to give this goal a value that properly reflects the impact of the leads generated via phone calls. This value is reflected in the Page value metric in Google Analytics reports.
Once you have filled in the details, click Save to finalize the process.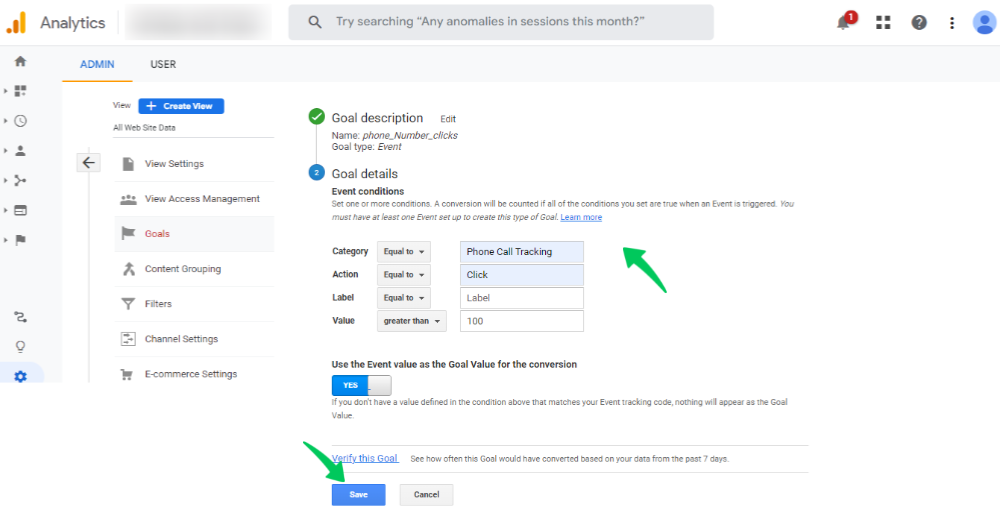 Analytify Helps with Call Tracking in Google Analytics
Now that you have set up the goal, you want to track the performance of the event that the goal tracks.
Like most website owners, your first reaction is to check the goal completion report to see how many visitors clicked the link and completed the goal.
However, as you'll find, the report has a narrow focus in that it only shows the conversion for the call tracking goal. When analyzing this information, you'll have to consult other data to put the conversion completion in the proper context. You must either add dimensions (or create custom dimensions) or download the data.
Analytify offers a better solution for call tracking in Google Analytics.
This feature-packed WordPress Google Analytics plugin brings all essential information to your website dashboard so that you don't have to leave your website during critical planning sessions. In addition, it is easy to set up and connect to your Google Analytics account.
Regarding tracking phone calls, Analytify has a dedicated Goal tracking dashboard that allows you to see goal progression stats. For example, this is where you can see the number of hits the phone number link received.
We assume you followed the previous steps and now have a goal that tracks phone number link clicks. To view the goal completion number, you can go to the Analytify dashboard, hover over the Acquisition tab, and select Goals. You can see the goal completion progress in this tab.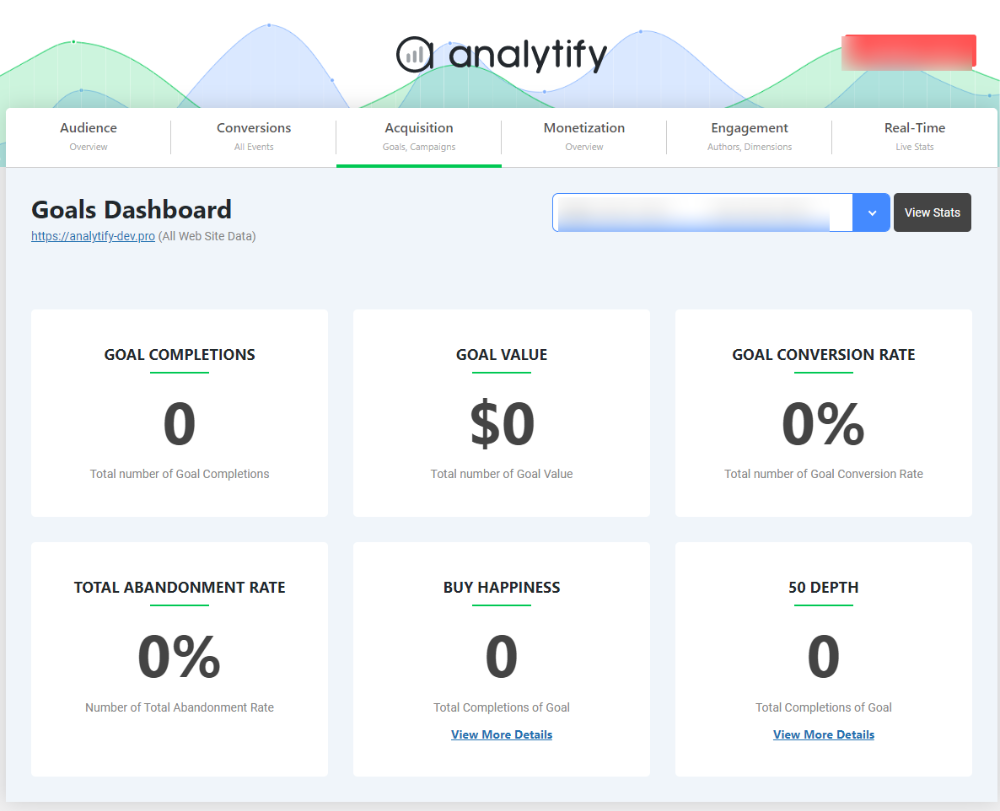 Since you can see additional website traffic data in the Overview tab, you can combine the goal completion numbers with the traffic on popular pages; you can work out a percentage of the visitors who clicked the phone number link.
Conclusion
We hope you now clearly understand how call tracking in Google Analytics works. We also showed you how to leverage Analytify to view goal completion and related data that helps you make an informed decision. By tracking this statistic, you can evaluate the impact of your traffic-centric campaigns.
Let us know how you implement call tracking in Google Analytics on your website.
Frequently Asked Questions
What should I do to start call tracking in Google Analytics?
The first thing you should do is place your phone number as an HTML link on your website. This link would be the target for the call tracking event.
What are the benefits of tracking the clicks on your phone number?
Your phone number is often the first contact for your business. When you track the clicks on the phone number, you can estimate the number of leads generated from your website.
That's all! You can also check out all About Google Analytics Events vs Goals and How to Use Google Analytics to Increase Website Traffic.
Not using Analytify yet? What are you waiting for?