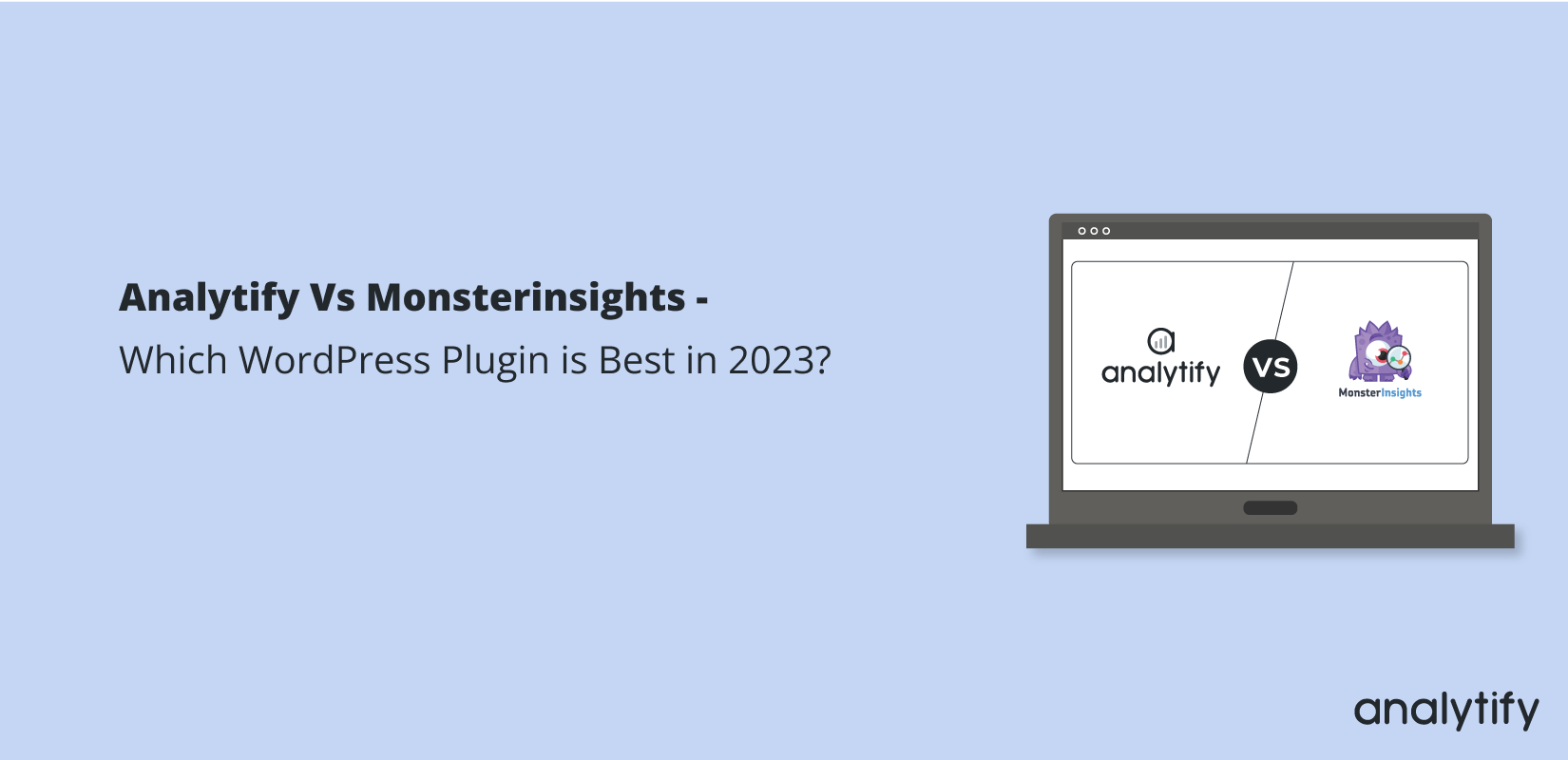 Analytify VS MonsterInsights – Which WordPress Plugin Is Best In 2023?
Are you looking for a platform to set up Google Analytics on your WordPress website? But you don't know which plugin is best for your website Google Analytics Integration. Here, we are going to discuss the major Google Analytics plugins that are used to integrate Google Analytics with your WordPress website.
Here, we will discuss and compare Analytify vs MonsterInsights Plugin and discuss their differences and similarities according to their functionalities plus discuss their different features that which platform has more features or functionalities.
Analytify and MonsterInsights are one of the most famous WordPress Analytics plugins that will help you to integrate your WordPress website with Google Analytics. But also provide you different tracking features to track the website traffic or visitors and real-time traffic. These Google analytics plugins help you to take business decisions for your online platforms. But there is a huge difference between these plugins how they work and how they track the traffic of your WordPress website.
Now, let's start
Table of Content
What is Analytify?
Analytify is one of the famous and best Google Analytics Plugin for WordPress websites that will help you to integrate your website with Google Analytics and provide you with an Analytics report on your website WordPress Dashboard, which means you don't need to open Google Analytics separately. You can easily set up Analytics on your WordPress website without editing in your website code.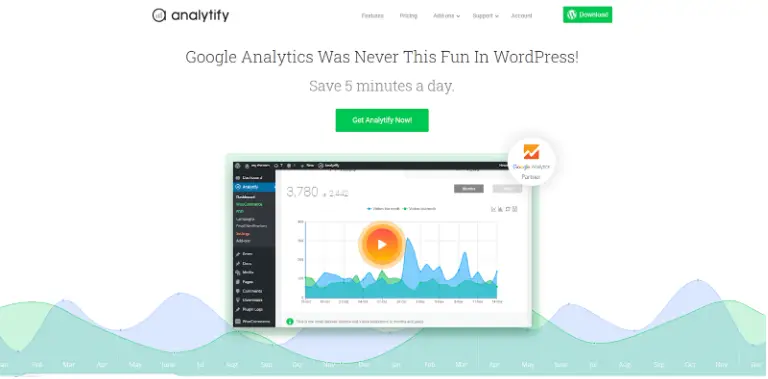 Analytify plugin comes with different addons for WooCommerce and easy digital downloads and many other addons for your website like E-mail add-ons and many more.
Analytify offers tracking reports that you can view in your WordPress Dashboard. Analytfiy reports are clean and easy to understand in both basic and advanced forms, where you can easily understand how your website is performing.
Analytify also provides very different functionality in E-mail add-ons that you can easily send weekly and monthly report on your email address or client's email according to your requirements that what kindly of analytics you want in your tracking reports like E-commerce report that includes your E-commerce goals, sale, and coupons report and many other features.
With Analytify you can easily track your organic and paid campaigns by implementing the UTM tags with the help of Analytify and easily get an analytics report of campaigns in your Analytify dashboard.
What is MonsterInsights?
MonsterInsights is, same as Analytify plugins for Google Analytics integration with WordPress websites and one of the famous Google Analytics plugins for WordPress. MonsterInsights offers a User-friendly friendly interface with different features. You can easily integrate Google Analytics with your WordPress website without any code.
MonsterInsights offers different types of tracking reports like Analytify offers to its users. like real-time users tracking, overall weekly and monthly tracking reports that include outbound and inbound links click that you can easily implement by UTM tags, same as in Analytify.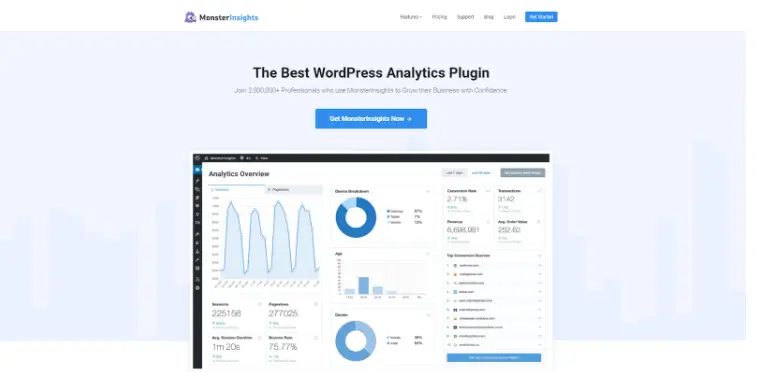 You can easily your analytics reports inside your WordPress Dashboard with the help of the MonsterInsights plugin which means that you don't need to open Google Analytics Separately to check the analytics reports of your website.
Both Analytics plugins provide tracking reports of a WordPress website that a user can easily understand and make decisions related to their business to increase their conversions. But there are a lot of different functionalities that create a huge difference between these two WordPress plugins for analytics.
Here, we are going to discuss these two Analytics plugins (Analytify Vs MonsterInsights) and their functionalities plus which plugin is best for the WordPress websites in terms of Website analytics.
Basic vs Advanced Reports (Analytify Vs MonsterInsights Reporting)
When we discuss both Analytics plugin reports, Analytify and MonsterInsights offer Google Analytics Dashboard for WordPress, where we can easily view our website tracking reports which means that we don't need to open Google Analytics separately to check your website analytics reports.
Analytify offers both basic and advanced level reports including reports about keywords or search-terms that our audience searches in the Search engine to search our website or company plus many other features that include different data in reports like.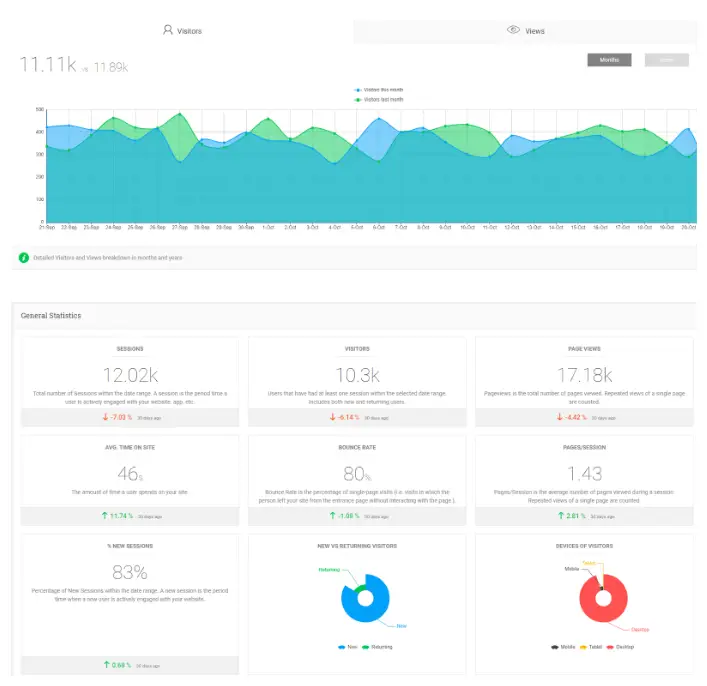 Geographic Data (Top countries and cities)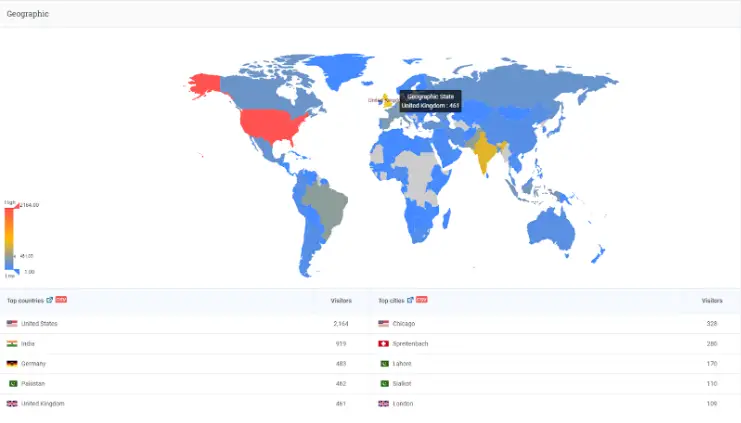 System Stats that include Browser & Systems

Social Media and Top Referrers Report

In Analytify you can check many other analytics reports like Top posts or pages and Campaigns that include Organic and Paid campaigns, you easily track these campaigns by implementing the UTM tags in your campaigns that will help you to track your specific campaigns, which are important for your business conversions.
Analytify also provides E-commerce reports that will help you to make decisions related to your business and helps you to increase conversions for your business. In, these reports you can easily check what are the top countries where your sales are high plus you can easily check or track your discounts, coupons, and product performance.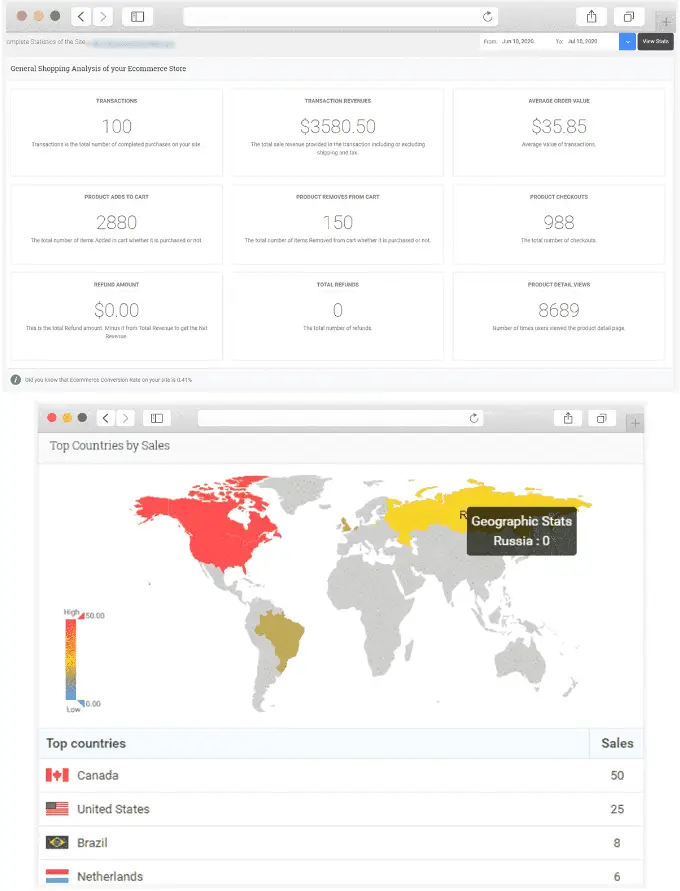 Same in MonsterInsights you can check different reports related to your website that will help you to make decisions related to your business and these reports include only advanced level reports so it's very difficult for the beginners to understand the reports from the very start.
So, Analytify is up in this feature because this plugin provides both basic and advance level tracking report in the WordPress dashboard so a user can easily understand their website tracking or analytics report and according to that, they can easily make business decisions.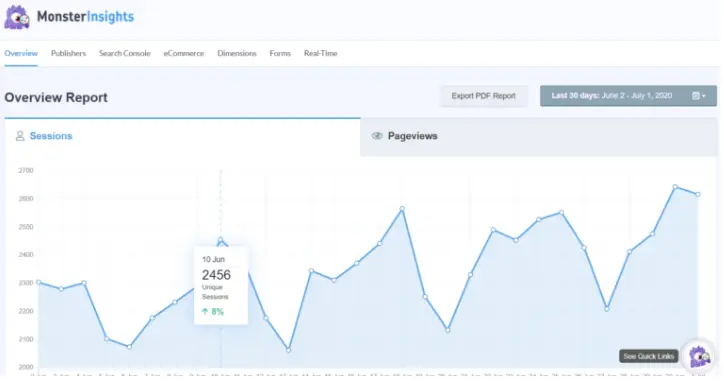 You can also view top countries and top pages in the report in your WordPress dashboard but one thing which is included in Analytify and different from MonsterInsights that, in the Analytify report, you can also view top cities according to the top countries in your website tracking report.

Export and Report Sharing
In both Plugins Analytify vs MonsterInsights, you can easily Export and share the reports with your clients or business owners, what are the analytics results of their business and what business decisions they need to take for their business to increase their sales or conversions.
There is a huge difference between these two plugins in report sharing and exporting of tracking reports.
MonsterInsights Provide the option of sharing the overall summary analytics report and you can share this summary report only to limited users 5 to 10 max.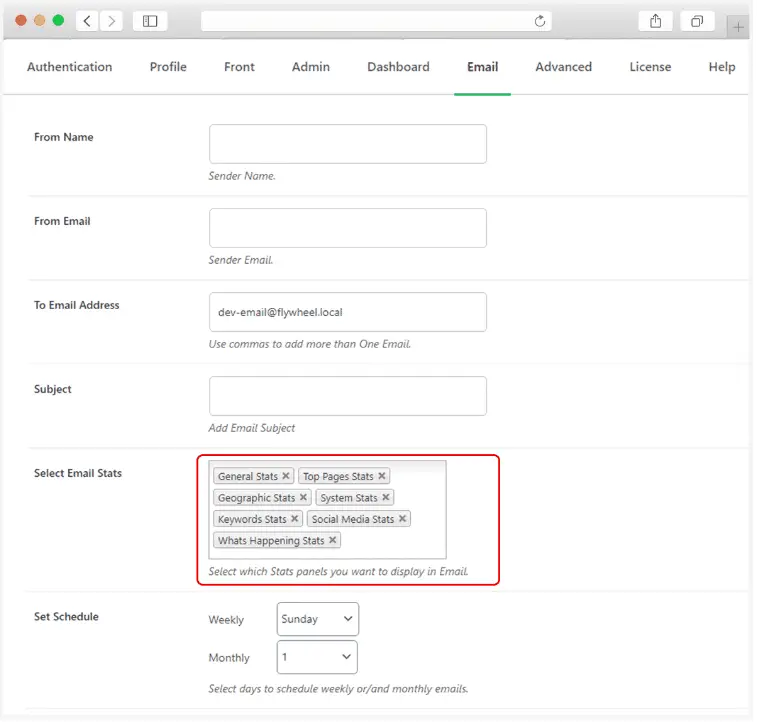 But in Analytify you can share the report according to the requirements of the user or clients means what kind of analytics they want in their analytics reports like general stats, WooCommerce stats, social media stats, or keywords stats, etc and there is no limit you can send these on any email according to your requirements.
In Analytify WordPress you can also schedule your report for your clients or users according to their requirements.
In the Schedule setting you can set according to your need means weekly base or monthly base report.
In MonsterInsight you will not find such a type of functionality that Analytify offers to their users or clients, because in MonsterInsights you will get only a summary report of your website analytics and you can share only to limited users.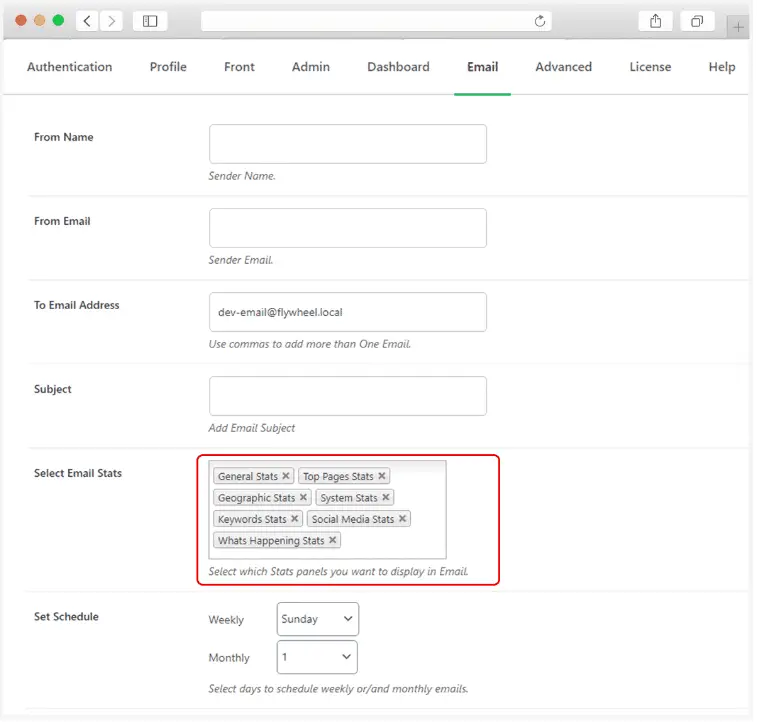 Data Accuracy: Access of Analytify VS MonsterInsights Analytics Data (Which Plugin is more Accurate?)
When we start comparing the Analytify VS MonsterInsights plugin, you might be wondering which plugin offers more accurate and concise tracking and reporting to the users according to their roles.
In MonsterInsights you can specify or give access to the different roles that, which role have access to the Tracking report and which person or role needs to remove or which person doesn't need any kind of analytics access.
But the Analytify scenario is totally different from MonsterInsights. In Analytify you can give access to different to see and analyze the tracking or analytics report of Website plus you can give specific stats access to specific roles which means that following roles hai following stats access in the Dashboard of Analytify.
You can create extra profiles in WordPress and assign them different roles plus you can also give them access to different stats in the Analytify dashboard.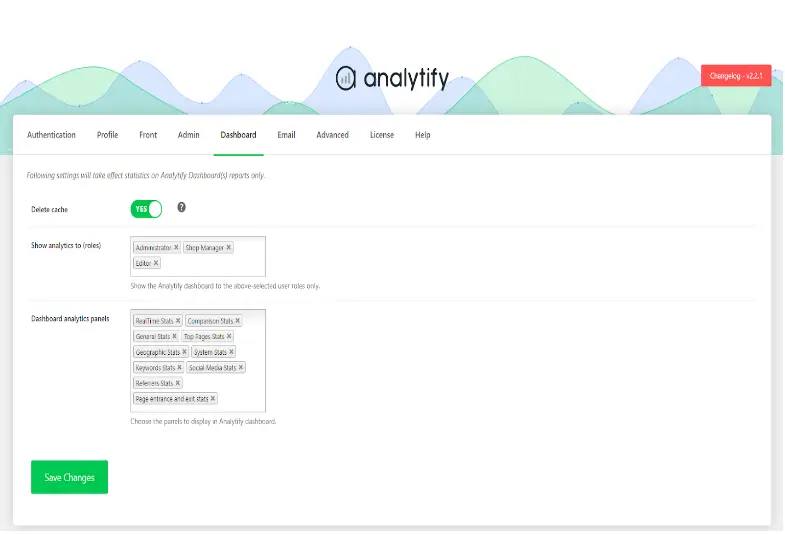 Conclusion (Which Plugin is Best for Analytics?Analytify vs MonsterInsights)
As you can see the difference in plugin features both plugins offer different and same functionalities but in some functionalities, Analytify is better than MonsterInsights because of the limited functions in MonsterInsights like Analytify provide you the option of sending reports according to your or clients requirements that which stats they want in their report but in MonsterInsights there is a limitation you can send only summary type report to a limited number of emails.
Here, you can see the difference between these two plugins Analytify and MonsterInsights according to their functionalities and some other extra features.