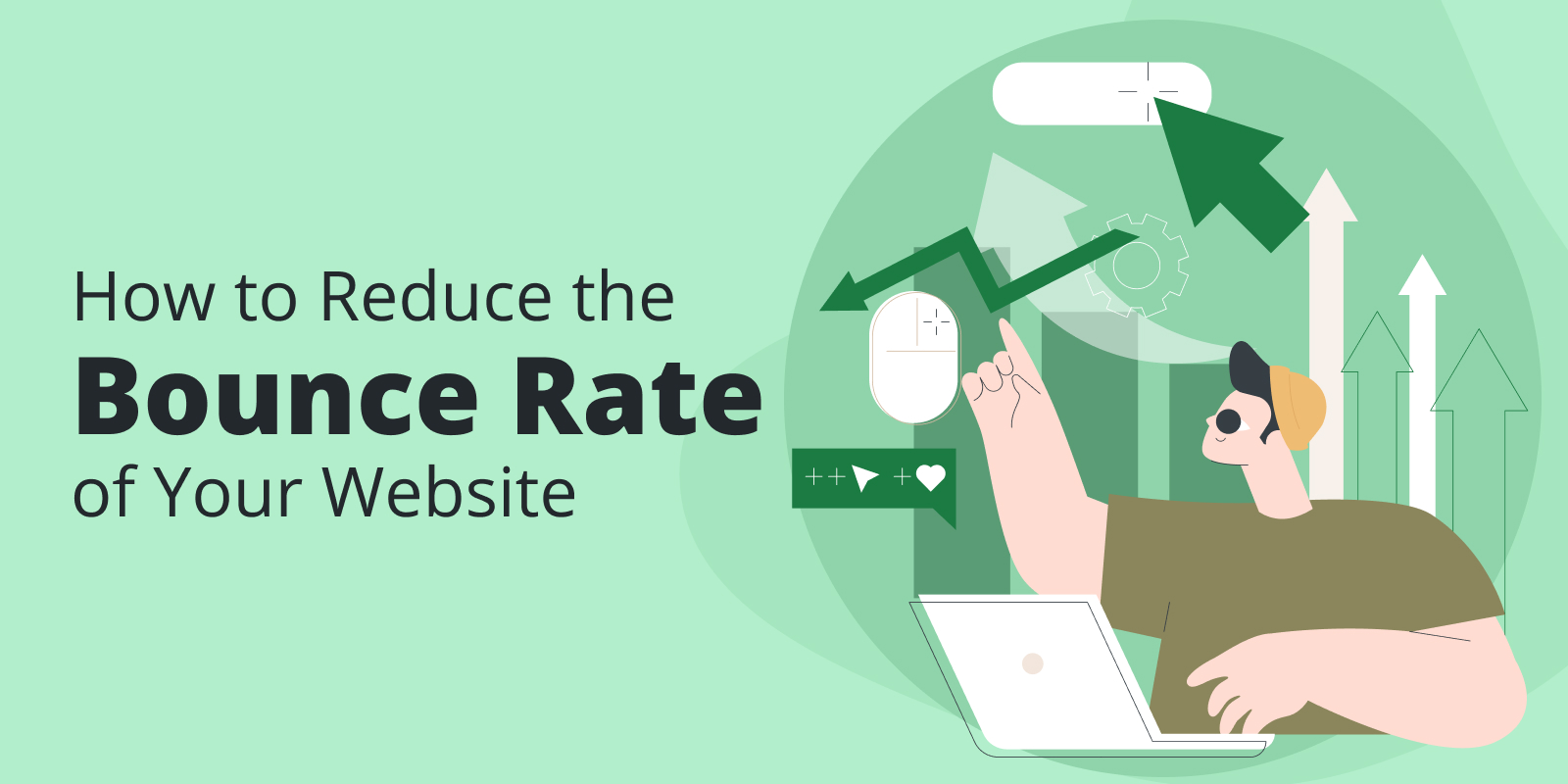 How to Reduce The Bounce Rate of Your Website (Easy Guide)
Are you worried about the bounce rate of your website?
Bounce rate is a crucial website performance metric because it directly relates to the visitors coming to your website. Since it measures the number of visitors who moved away without clicking any links on the website, it also indicates website design and content issues.
In this article, we'll show you how to reduce the bounce rate and discuss how you can optimize your website.
Let's start with the basic definition.
Table of Content
What is Bounce Rate?
Bounce Rate is the percentage of website visitors who went away without clicking a link. Essentially, these visitors visited only a single page on your website. For marketers and website owners, bounce rate is a vital website metric because it can point to several issues that you mightn't uncover otherwise.
In technical terms, you can calculate the bounce rate for a website using the following formula:
Bounce Rate = Total single-page sessions / Total volume of page enterances
Important: Google Analytics also tracks Exit Rate for your website. It sounds similar to the Bounce Rate, and some people confuse the two. The two metrics measure visitors leaving your website, but there's a significant difference.
Bounce Rate tracks visitors who left without clicking beyond the page they landed on. On the other hand, Exit Rate tracks the visitors who exit your site after visiting any number of pages. 
You can think of Bounce Rate as a subset of Exit Rate. Every visitor who bounces is counted in the Exit rate, but not every visitor leaving your website doesn't necessarily be included in the Bounce Rate.
Given its importance, every analytics platform measures website bounce rate. We believe every website owner should know how to track and lower bounce rates and you can also reduce the bounce rate using the adjusted bounce rate inside Analytify Dashboard.
How to Find Bounce Rate For Your Website in Google Analytics
All popular web analytics platforms track website Bounce Rate. We'll use Google Analytics for this article, but you can opt for any analytics software.
Google Analytics tracks an aggregate Bounce Rate of the website. In addition, you can also see Bounce Rate for individual pages. Here's how you can find out the Bounce Rate for your website.
Under Reports, go to Behavior and click Site Content to expand the options. Next, click All Pages to see the detailed report. Here you can see the aggregate Bounce Rate at the top of the column. You can also see the Bounce Rate for the pages. These numbers are very useful in identifying the pages that aren't performing well.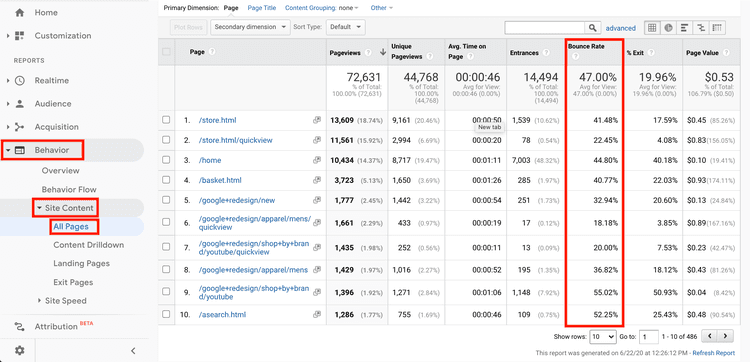 Analytify Brings Bounce Rate Numbers to Your Website
Given the importance of Bounce Rate, you may want to check it frequently. However, many website owners find it tedious to check Google Analytics whenever they want to check the Bounce Rate.
If you have a WordPress website, you can try Analytify, a Google Analytics Dashboard plugin that brings the statistics from the dashboard to your website. It has a very informative widget that fits in the WordPress Dashboard and presents essential website performance numbers, including the website Bounce Rate.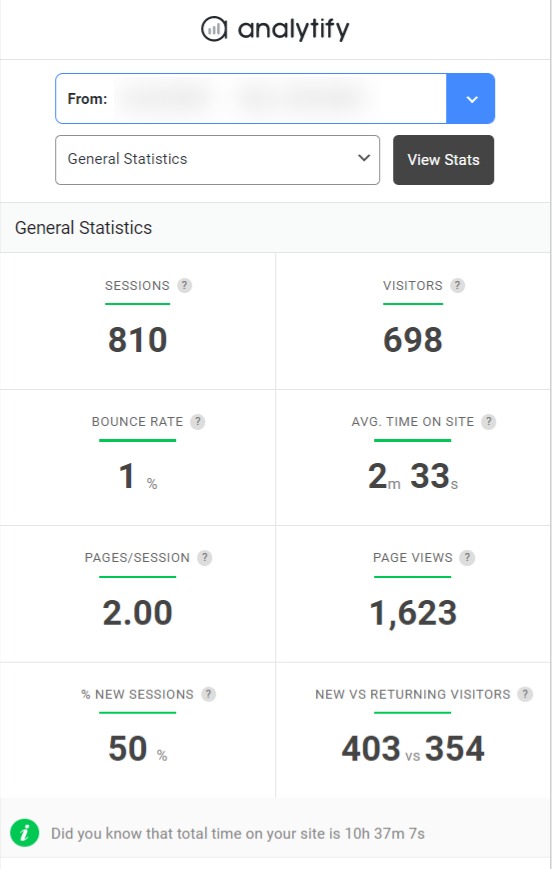 Analytify also helps you set a timeout interval for bounce rate on your website. Once you set this interval, every visit that stays beyond that time limit wouldn't be included in the bounce rate.
How to Find Bounce Rate in Analytify
To see your website's Bounce Rate in Analytify, simply go to the Analytify Dashboard. Scroll to the second section, General Statistics. You'll see the Bounce Rate card showing the percentage value.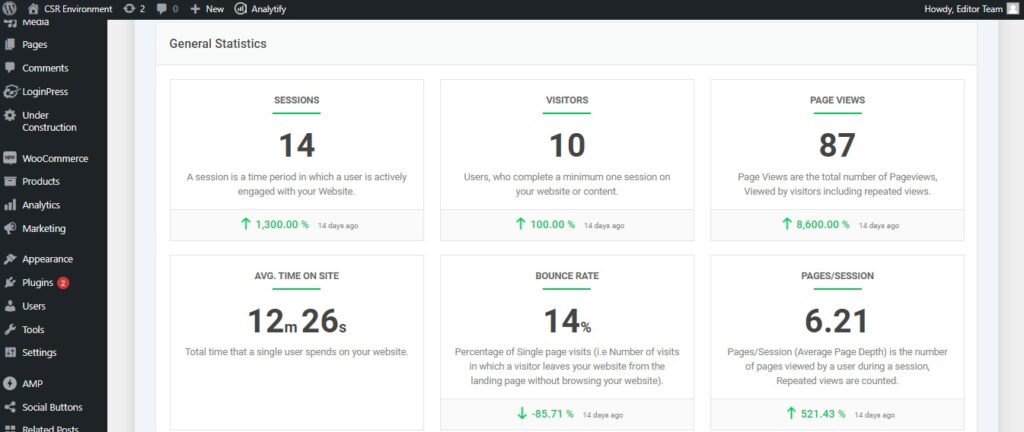 What's a "Good" Bounce Rate?
The best answer to this question: it depends!
You should see the Bounce Rate in the context of what you want to achieve from the page. Pages on a website are not equal. Landing pages have their purpose, while the blog has its own.
A user landing at a product page might leave after viewing the product details. In contrast, a visitor to a blog might click the CTA or related post links to read more content. As a result, both these pages of the same website could have different Bounce Rate. Similarly, an eCommerce store and a corporate website have different Bounce Rate because of the nature of the offer, content, CTA placements, and design.
However, digital marketers use a rule of thumb to judge a website's Bounce Rate. Anything above 70% is problematic. On the other hand, anything below 30% indicates a problem, mainly tracking issues. A "good" Bounce Rate is between 30% to 50%; the closer to the 30% mark, the better.
Why Should You Focus on the Bounce Rate?
Keeping a close eye on the website bounce rate is more than just checking the metrics.
People come to your website and go away immediately without exploring other website pages, point that something is wrong. Here are some things that you should check:
Matching User Intent
Is your website providing the content visitors expect?
Consider this: A visitor clicks your website's link in Google search results. They came to a landing page but didn't find what they were looking for. So the user would leave the website, and the analytics software would count them in the Bounce Rate bucket.
Poor Website Design
Consider a similar scenario:
While browsing on their phone, a user lands at your website. Your website doesn't look good on their screen, and they have difficulty reading the content. They would close the tab almost immediately without clicking other links on the page.
To sum up, Bounce Rate in itself is not essential. Instead, a high bounce rate helps identify website design and content issues. The idea behind checking the metric frequently is to ensure that all parts of your website conform to the industry standards and user expectations.
This brings us to an interesting (and oft-debated) question.
How Can You Reduce Bounce Rate?
Reducing the Bounce Rate of your website is part of the more extensive CRO activities to increase traffic and conversion. The idea is to optimize the design and content to increase the "stickiness" of the website.
Here are several ideas you can try to improve the Bounce Rate of your website.
Try to Catch The Trend Early
Keeping a frequent eye on the Bounce Rate allows you to catch movements in the Bounce Rate.
Minor changes are normal, but significant changes indicate users are having trouble with your website. Therefore, you should immediately consider the probable causes when you see a spike.
The Bounce Rate report is a good place to start because you can identify the pages where the spike happened. Then, optimizing these pages allows you to decrease Bounce Rate a few notches.
Tell Your Story To Increase Dwell Time
Every marketer knows that people love stories. So a good trick to reduce the Bounce Rate is incorporating storytelling elements on every website page. By making your story the central piece of the page, you're providing the visitors with an exciting read that ensures they stay on the page. The longer they stay, the higher the chances of the visitors clicking the links on the page to other website pages.
Optimize Meta Descriptions to Match Search Intent
Users read the meta descriptions that Google shows under a URL to decide whether they'd visit a website. They expect to read the content they're looking for on the page. If this expectation isn't met, they immediately leave and return to the Google result page.
You should ensure that the meta description of your pages matches the user intent behind the targeted keywords. This will help meet the users' expectations.
Make Your Website Mobile-first
While this is a no-brainer, you'll be surprised that there're still websites that don't have a responsive design. These websites don't render well on smaller screens.
If you haven't already, switch to a responsive website design to ensure that visitors using mobile devices can have a great experience.
Improve Page Load Time
In addition to other benefits, decreasing the website's page load time significantly impacts the Bounce Rate.
When users arrive at a slow-loading website, they close the tab. All these users add to the Bounce Rate of the website.
Decreasing the page load speed involves several tactics that optimize the website structure and design. You can read our guide to improving the page load speed of your website.
Check for Broken Links
Broken links that don't lead to the intended destination frustrate visitors and contribute to the Bounce Rate percentage. These links result in poor user experience and negatively impact your search engine optimization efforts.
You need to include the broken link audit in the weekly website performance checklist. Use a tool such as Screaming Frog to speed up the audit process.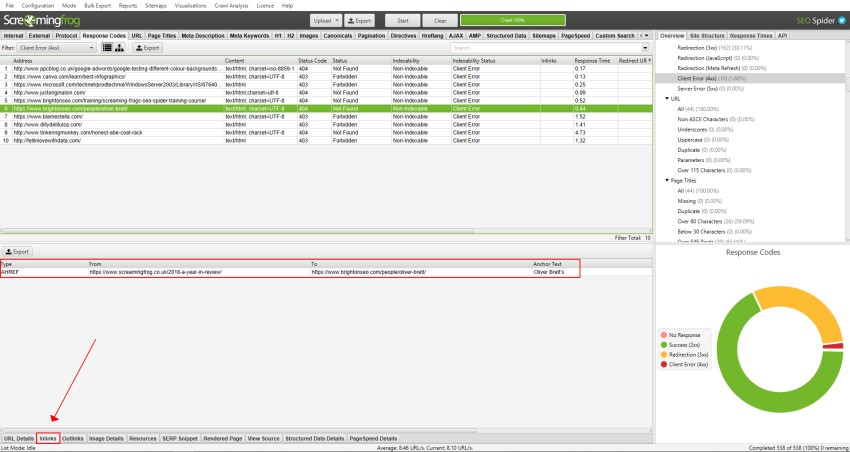 Add Internal Links To Keep Users on The Site
In a rush to take the pages live, people often overlook placing internal links. This oversight cost the website in terms of increased Bounce Rate.
The first thing you should do is review your page take-live checklist to add multiple checks for internal link placement.
Almost all WordPress SEO plugins raise an alert if they don't detect internal links in your content. This simplifies internal link placement and helps you minimize the Bounce Rate
Break Content into Small Chunks
You might have seen web pages with long walls of text that seem to go on for several folds. The experience is particularly horrible on mobile phones, where small screens make the experience worse.
When visitors see these long pages, many close the tab rather than go through the entire page. You can imagine the impact on the website's Bounce Rate.
Breaking your content into small paragraphs is a simple trick that significantly improves the user experience. If possible, use images to break content walls to engage visitors and make them stay on the page longer.
Minimize Popups
Visitors are very annoyed by popups because they disrupt the user experience. In addition, popups are notorious for being difficult to close and forcing visitors to take unwanted actions.
If you have to use popups, opt for intent-based popups that trigger when the user appears to leave the website. These popups are less intrusive, and users prefer them over the popups that "hijack" the tab.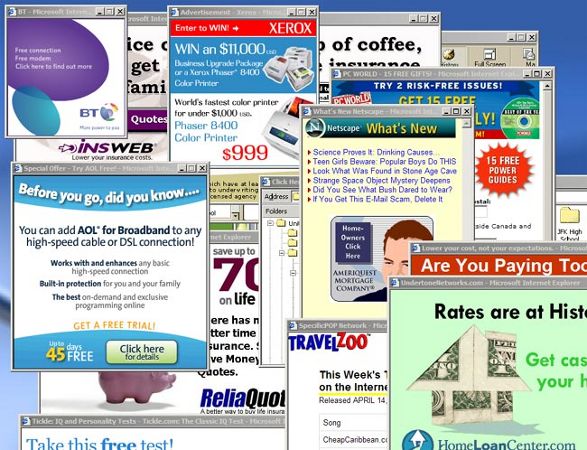 If you have to use popups on your WordPress websites, make sure they're implemented via reputable plugins to conform to the best design practices.
Ads Turn Off Visitors
Continuing the previous point, websites that still use popups to deliver ads (even for their products) have only themselves to blame for the high Bounce Rate.
Ads are best placed in sidebars where they remain visible without breaking the user experience. Videos are a great alternative because they add to the user experience and help grow the brand's footprint
Make Links Open in a New Tab
Website owners often make the mistake of formatting external links to open in the same tab as the website. This seemingly simple oversight can have serious implications for the website's Bounce Rate.
When visitors land on a page and click on an external link, they move away from your website. Analytics software count this session toward the website's Bounce Rate because the visitor left without clicking a second internal link.
Making external links open in a new tab is a simple fix that helps reduce the Bounce Rate of your website.
Optimize for Relevant Keywords
You must ensure all pages on your website contain the most relevant keywords. But more than that, you should ensure that the pages don't have keywords that are not in line with the content on the page.
Offer Useful Links on 404 page(s)
Visitors see a 404 Page Not Found error when they land on a broken link on your website. Visitors tend to close the tab without considering the reason behind this error. This happens because many websites have a blank page that leads nowhere.
You can leverage 404 pages to reduce website Bounce Rate. The trick is to offer links that lead to relevant pages. Here's how Airbnb optimizes its 404 pages, with a predictable impact on the website Bounce Rate.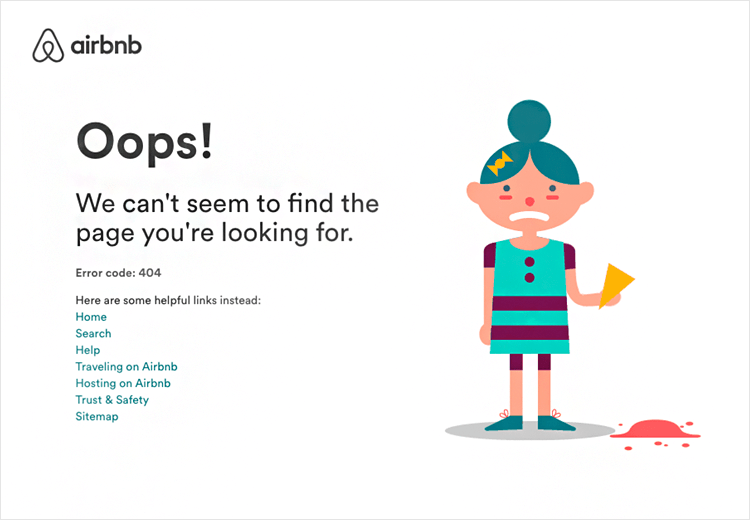 Regular Publication Helps Reduce Bounce Rate
Visitors, especially returning visitors, crave fresh content. Therefore, regular publication is an essential countermeasure against the rising Bounce Rate. If you can maintain a regular publication schedule, you'll find that visitors tend to click the links to read more content.
We understand that every website can't publish fresh content frequently. However, such websites can experiment with content repurposing to transform existing content into new content formats. This simple exercise not only increases the chances of conversion but also reduces the Bounce Rate of your website. 
Optimize Product Pages
If you have an eCommerce store, you'll notice that product pages have a higher Bounce Rate percentage. This is because users land on these pages, see the product information and then leave the website.
Optimizing product pages for reduced Bounce Rate involves activities such as adding related products, links to reviews, and the higher category pages. In addition, you can experiment with sales pages that offer a better deal on the product the visitor is viewing. This increases the chances that the visitor would click their way to the deals page and help reduce the Bounce Rate of the product pages.
Conclusion: How to Reduce the Bounce Rate
The Bounce Rate of a website is an important metric that can help you identify several underlying design and content-related issues. By monitoring the Bounce Rate, you can see the problems that users experience on your website.
Minimizing Bounce Rate is all about applying several interdependent tactics that improve the design and content of the website.
Let us know which tactics you applied to improve the Bounce Rate of your website.
Frequently Asked Questions
What is a 100% Bounce Rate?
A 100% bounce rate indicates that every visitor to your website has bounced off. If you see this number in your analytics, it is generally an issue in tracking. In such cases, we suggest you check the Google Analytics code to see if it's working properly.
That's all! You can also check out How To Add Google Analytics To A WordPress Website and Ultimate Beginners Guide to Google Analytics.