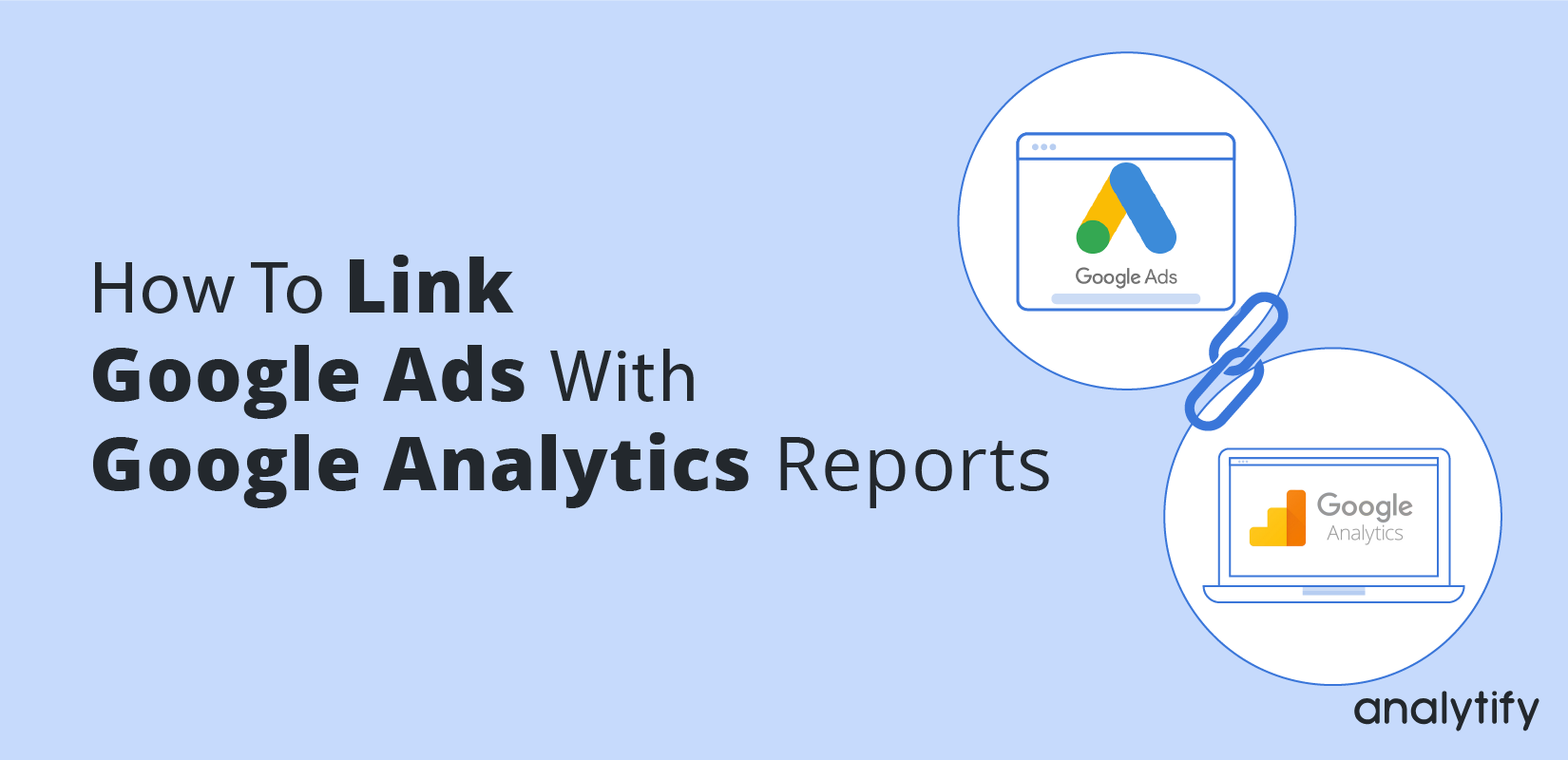 How to Link Google Ads to Google Analytics (A Step-by-Step Guide)
Do you want to connect your Google Ads to Google Analytics account?
Suppose you're running ads and using Google Analytics to track website traffic and user behavior patterns on your website. In that case, keeping these two information-rich platforms apart makes little sense. The good news is that you can easily connect these platforms and leverage the collected pool of information about the user journey.
In this article, we'll show you how to link Google Ads to Google Analytics and the benefits you'll get from the move. 
Table of Content
Why Should You Link Google Ads to Google Analytics?
Before answering that question, let's recall why we use Google Analytics and Ads.
We use Google Analytics to track user behavior on the website. This platform tracks the pages visitors land upon, the pages they further explore, the forms they fill out, or the files they download. As you can guess, Google Analytics isn't concerned about how the visitors would come to your website.
That's the job of Google Ads. This is Google's advertising network that helps you design and display ads to your target audience. You use this platform to create ads that potential visitors will click to visit your website.
If you see closely, connecting Google Ads and Google Analytics allows you to influence users to come to your website (google Ads) and monitor their behavior on the website (Google Analytics). This covers the entire user journey from initial discovery to final conversion. 
Other related benefits include:
You can see ads and website performance in a dedicated Google Analytics report. Usually, it's a Google Ads report, but you can create a custom report to see the data in isolation.
Similarly, you can import Goals and eCommerce metrics data in Google Ads to better connect ad performance to goal completion.
Use native Google Analytics metrics (Pageviews, Bounce Rate, Sessions) in Google Ads.
Use the Google Analytics remarketing tools to better build the audience in Google Ads.
As you can see, when you link Google Ads to Google Analytics, linking Google Analytics and Google Ads open up new ways of understanding the huge amount of data Google products collect about your website. Here's an example of how these connected products offer much more profound insights into website and marketing data.
When you have unconnected accounts, the Multi-channel Funnels reports in Google Analytics only offer information about the funnels you build on the website. On the other hand, when you connect these platforms, these reports get much richer because of the additional data from Google Ads.
How to Link Google Ads to Google Analytics
Connecting your Google Ads to Google Analytics is a simple matter. You need to follow the process that requires you to jump back and forth between the two platforms. 
But I describe the process, and it is important to understand a few restrictions you need to keep in view:
You need to have Editor level privileges for the Analytics property you want to link to Google Ads.
Similarly, you need Administrative rights for the Google Ads account. Also, you should know that only active Google Ads accounts can be linked to Google Analytics accounts.
Tip: it would greatly help the process if you log into both accounts using the same email address. This is not a requirement but something that could remove potential errors during the process.
Let's start the process.
Step 1: Log Into the Google Analytics Account
Start by logging into your Google Analytics account and navigating to the property you wish to connect to Google Ads.
Step 2: Select the Google Ads Account to Link
In the Admin section of Google Analytics, go to the Property column, and scroll down to Google Ads Link. Click the link to go to the next screen.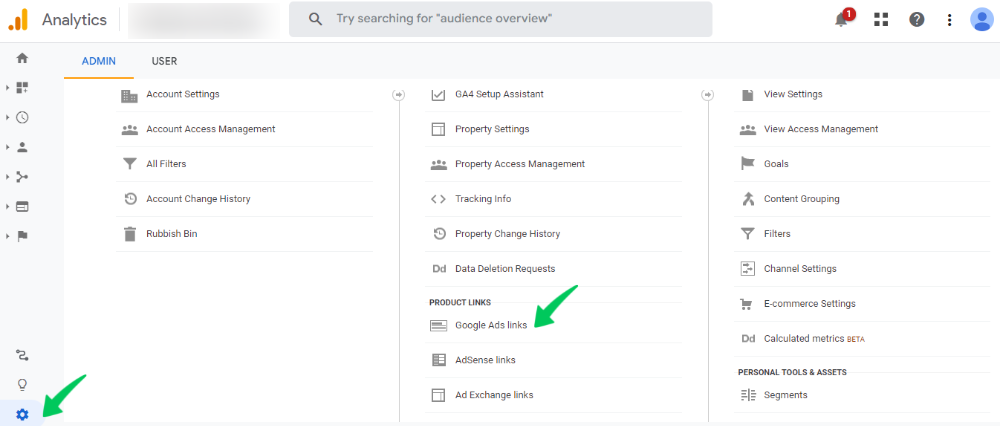 Step 3: Configure Google Ads Link Group
If Google detects a registered Google Ads account, it shows the account ID with a checkbox. You need to check the box and click Continue.

Step 4: Finalize Link Configuration
Now that you have added the account, it is time to add more details to the link.
Enter the name of the link group. Make sure you enter a title that is descriptive and identifiable in the reports.
Next, toggle the option for All Website Data to include the data for the entire website.
If you wish, you can optionally check the box for allowing sharing of data between the two accounts.
Finalize the process by clicking Link accounts.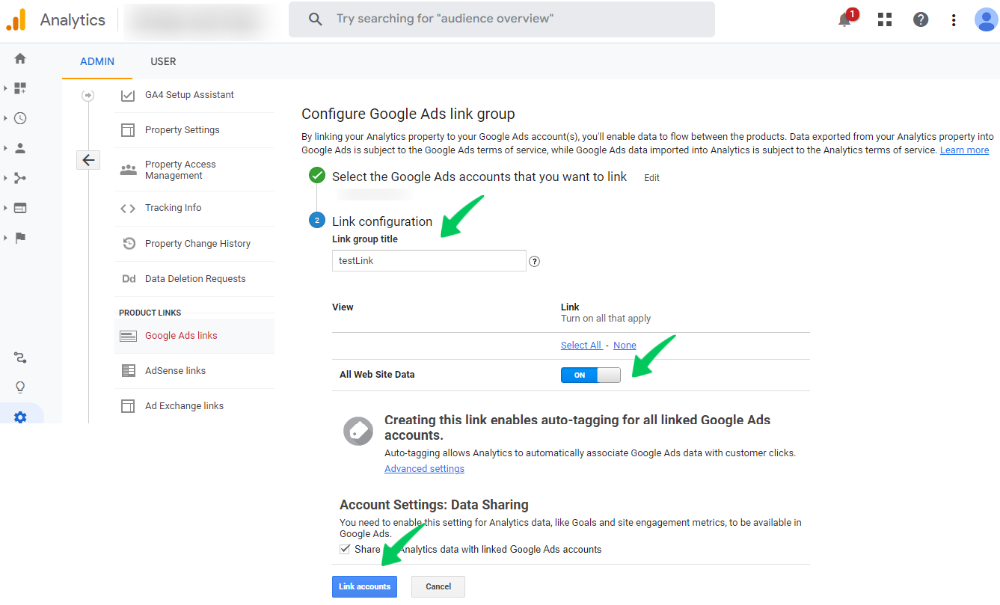 Conclusion
We hope you now have a clear idea of how to link Google Ads to Google Analytics. The process is very simple and allows you to greatly enhance your reporting and analysis capabilities. When connecting the two platforms, you need to make sure you have admin-level access to both accounts.
Let us know how you connected the two accounts and then used the information for better analysis.
Frequently Asked Questions
Why Should I connect Google Analytics and Google Ads?
If you need a more extensive look into how visitors come to your website and interact with your pages, you should connect the two platforms for detailed coverage and analysis.
Are there any restrictions I need to be aware of?
When connecting Google Ads and Google Analytics, you need to be aware of the following restrictions:
1) A Google Analytics property can only have 400 groups.
2) You need to have an active Google Ads account. Inactive or canceled accounts cannot be linked to Google Analytics.
That's all! You can also check out All About Google Analytics Events vs. Goals and How to Track Facebook Ads in Google Analytics 4.
Not using Analytify yet? What are you waiting for?