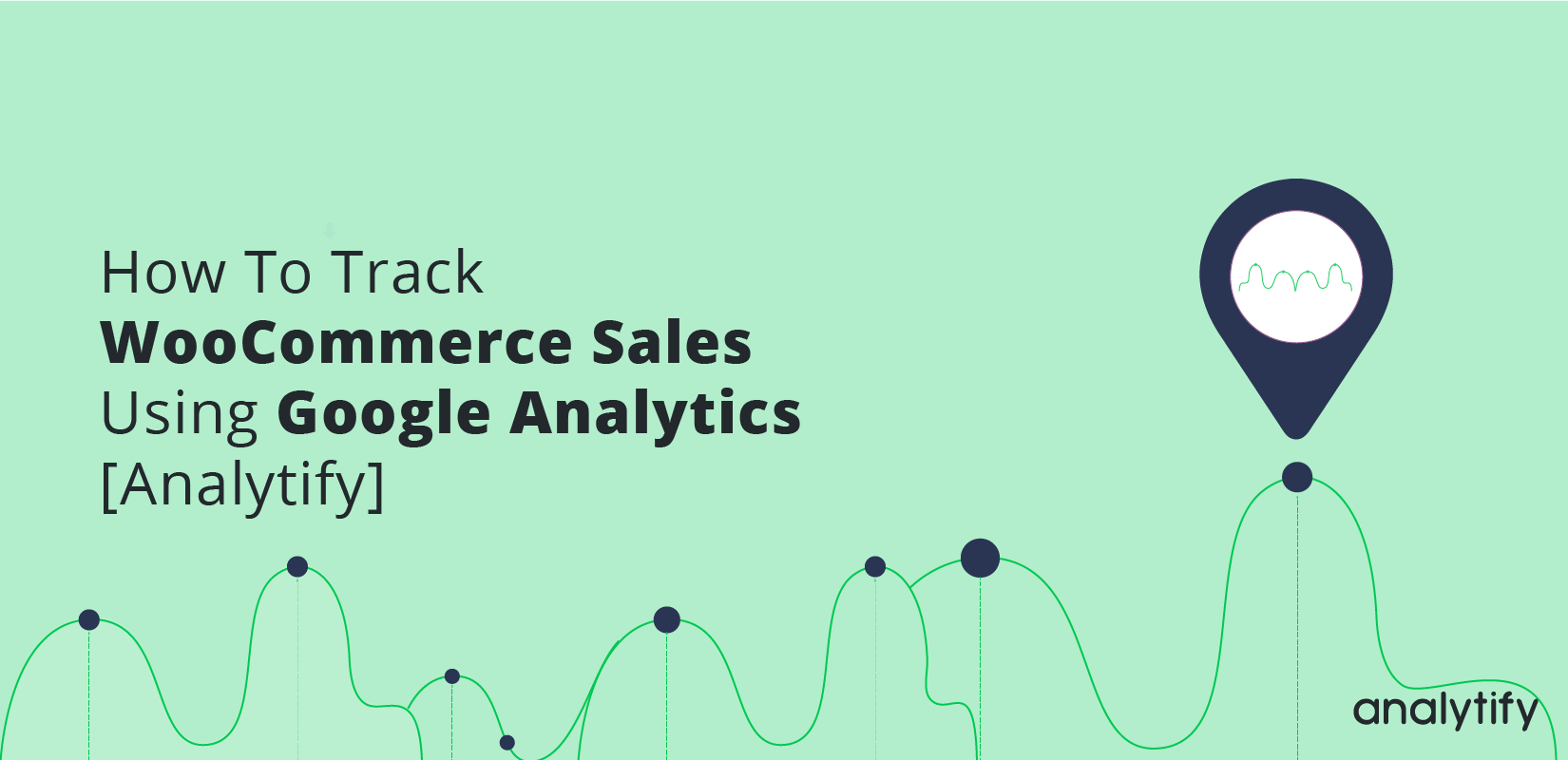 How To Track WooCommerce Sales Using Google Analytics [Analytify]
Do you want to know how to track WooCommerce Sales using Google Analytics? If yes, you are at the right place.
Most eCommerce store owners spend a lot of money on establishing their stores and marketing their products. By doing this, they might get new customers and sales, but the ROI they get is not too impressive. But the smart players play smartly. They keep an eye on their analytics and run their campaign according to that Analytics.
Not every store owner is tech-savvy, and the Google Analytics reporting about WooCommerce stores is too complex. At this point, the Analytify dedicated addon about Woocommerce comes into play. It helps you to understand your Analytics in a simpler and better way. You can have ideas about the behavior of your customer.
In this article, we will discuss How To Track WooCommerce Sales Using Google Analytics.
Table of Contents
Why Is It Necessary to Enable Google Analytics eCommerce Tracking WooCommerce?
Well, you must be wondering, when WooCommerce has its own Analytics feature, why should we add something extra to it? The answer is pretty simple, the Woocommerce built-in Analytics feature only gives you information about the total number of sales, and it gives the reporting about orders that have been proceeded or canceled. Can you get an idea about the customer's behavior by looking into WooCommerce reporting? Obviously not.
With advanced analytics features, you will be able to analyze the following things.
Shopping Behavior
Checkout Behavior
Product Performance
Sales Performance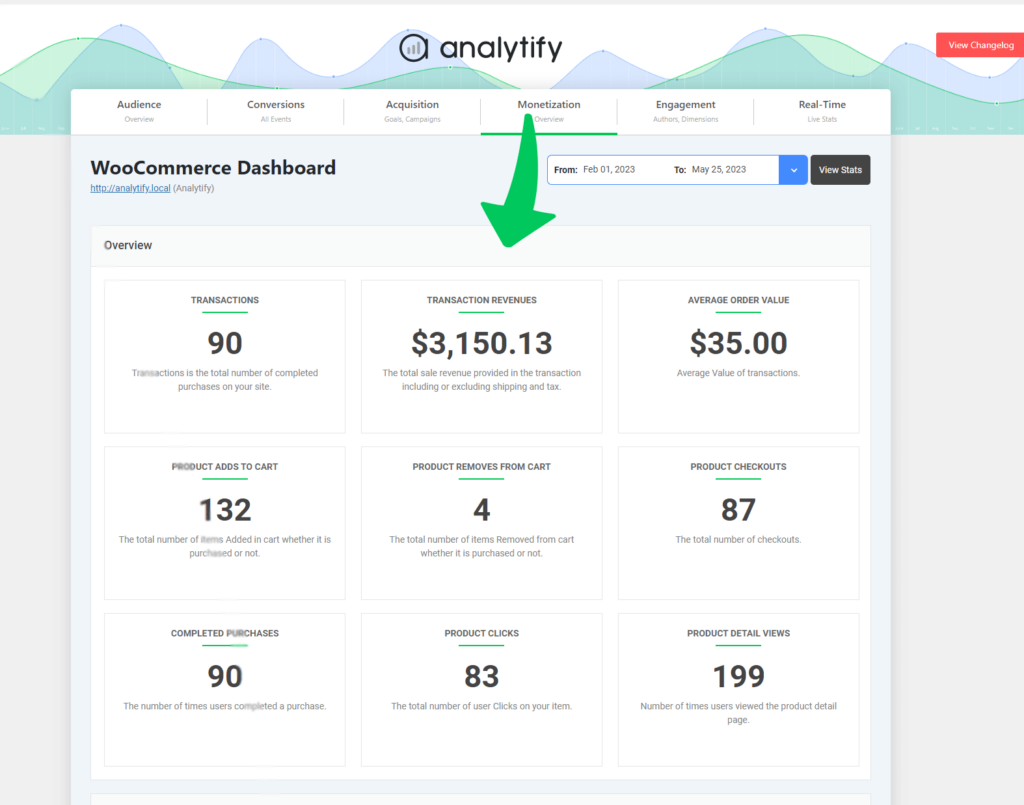 1. Track Shopping Behavior
Analytify allows you to track the shopping behavior on your website, which is very important after you start your WooCommerce store. This will give you all the details about how many people visited your product, how many people added that product to their cart, and how many people ended up purchasing that product.

Once you have all the data, you can utilize this data to optimize the products in your store to enhance sales.
2. Analyze Checkout Behavior
If you have noticed on the WooCommerce checkout process, there are a few steps,
The first step is to add the product to the cart and click proceed to checkout.
Second, it comes to the billing address section,
Google Analytics will track everything and will tell you how many users successfully added products to their carts and how many customers added the billing address, and how many completed the payment process.
Analyze Product Performance
Product performance is another useful feature of Google Analytics. Inside the product performance, you track your product performance based on total revenue, the total number of refunds, buy to detail rate. Furthermore, you can check the performance of a specific product category and a specific product brand.
Analyze Sales Performance
Inside the Sales performance, you can track all the transactions made by your customers in your store. Furthermore, you can check other details about tax, shipping refund, and coupons. It can help you to make your balance sheet.
Setting Up WooCommerce Tracing Inside WordPress Dashboard
Now, you got enough idea about how Google Analytics tracking works for E-commerce. Now, here we will discuss How To Track WooCommerce Sales Using Google Analytics. This is a little complex for most of the store owners. To make the reporting and tracking easy, you can use the Analytify and Enhanced ECommerce Tracking for WooCommerce addon.
This addon will give you all the reporting and tracking from Google Analytics right inside your WordPress Dashboard.
In order to make this work, first of all, you need to install the Analytify core plugin along with Analytify PRO.

To have this setup read our guide on Installing The WooCommerce Tracking Add-ons.
We assume that you have already installed Analytify Pro and Enhance Ecommerce for WooCommerce Tracking addon, and it's working with the Analytics.
After the activation of WooCommerce Addon, eCommerce tracking will automatically start without any complicated configuration. You will start seeing your sales analytics on WooCoomerce Dashboard in your WordPress site.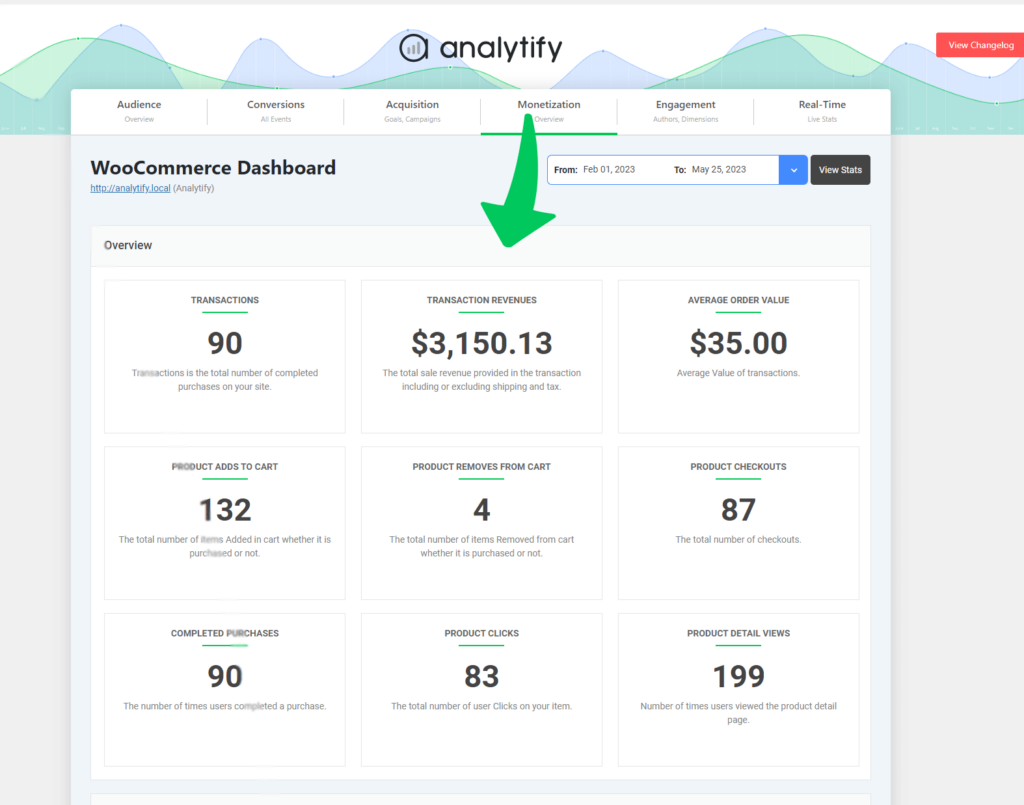 How to Track eCommerce Sales in GA4
With the support of Analytify's Enhanced Ecommerce Addon for Woocommerce, you can track your Ecommerce sales in Google Analytics 4 without any obstacle. You can track the relevant data in Realtime Report. You can track Ecommerce Purchases under the Monetization heading.
You will also have funnel exploration of the purchased journey right in your GA4 account under the Monetization section. This funnel will be automatically generated when you use Analytify's Enhance Ecommerece add-on to track e-commerce events from your website. Also, read our guide, How To Enable Google Analytics Ecommerce Tracking.
To see your Ecommerce sales data in Google Analytics 4, follow the steps below.
Step 1. Check the Realtime Report
This step will also verify if your Ecommerce setup is right. You can see events relevant to your Ecommerce sales here.
Navigate to Reports>>Realtime in the menu on the left.
Scroll down to Events.
If Ecommerce events (view_item, add_to_cart) are happening on your site in real-time, they will be shown here. It means your Ecommerce setup is right.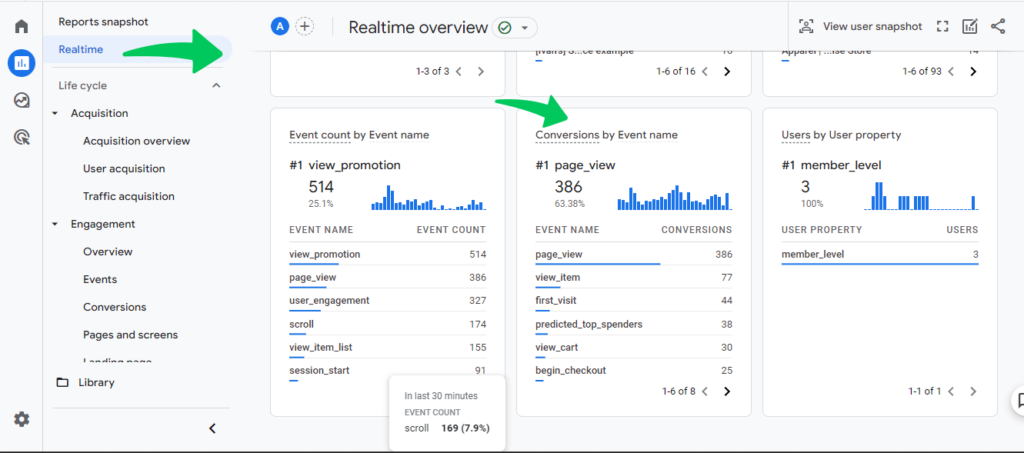 Step 2: Check Ecommerce Purchases Reports
Once you've set up Ecommerce and approved it, you can look at Ecommerce reports.
To track Ecommerce purchases, navigate to Monitization>>Ecommerce purchases.
You can see Items viewed, Items purchased, Items revenue, and many more metrics.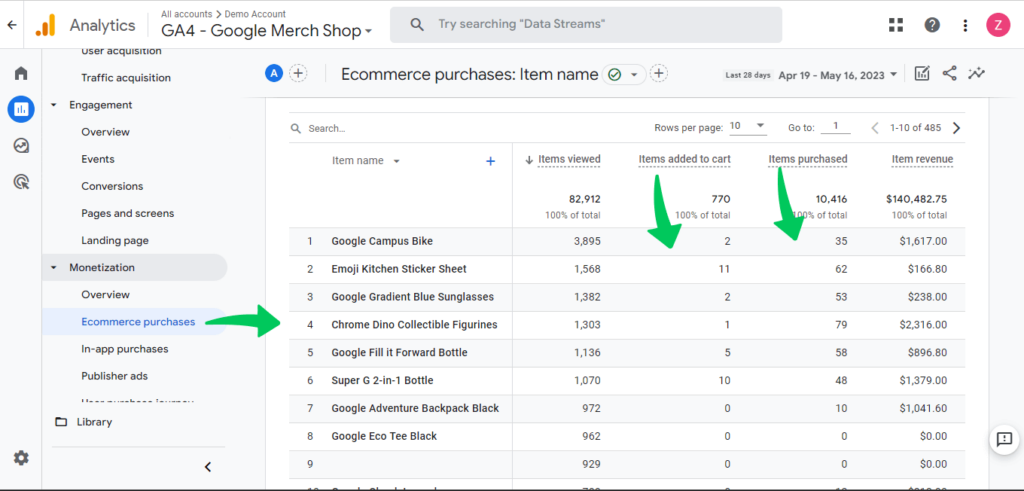 Step 3: Analyze the User Purchase Journey
Navigate to Reports>>Monetization>>User purchase journey. You will see an automatically generated funnel of all the steps of the purchase journey from session start to purchase, as shown in the below screenshot.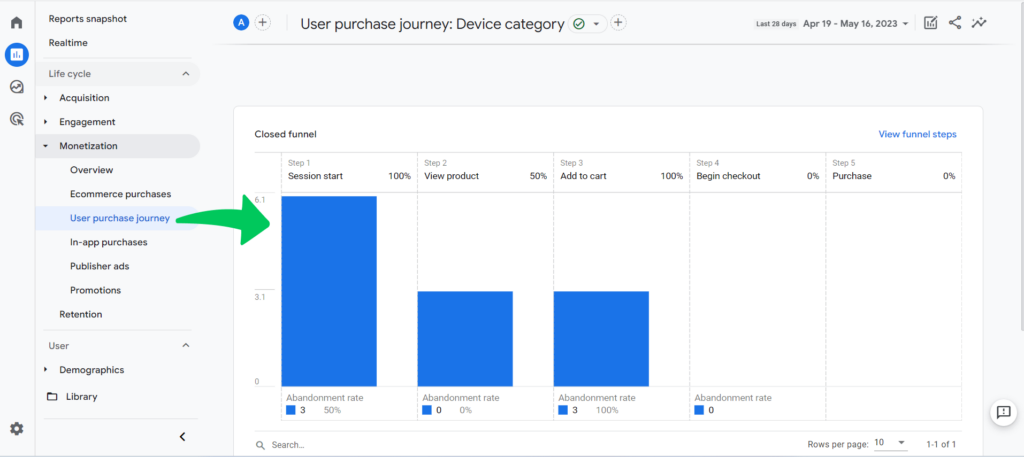 Step 4: Make An Ecommerce Custom Report In GA4
You can also make your custom Ecommerce report in Google Analytics 4.
To make a personalized report about Ecommerce sales:
Navigate to Explore>>Funnel Exploration. Funnel exploration is helpful for seeing customized shopping funnel reports.
You can change your report by dragging and dropping dimensions like the Event name and measures like Event count.
How to Track Ecommerce Sales in Universal Analytics
To make eCommerce tracking work, first of all, you need to enable eCommerce tracking inside your Google Analytics account. You can enable E-commerce tracking in UA by going to Website Property>>Admin>>Ecommerce Setting.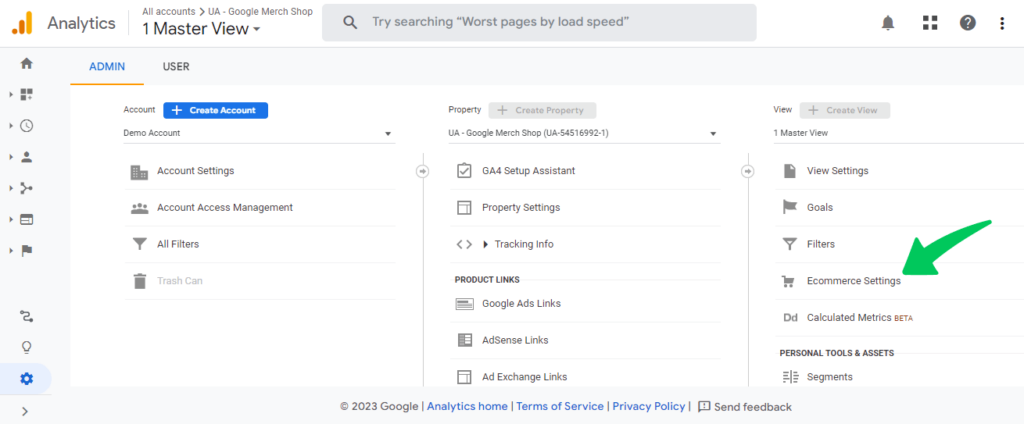 Inside your Ecommerce Settings, you need to enable Ecommerce and Ecommerce reporting. After enabling the eCommerce reporting, you will have the option to add the funnel for the checkout process. Here you can add your funnel. In my case, I've added the Checkout Page, Billing Info, and Proceed to Payment.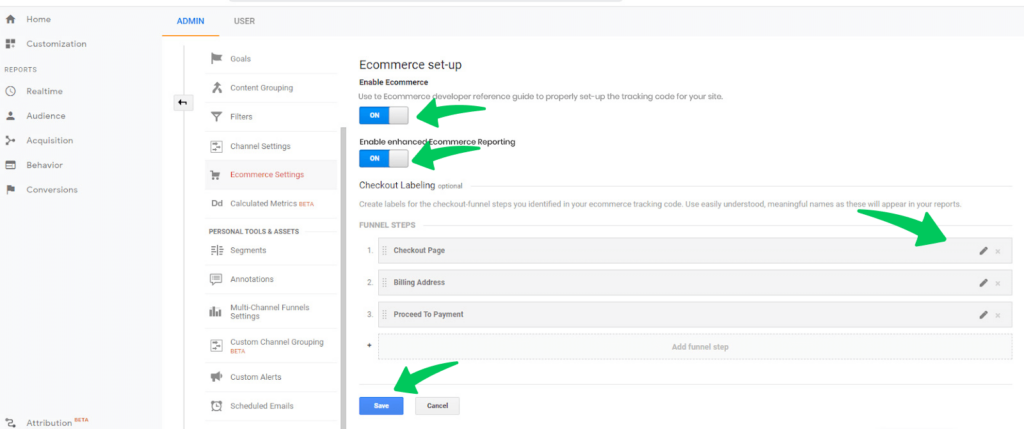 You are all set to track your WooCommerce store reporting inside Google Analytics or inside your WordPress Dashboard.
How to View WooCommerce Sales in Your WordPress Dashboard
In order to view the Reporting inside your WordPress dashboard, you need to go to Analytify>>WooCommerce. It will open a detailed dashboard about Woocommerce reporting. You can see everything inside your WordPress dashboard in a nice, simple, and detailed way. These analytics can be read by a person who has never used Analytics.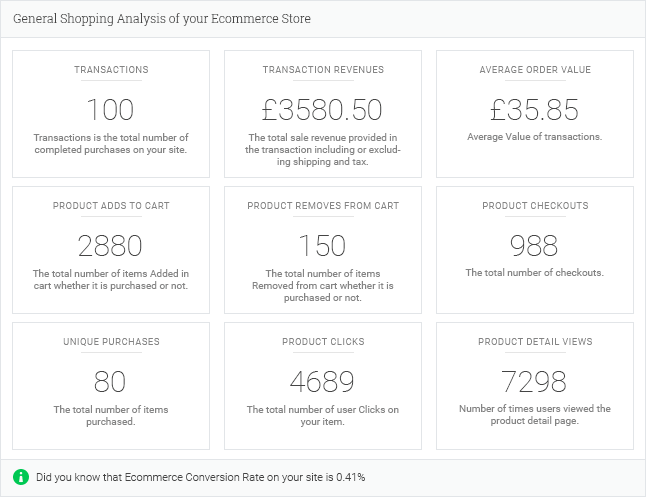 Coupon And Refund Tracking
You can see which coupon code is hot selling, so you can increase the quantity of that coupon code based on the stats. Furthermore, you can see the refund reports that will help you to take some serious actions to reduce such refunds in the future.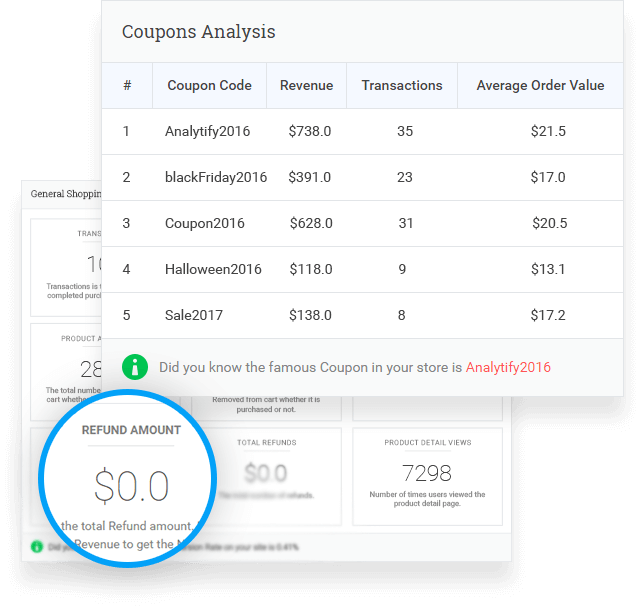 Checkout and Purchase Performance
You can track the data about how many people added the products to their cart and how many finally ended up completing the transaction if you see the big difference between the number of products added to the cart and the number of products purchased. Then you need to take some serious action to make your checkout process easy. Furthermore, you can offer some coupon codes to your customers to encourage them to complete their transactions.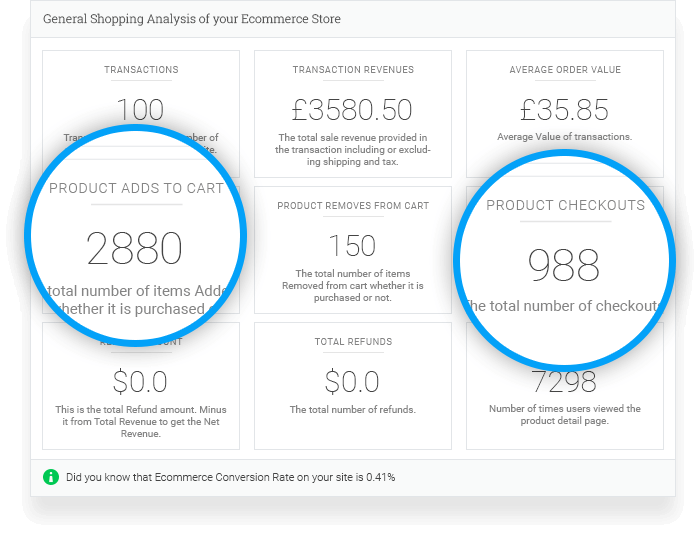 Product Performance
You can track your top-performing product based on different parameters, such as total revenue generated, the total number of purchases, and less number of refunds. Once you have an idea about the top-performing product, you can work further on this product to take it to the next level.
Final Words
Using Analytify to track WooCommerce sales using Google Analytics is a complete way to learn about your customers' habits and improve the performance of your online store. You will learn important things about your sales data, how customers make purchases, and how engaged people are with your website as a whole. This important knowledge will help you improve your marketing strategies, give your customers a better experience, and increase your eCommerce sales.
Remember that digital success in eCommerce isn't just about getting traffic but also about figuring out what that traffic is all about. When Google Analytics, Analytify, and WooCommerce all work together, you'll have the precise data analysis tools you need to make sure you're successful.
Frequently Added Questions
Can I Track Sales in Google Analytics?
Yes, you can use Google Analytics to track sales. By turning on Ecommerce tracking in Google Analytics, you can keep track of sales, see how people shop and buy, figure out how your checkout process works, and more. 
You'll need to set up Ecommerce tracking for your specific platform (like WooCommerce, Shopify, etc.). You can use the Analytify Pro plugin and its  Enhanced ECommerce Tracking for WooCommerce addon. This addon will help you to automatically track all your sales, so you won't need to add tracking codes yourself.  Once that's done, you'll be able to see important sales data in your Google Analytics dashboard.
Do I need any technical knowledge to set up WooCommerce tracking using Analytify?
How long will it take for WooCommerce sales data to be shown in Google Analytics?
After you've done the setup, it can take up to 24-48 hours for sales data to surface in Google Analytics.
 Is the Analytify plugin available for free?
Analytify has a free version; however, to use the WooCommerce tracking feature, you must upgrade to the premium version.
We hope this article has helped you how to track WooCommerce Sales using Google Analytics.
You may also like to read Everything You Need to Know About Monetization Reports GA4.