Setup your account at Google Analytics
Everyone who has his/her website online wants to see how their website is performing. Google is a name we are all familiar since we started using the Internet. They have a measurement tool called Google Analytics which helps in growing our websites through Data Collection and Analysis.
So I wrote a simple step by step guide to set up an account at Google analytics. These instructions are for everyone who wants to use Google Analytics on their websites.
Step 1: First you need to create a Google Analytics account. To do this, visit Google Analytics Signup Page.
You will see a screen like the one below. If you already have a Google or Gmail account, then you can use that to sign-in. If you do not have a Gmail account, then you would have to create an account for Gmail first and then come back to this Google Analytics page.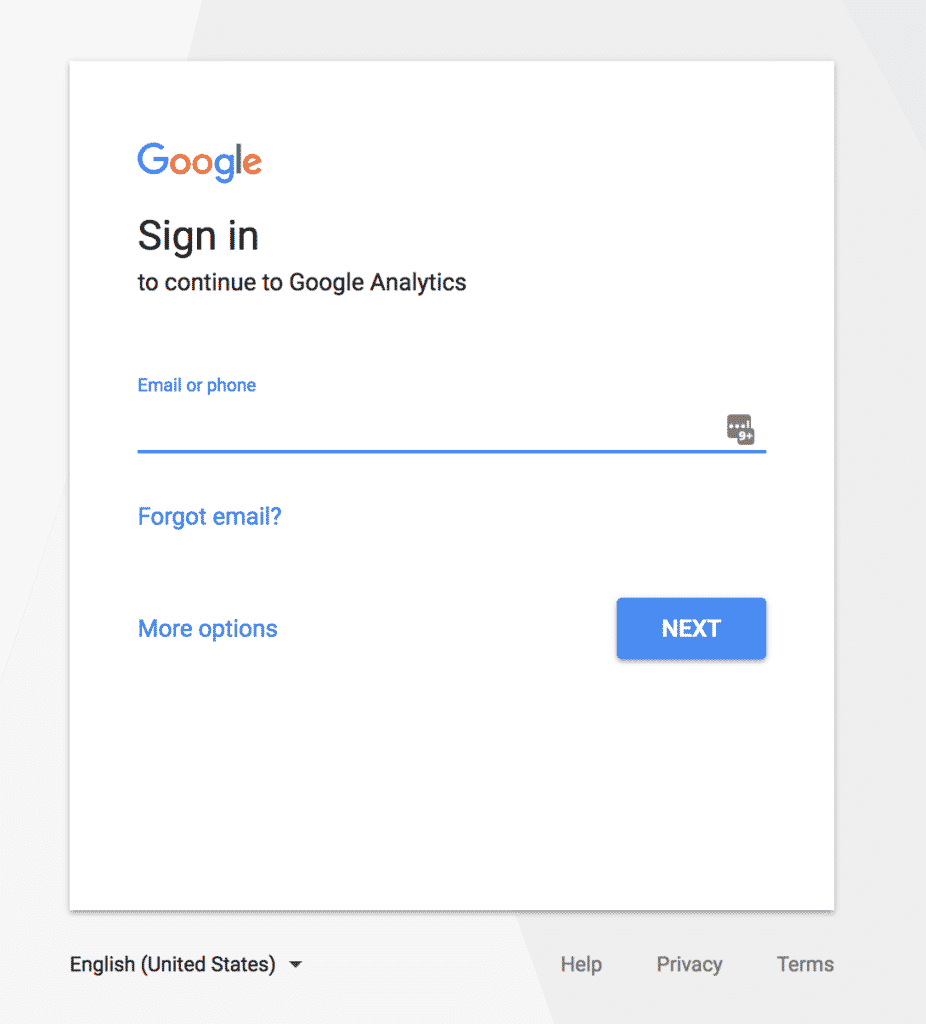 Step 2: Once you sign-in with your Gmail account, you will be prompted to a screen like the one below. This is where you will signup for Google analytics with your Gmail account. You will see this screen first time only since you are setting up Google analytics account. Once you sign up, you will use the same Gmail account for sign in at Google Analytics.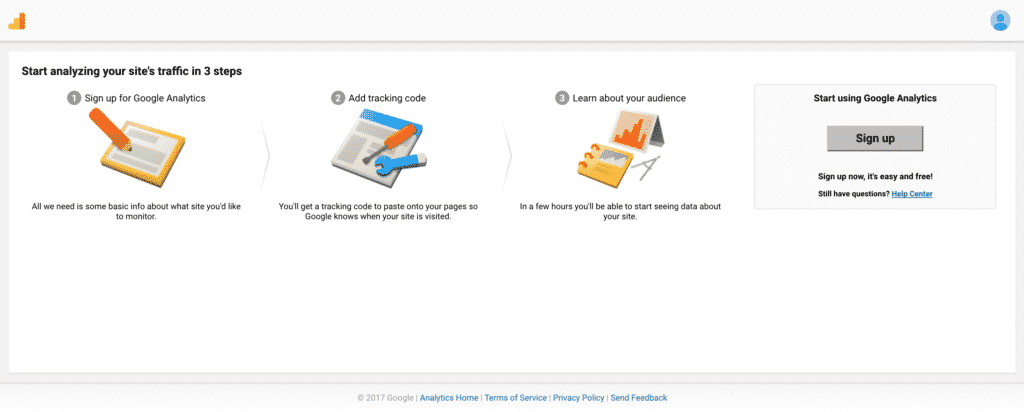 Step 3: On the next screen, you will be given choice to choose between a website or mobile app. Make sure you select website.
After that, you need to enter an Account name (Once account can have 50 properties)
Following fields are to set the Property. One Property is for One Website.
Website name, website's URL, country, and the time zone.
One Property (website) can have 25 profile views. Default Profile for a Property will be Autogenerated with name "All website data"
Note: You need to understand Account, Property, and Profile terms here. These terms will be used heavily and will be used in the future if you want to use Google analytics at an advanced level.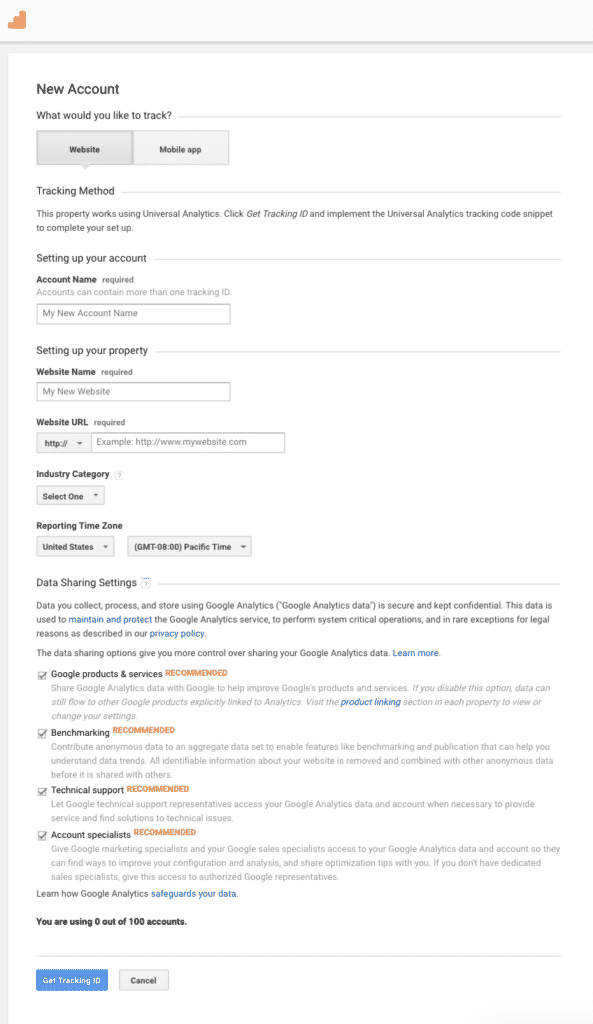 Once you have entered this information, click on the Get Tracking ID button. You will be presented with Google Analytics terms and service which you must agree to, so click on I Accept button.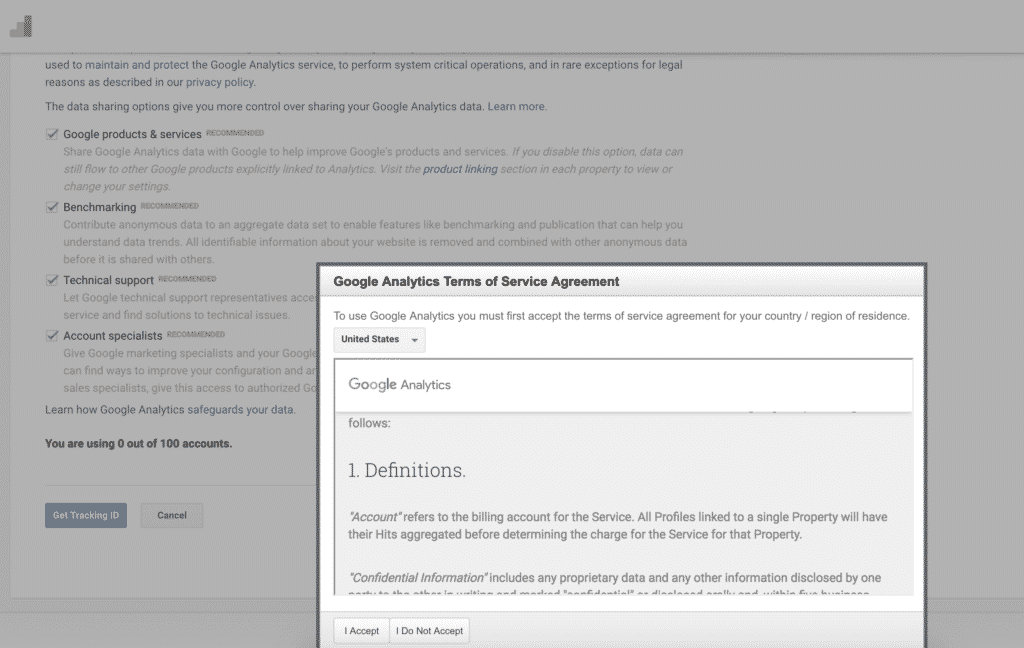 Step 4: Now you will be presented with your Google Analytics tracking code. You can copy this tracking code because you will need to enter it to your site depending on the method you use below.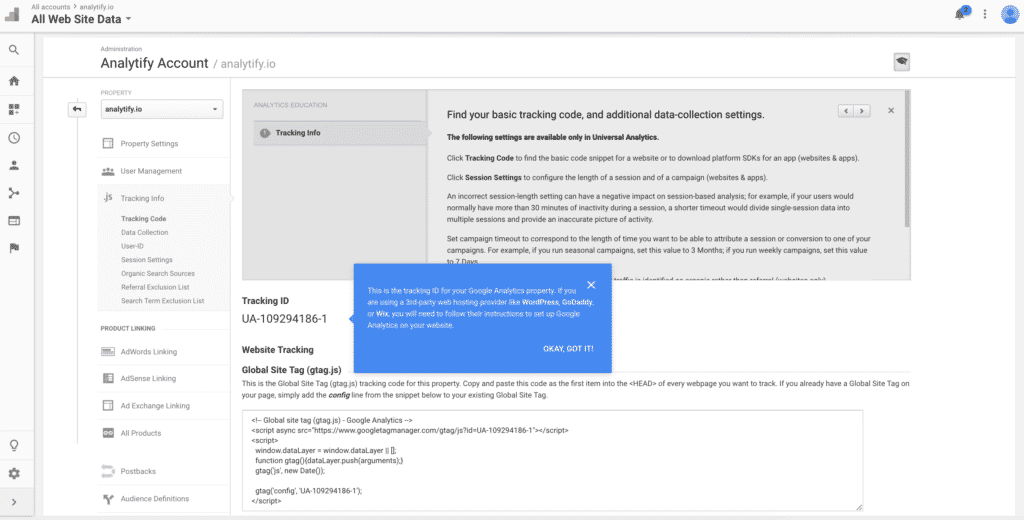 Step 5:  If you are using Analytify, then no need to copy this JS code. Just go to Analytify plugin settings and Authenticate it again by using your Google Analytics username and password. After authenticating you will see a  website (property + profile) in dropdowns of Profiles for posts and dashboards.
If there are any questions related to this guide, feel free to post them below in comments.