Print This page
How To Install The Pro Version Of Analytify?
Are you ready to get started with the best Google Analytics plugin for your WordPress website?
Tracking your website performance with Analytify is a matter of few clicks. Here, we will guide you on how to install the Pro Version of Analytify on your WordPress website.
Note: Our Pro version works as an add-on to the Core version which is free and available on the WordPress plugin directory.
This means you will have to install the core version first and then the Pro version of Analytify. Both of these versions are required to set up other necessary add-ons like WooCommerce, EDD, Automated Email notifications, etc.

Step 1: Install Free Version of Analytify
Log in to your WordPress website dashboard

Navigate to Plugins –> Add New




Search for Analytify & install and activate

Google Analytics Dashboard Plugin for WordPress by Analytify


Now integrate your

Google Analytics Account With Analytify Plugin.
    Step 2: Install & Activate Pro Version of Analytify
Log in to your Analytify Website

Account



Download .zip file of Analytify Pro from the downloads tab




Log in to your WordPress website dashboard

Navigate to Plugins –> Add New —> Upload Plugin
Browse & upload the .zip file of the Analytify Pro version and click on the Install Now button to install the plugin




After the installation of the plugin, click on the Activate Plugin button to activate the Pro version of Analytify.



Step 3: Activate The License Key of Analytify Pro
1-After the successful downloading and installation, now we need to activate the license key, for which the right license key has to be extracted as it is mandatory to use the keys associated with each product.

2- To extract the Analytify license key, go to analytify.io and login into your account again.

3-  Then click the Licenses tab, here you will see many license keys according to your purchased plan i.e Basic or Conversion (bundled with premium Add Ons)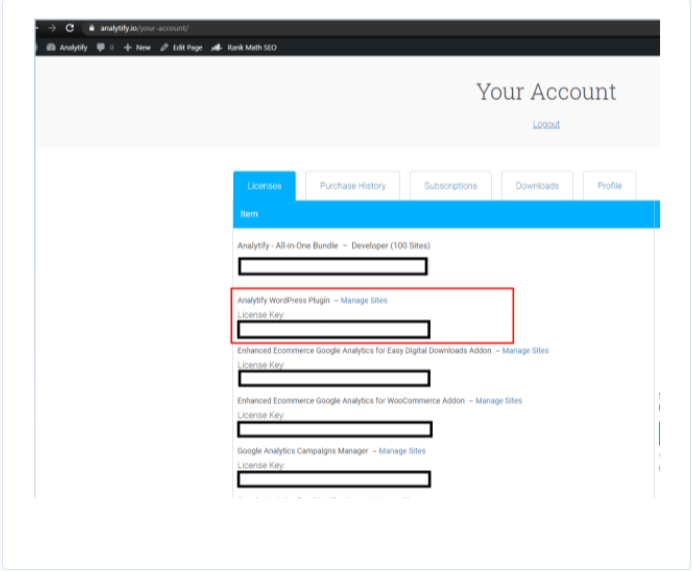 4-  Now copy your license key and go back to your WordPress Dashboard.
5-  Navigate to Analytify> Licence Manager paste the license key inside the license field and click on Activate Licence Button.



Why License Key?
Getting a license will provide you with the following features:
Future updates: You will be able to get all the updates that will be made in the future.

Premium Support: You will get access to premium support (depending upon the plan).

Access to Add-ons: Getting a license key will give you access to all the add-ons i.e. current as well as the upcoming add-ons which will be a part of this plugin in the future.
Check Our Complete video on How to install the Pro version of Analytify
For more help, check out our YouTube channel videos and subscribe at https://www.youtube.com/channel/UCRjDcNZqf-Vo_2Ux_QLyBCA/videos
Check our guides on how to get the free version of the Analytify plugin and install it on your website.
Last updated on September 11th, 2021