Print This page
How to Find Enhanced Ecommerce Reports in Google Analytics
Are you ready to unlock the full potential of your eCommerce site? With Google Analytics Enhanced eCommerce, you can gain invaluable insights into how visitors interact with your website.
If you haven't enabled Enhanced eCommerce reporting, you're missing out on a significant advantage over your competitors. Don't let them get ahead while you struggle to understand your site's performance.
Together, let's figure out how to find Enhanced eCommerce reports in Google Analytics.
Requirements
Your Google Analytics Account Integrated with your WordPress Site.
eCommerce Setup on Your WordPress Site.
Enhanced eCommerce reporting is turned on for your Google Analytics account.
Note: For a detail guide on eCommerce setup and enabling eCommerce reporting refer to: How To Enable Google Analytics Ecommerce Tracking
Where to Find Your Enhanced Ecommerce Analytics Reports in Universal Analytics
You can find your enhanced eCommerce reports via your Google Analytics dashboard.
Let's walk you through the following steps to help you navigate the eCommerce reports.
1. Sign in to your Google Analytics account of your eCommerce website for which you want to view the enhanced eCommerce analytics report.
2. Navigate to Conversions >>Ecommerce and click on Overview.
3. Here, you will see an enhanced eCommerce analytics report of your website.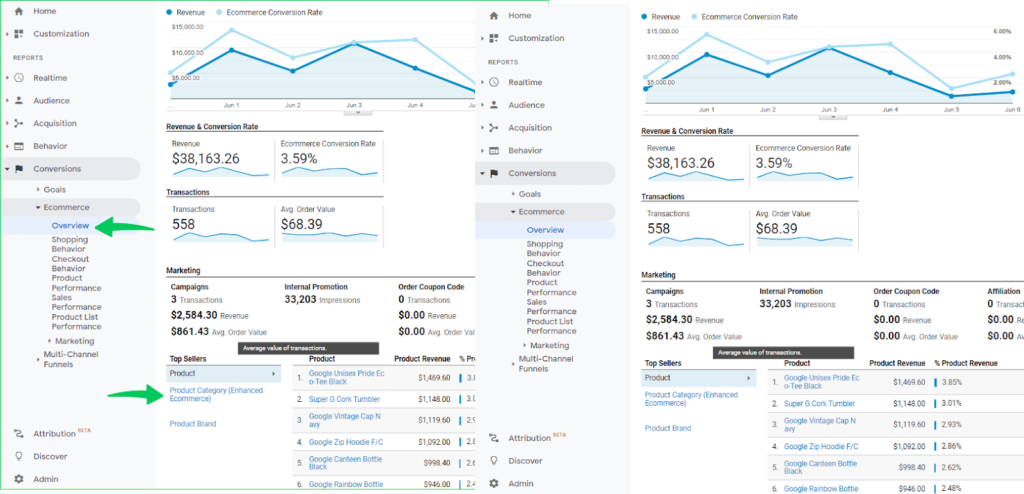 This is how you can find the enhanced eCommerce Analytics reports in Universal Analytics and Analyze your eCommerce website performance.
Where to Find Your Enhanced Ecommerce GA4 Reports
Compared to Universal Analytics, Google Analytics 4 has a different data model and a different way of making reports. In GA4, ecommerce reporting is based on the event-driven model, focusing on events and conversions, rather than specific Enhanced Ecommerce reports.
However, you can still use GA4 to track ecommerce reports in a better and more advanced way. Here's a general rundown of how to find info about ecommerce in GA4.
Check Ecommerce Purchases Reports
Once you've set up Ecommerce and approved it, you can look at Ecommerce reports.
To track Ecommerce purchases, navigate to Monetization >> Ecommerce purchases.
You can see Items viewed, Items purchased, Items revenue, and many more metrics.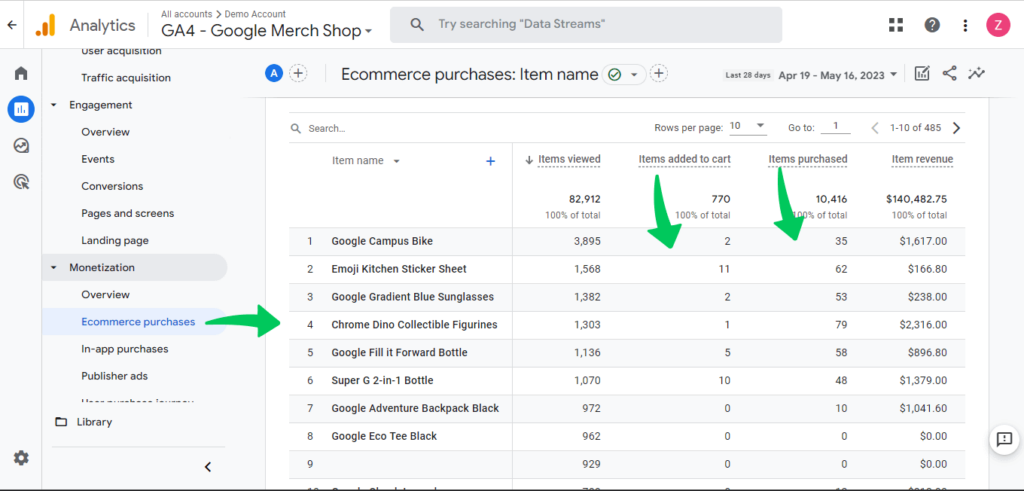 Analyze the User Purchase Journey
Navigate to Reports >> Monetization>>User purchase journey. You will see an automatically generated funnel of all the steps of the purchase journey from session start to purchase, as shown in the below screenshot.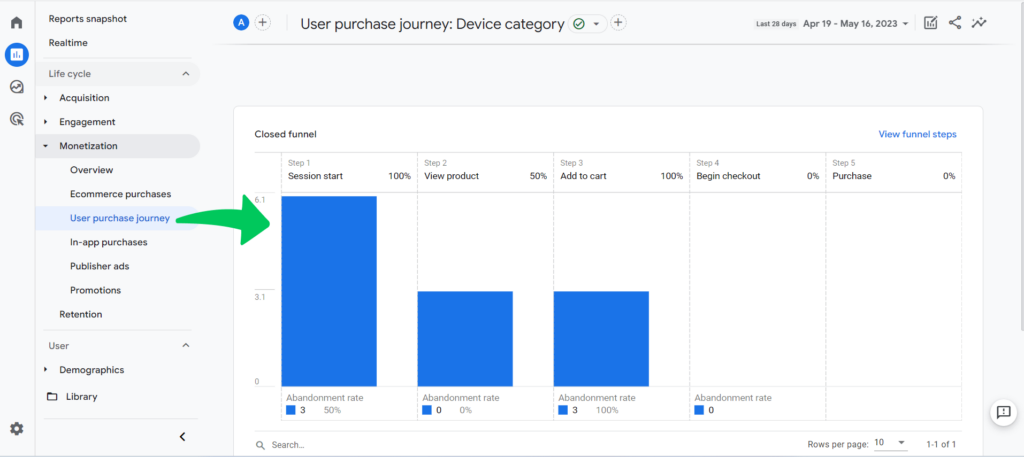 Make a Custom Ecommerce Report in GA4
You can also make your custom eCommerce report in Google Analytics 4. To make a personalized report about eCommerce sales:
Navigate to Explore >> Funnel Exploration. Funnel exploration helps see customized shopping funnel reports.
You can change your report by dragging and dropping dimensions like the Event name and measures like Event count.
Remember, Enhanced Ecommerce tracking requires additional setup and configuration on your website or online store. For this, read our guide: How To Enable Google Analytics Ecommerce Tracking.
If you have any problems with the Ecommerce Analytics Reports, look at the FAQs on the Analytify website or contact the Analytify support team.
Last updated on September 22nd, 2023