Print This page
How to Integrate Google Analytics 4 with Analytify
Integrating Google Analytics 4 with Analytify can help businesses get more value from their analytics data. Analytify is the best WordPress Google Analytics dashboard plugin that offers powerful insights into website traffic, user engagement, and more.
The integration process is relatively straightforward and doesn't require any coding knowledge.
In this knowledge base article, we'll walk you through the steps to integrate Google Analytics 4 with Analytify.
Integrating Google Analytics 4 with Analytify
Step 1: Log into Your Google Analytics 4 Account
Before beginning the integration process, log into your Google Analytics 4 account. If you don't already have an account, you can create one by navigating to the Google Analytics website and clicking "Sign Up."
Next, click on the Start Measuring button.
Step 2: Account Setup
Once logged into your Google Analytics 4 account, you must complete the initial setup. This includes providing basic information about your website, such as the URL and the Industry you are in.
You need to add your Account Name and Data Sharing Settings as per your requirements.
Once done, click on the next button.
Step 3: Property Setup
The next step is to configure your property settings. Here you need to enter the name of your website, the time zone, and other details.
You also need to enable the Show Advanced Options checkbox if you want Analytify to be able to access your Google Analytics 4 data.
Next, click On the Toggle Button to reveal the advanced options and ensure you have enabled all the necessary permissions.
Once you enable the toggle button, you will see two options to create a property.
Create both a Google Analytics 4 and a Universal Analytics property
Create a Universal Analytics property only
The first option will create a Universal Analytics and Google Analytics 4 property with the same tracking code—for instance, G-XXXXXXXX-X (Google analytics 4) and UA-XXXXXXX-X (Universal Analytics).
The second option will create only a Universal Analytics property. We recommend using the first option to create both properties.
Step 4: Add Business Information
After configuring your property settings, you must provide basic business information about your website. This includes the website category and its purpose. Once you enter the required information, click the Create Property button to save your changes.
Step 5: Google Analytics Terms of Service Agreement
The last step is to accept the Google Analytics Terms of Service Agreement. Read through all the terms and conditions carefully before accepting them. Once you accept the terms, your Google Analytics 4 property will be created.
Step 6: Integrate Google Analytics 4 with Analytify
Now that your Google Analytics 4 Property has been created, it's time to integrate it with Analytify. To do this, navigate to WordPress Admin Dashboard >> Plugins >> Add New.
Search Analytify and install the plugin.
Once the plugin is installed, go to Plugins >> Analytify and click on the Settings tab.
Step 7: Authenticate Your Site with GA4
Now, Authenticate your WordPress website with Google Analytics Account. So it can connect the GA4 property of your site to Analytify without touching any code.
To do this, go to the admin dashboard of your WordPress website. Navigate, Analytify >> Settings >> Authentication tab, and click Log in with your Google Analytics Account.
After clicking "Log in with your Google Analytics Account," you will be redirected to the Google Accounts Authentication page; you have to select the Google Account associated with your Google Analytics account.
Note: If you see the "This app is blocked" error while connecting, you must create a Client ID and Client Secret. Don't worry. We have written a complete guide to how to get your Client ID and Client Secret From Google Developers Console.
In the next step, you will be asked to Allow the permissions. You have to click on the Continue button.
And that's it! Your Google Analytics account is now successfully connected with Analytify.
Step 8: Select Profile
You will be redirected back to Analytify >> Profiles. You must select "Profiles for posts" and "Profile for the dashboard."
"Profiles for posts" is the profile used for tracking users.
"Profile for dashboard" is the profile for showing stats on Analytify's Dashboard.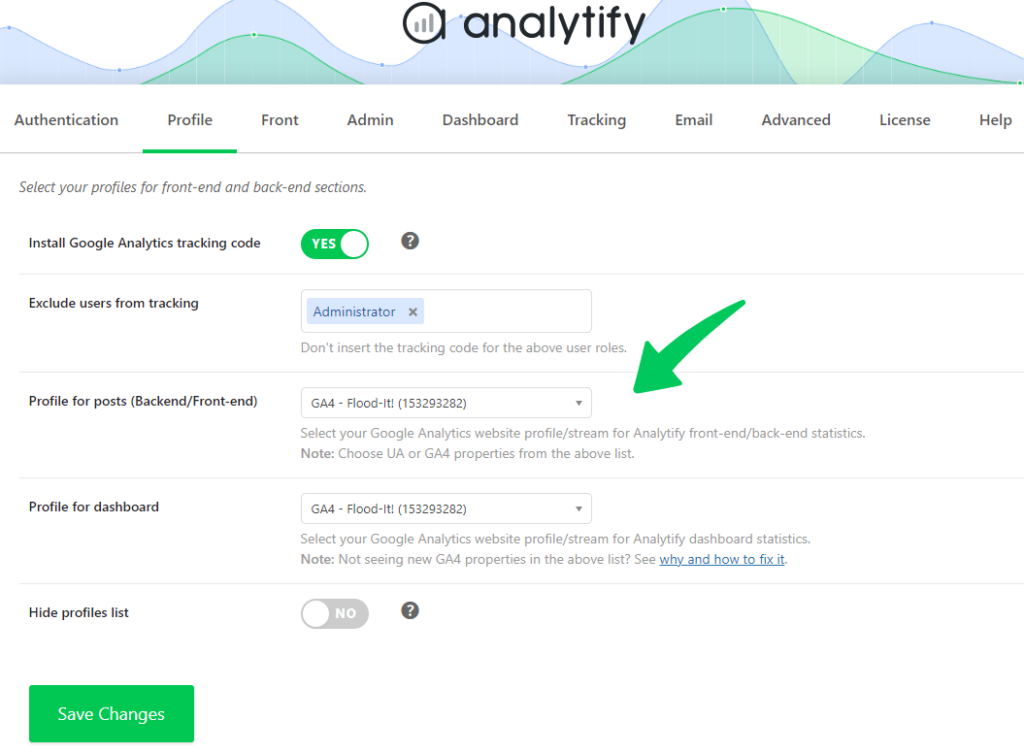 After selection, click "Save Changes." For most users, both these options will be the same.
Step 9: Select Google Analytics Version
For those users who have migrated from Universal Analytics (UA) to Google Analytics 4 (GA4). They may not get GA4 property in the dropdown menu in Analytify >> Settings >> Profile.

Then, you have to Select Google Analytics Version to GA4- Google Analytics 4. To do this, go to Analytify >> Settings >> Advanced tab.

After it, click Save Changes. It'll enable you to Select Profile.
View Google Analytics 4 (GA4) Report with Analytify
Now, you can track and analyze valuable insights about your website's performance within Anaytify Dashboard. To do that, Navigate to Analytify >> Dashboards.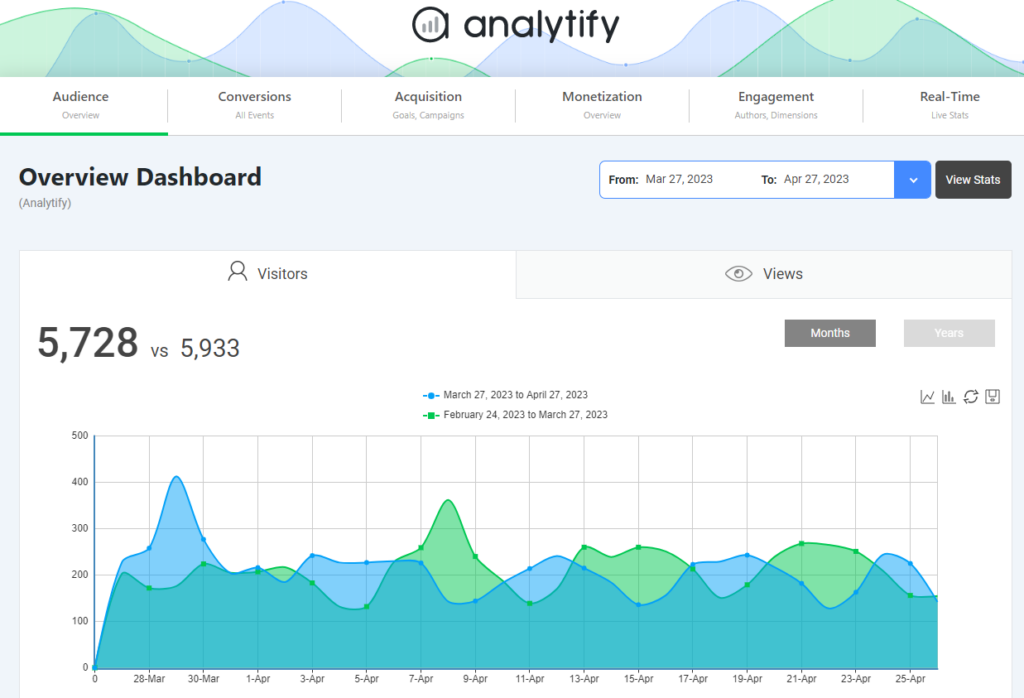 It usually takes 24-48 hours for data to start appearing in the new GA4 setup. We recommend waiting for this average timeframe to allow the statistics to populate.
By following the simple steps outlined above, you can quickly and easily connect Google Analytics 4 with Analytify and start analyzing your website's data. Try it out today and see how Analytify can help take your website's performance to the next level.

If you have any doubts or questions related to this matter, please don't hesitate to contact our support team.