Print This page
How to Add Advance Shortcode on Post or Page
In previous doc we mention the way to use WordPress Analytify Simple shortcode . In this we will discuss Advance shortcode  and how easy are they in use.
In Advanced shortcode, you can modify your shortcode with more flexibility. You can set the date, sort the data,
Following are the details of Fields:
Metrics are quantitative measurement, the Metrics Session is total number of sessions. The Metrics Pages/Session is the average number of pages viewed per session.
Dimensions: Describes characteristics of our users, their sessions and actions.
Visibility role: Who can see the result on the front end.
Sort By: Select with respect to Metrics value.
Analytics for: Here you can select the analytics for the full site just for the current page only.
Date range: In this option, you can set the custom date, current date, last 7 days, last 15 days, last 30 days, or yesterday analytic.
Max records: Here you set how many results are shown in front of the viewers.
Here is an example of the Top Pages with respect to the Viewer.
Get the Top Pages with respect to the Viewer.
First Select the Advanced type from the Analytify shortcode button.

Here we select (Pageviews) in Metrics. Next set the value (Page Title) which one you want to retrieve in Dimensions. Sort the value with respect to Metrics (Pageviews). And other fields are set on your demand.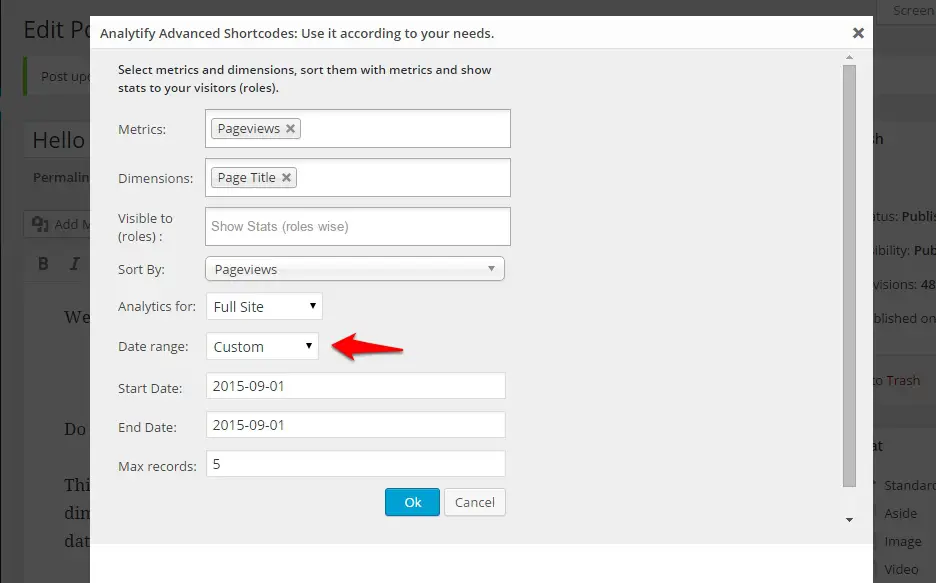 After setting the values you'll get the shortcode.

Now Update the Post\Page and see the result 🙂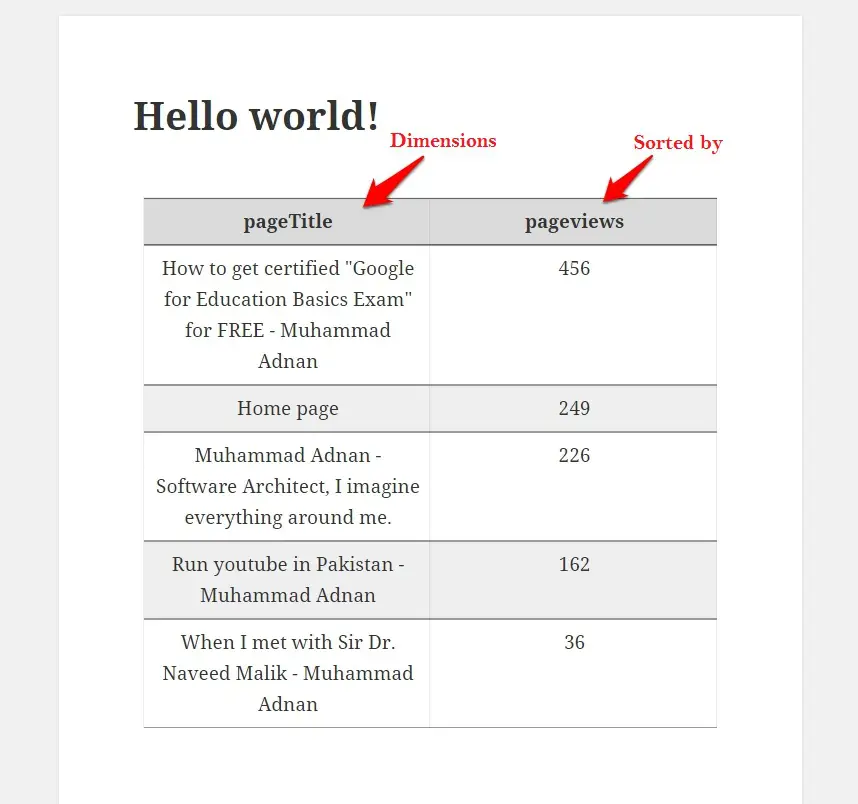 Hurry! Enjoy the advanced shortcode in Analytify PRO 🙂
Check our guide on how to add a simple shortcode on a page or blog post to view the analytics of a specific page or post.
Last updated on June 1st, 2021