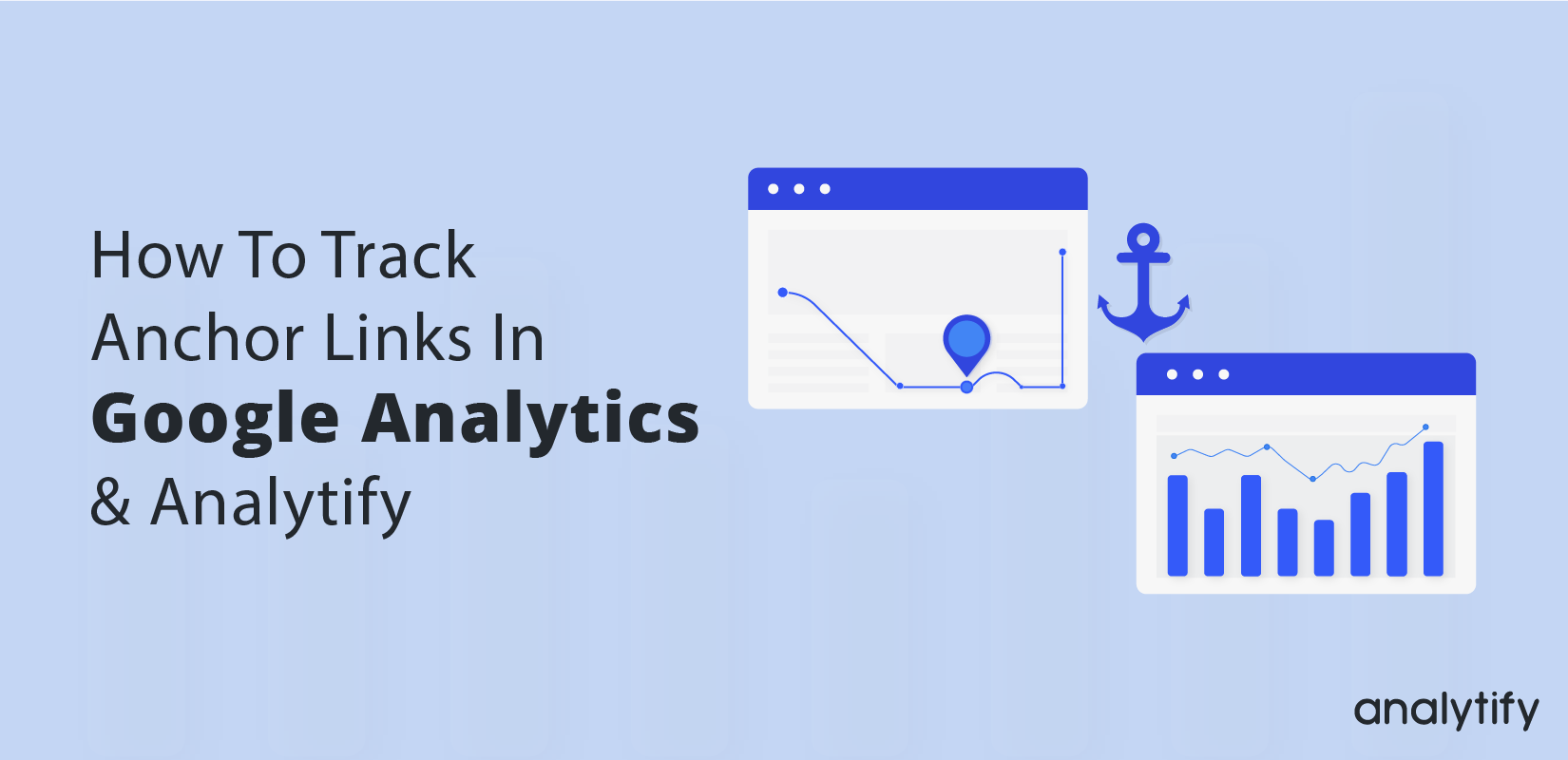 How To Track Anchor Links In Google Analytics & Analytify
Do you want to track your Anchor links in Google Analytics and Analytify? A lot of one-pager WordPress themes rely on anchor link base tags for navigation.
For Google Analytics these all are single-page theme tags, which make it hard for Google Analytics to get meaningful Analytics of content viewed by the visitors.
Here we are going to discuss how to track Anchor links in Google Analytics and Analytify.
Why we need to track Anchor Links with Google Analytics and Analytify
Turning on or enabling the anchor tracking is helpful if you are using a single page or OnePage Parallax theme that uses anchor tags in their main menu instead of using or creating separate pages.
If you have created or developed a WordPress website by using a single page theme, then you will lose the ability to track the page views of your website because all of your website content is published on a single page.
If you want to see, how users engage with your website or which content is getting the most visitors, you will have to track anchor links in Google Analytics.
The basic setup of Google Analytics doesn't allow you to track anchor links in Google Anaytics or tags of your WordPress website. For, this you have to use the Analytics Plugin like Analytify to track the anchor links or tags of your website. With the Analytify Google Analytics plugin, you need to enable the anchor link tracking which is very easy.
After enabling the Anchor link tracking, Google Analytics will start the tracking of your menu clicks as page views.
Steps To Enable the Anchor Tracking
Follow the given steps to enable the Anchor tracking in Google Analytics & Analytic
Step 1 – Install and Activate the Analytify Plugin
In the first step, you have to Install and Activate the Analytify Google Analytics Plugin on your WordPress website.
Analytify is one of the best Google Analytics Plugin for WordPress websites, by using this plugin you can easily integrate Google Analytics into your website without writing a code or hiring a developer.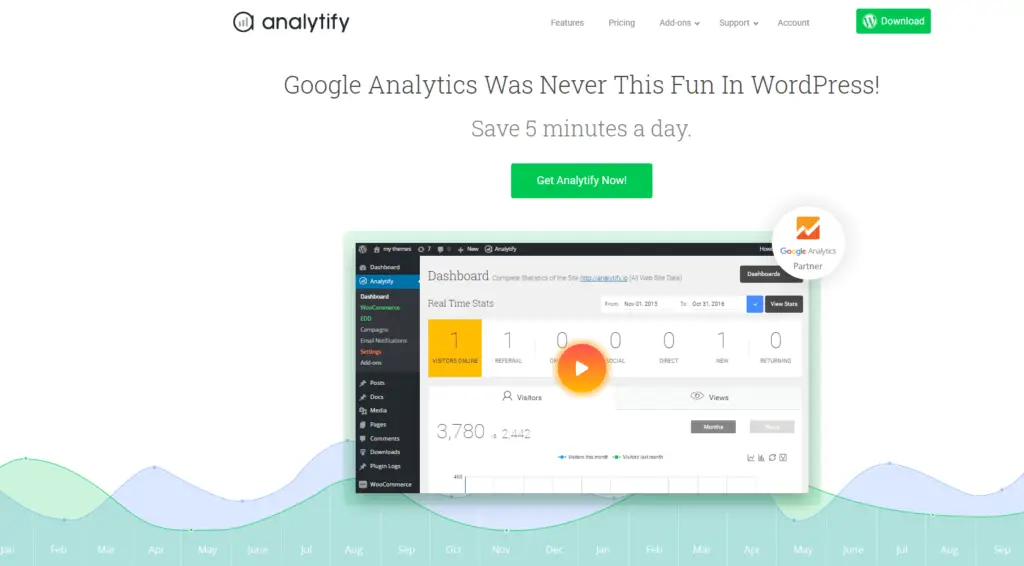 Analytify is more than a plugin to set up Google Analytics on your WordPress website. Alanytify Plugin helps you to set up advanced level tracking in Google Analytics, WooCommerce tracking, File downloads, forms tracking, outbound link tracking, Affiliate link tracking, etc.
After the activation of the Analytify Plugin, you have to add Google Analytics to your WordPress Website. You can check and follow our detailed guide on How to Setup your account at Google Analytics.
Step 2 – Enable Enhanced link Attribution & Turn on Anchor Tracking Option in Analytify
With Analytify plugin you can track anchor links in Google Analytics within a few click.
Once you have installed and activate the Analytify plugin on your WordPress website and connected with Google Analytics, go to Analytify Setting and click on the tracking menu and then click on the sub menu event tracking.
You will find two options Enable Enhanced links attribution and Turn on anchor tracking. You have to on or enable these two options to start the tracking of anchor links.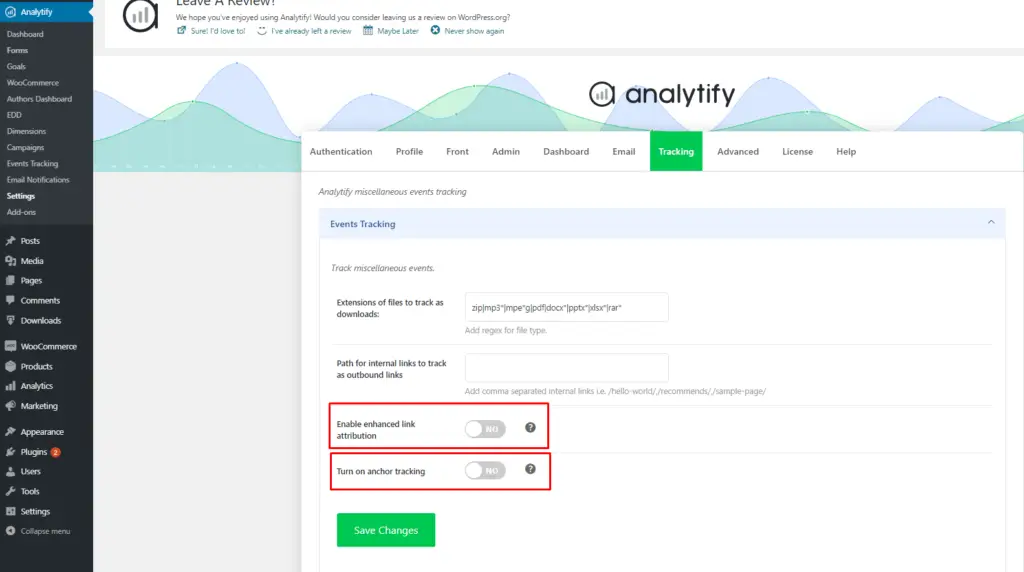 After enabling these two options click to save the setting and your Anchor link tracking will start and you can check in your Analytify Plugin dashboard.
Step 3 – Enable Enhanced Link Attribution in Google Analytics
Enhanced Link Attribution will help you to track the 2 same links on a Single page that will help you to easily decide that which button, Internal link or banner on your website with a link is getting more click and generate leads.
Now you have to enable the enhanced link attribution in Google Analytics.
Sign in to your Google Analytics Account and select the website in which you want to set up link attribution.
After sign in to your Google Analytics account click on the admin option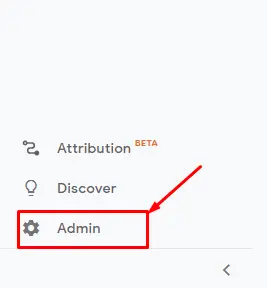 After that, you have to click on the property setting which is located under the Property column of analytics.

After Clicking on the property setting, a new window will open where you will find In-Page Analytics and an option Setup enhanced link attribution, simple you have to On this option and save the setting.

These are steps for "how to track anchor links in Google Analytics" and how to implement the setting of anchor links tracking in Google Analytics.
Step 4 – How to view Anchor links tracking in Google Analytics
Now, if you want to check or view the Anchor links tracking data in Google Analytics simply you need to perform the following steps in Google analytics.
Click on the Behavior option in Google Analytics Menu and navigate to Site Content.
In site content menu you will find a All pages option, just click on the All Pages Menu.
After clicking on the All Pages option Anchor links tracking data will display like below.

That's it! These are the steps of how to track anchor links in Google Analytics.
Frequently Asked Questions
What is an anchor in a link?
Anchor in a link is the clickable text in a hyperlink that's helps user to navigate in a same page.
How do I track how many times a link is clicked in Google Analytics?

You can easily view anchor links tracking data in this way, navigate to Behavior » Site Content » All Pages you'll find the anchor links tracking data.