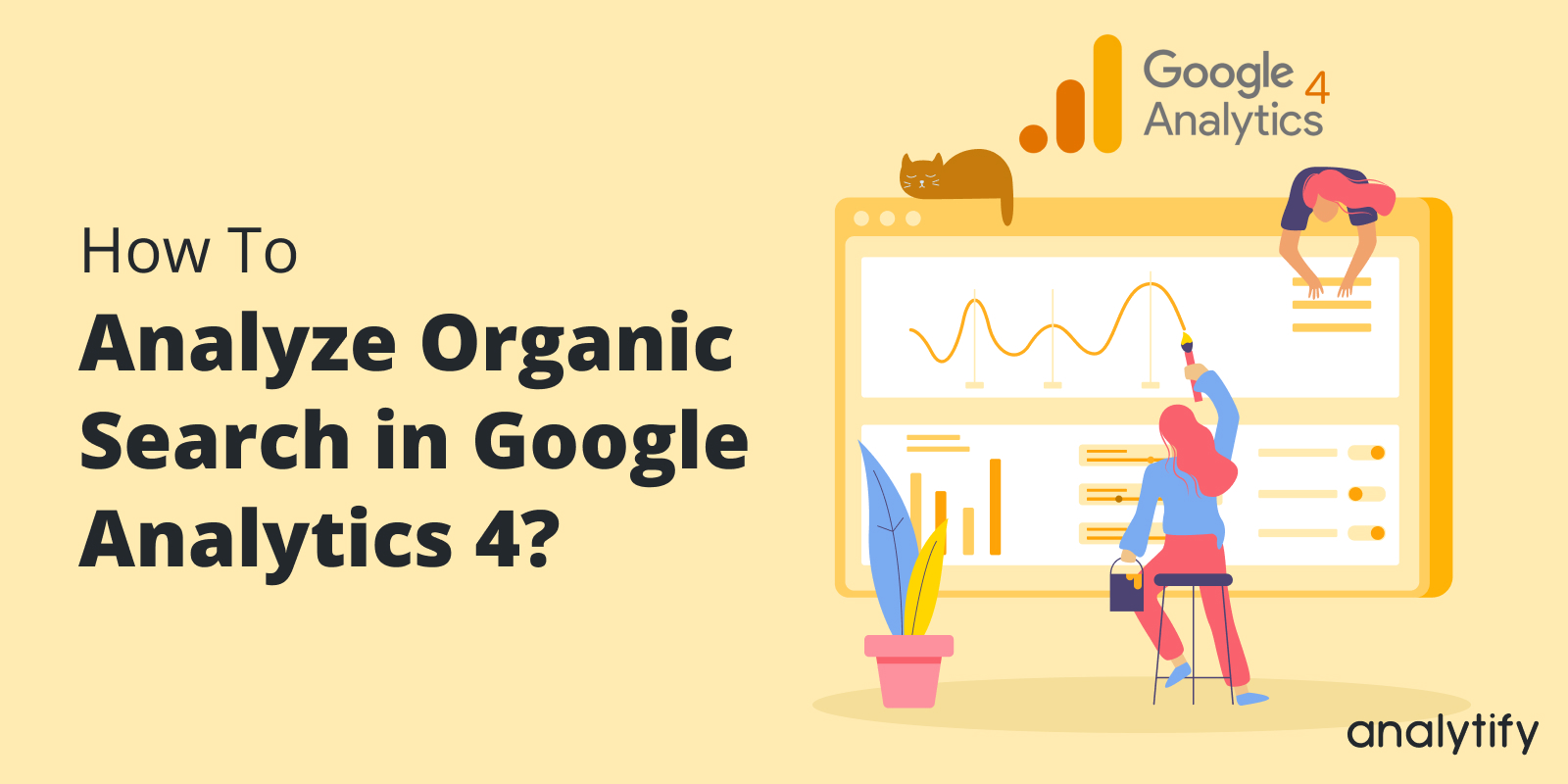 What is Organic Search in Google Analytics 4 and How to Analyze it?
What is organic search in Google Analytics, particularly in the new GA4 setup?
You're not alone if you have this question in mind. The shift from Universal Analytics to Google Analytics 4 (GA4) has introduced several new features and ways of doing things. Understanding how to navigate and interpret Organic Search in Google Analytics 4 (GA4) can provide valuable insights into the performance of your SEO efforts. In this blog, we'll talk about what is organic search in Google Analytics and how to analyze it, GA4 organic search terms, and how to find organic traffic in Google Analytics.
Table of Contents
What is Organic Search in Google Analytics?
Organic search, as a term, refers to the natural or unpaid search results that appear in search engines like Google, Bing, or Yahoo. In simple terms, when someone enters a query into a search engine, the results that show up, excluding the paid ads, are termed organic search results.
Now, what is organic search in Google Analytics? Google Analytics tracks various kinds of traffic that come to your website, including direct traffic, referral traffic, and, of course, organic search traffic. Organic Search Traffic is essentially the subset of website visitors who land on your site by clicking on these natural search results.
In GA4, organic search metrics are categorized differently compared to Universal Analytics. They are more comprehensive and offer deeper insights into user behavior.
For instance, you can now track GA4 organic search terms and GA4 organic search keywords that bring people to your website, giving you valuable data to optimize your content and SEO strategies further.
Unlike paid traffic that comes from paid ads, organic search traffic is not only free but is also considered more valuable because it often consists of users who are genuinely interested in what you have to offer. They searched for something relevant to your content, found you in their search results, and clicked on your website.
Therefore, understanding how to analyze this segment can give you a detailed understanding of what your audience is looking for, what you're doing right, and where there's room for improvement.
Below is a screenshot illustrating Google's sponsored versus organic search results.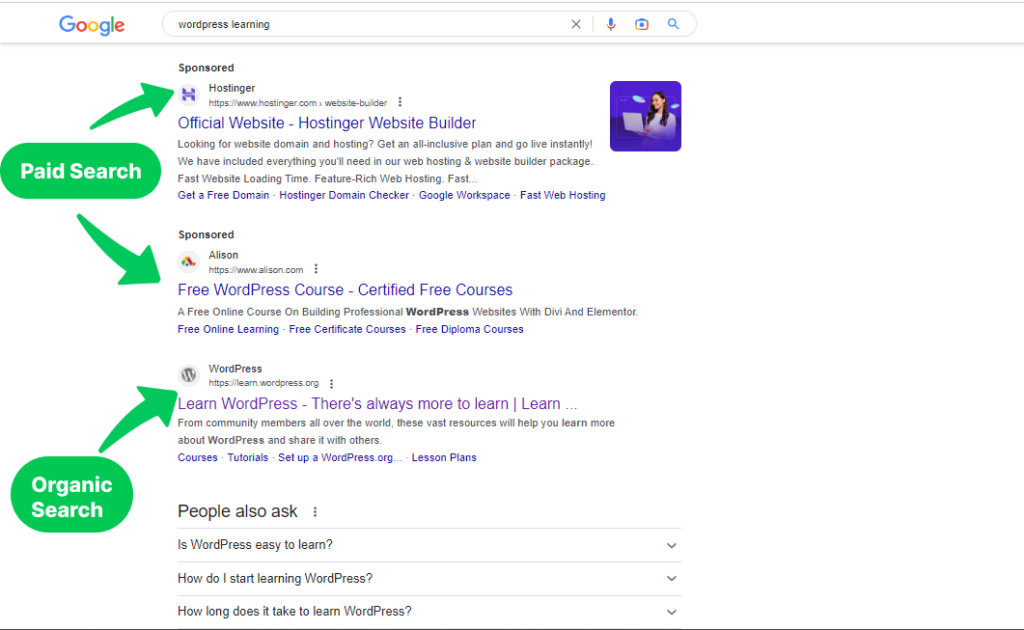 Why Should You Do Organic Traffic Analysis in GA4?
There are many compelling arguments in favor of analyzing organic traffic in GA4. GA4 isn't just a new version; it's a whole new take on analytics. Here's why tracking GA4 organic search metrics is a wise move:
Event-Based Tracking: Unlike Universal Analytics, which was largely session-based, GA4 focuses on events. It makes it much easier to track user behavior related to organic search in Google Analytics in a more detailed manner.
User-Centric Reporting: GA4 puts a higher emphasis on user behavior and engagement. You get a clearer picture of how users from organic search are interacting with your website, which helps in creating more targeted SEO strategies.
Cross-Platform Tracking: If you have a web app or a mobile app along with your website, GA4 can track user behavior across these platforms collectively. It is invaluable for understanding the complete user journey, especially regarding organic search traffic.
Customization: GA4 allows for more custom configurations, making it easier for you to set up the analytics in a way that's most meaningful to you.
Audience Building: With more advanced audience-building capabilities, you can create audiences based on specific GA4 organic search terms or metrics and retarget them effectively.
Data Retention: Unlike Universal Analytics, GA4 offers more flexible data retention options. It is crucial for long-term analysis and trend spotting in your organic search metrics.
So, it's time to make the shift and track GA4 organic search analytics for detailed insights and a sustainable SEO strategy.
Connect your Website with Google Analytics (Detailed Guide)
Before you can jump into the exciting world of organic search in Google Analytics, it's crucial to make sure your website is properly connected to Google Analytics. This step is fundamental because Google Analytics provides you with all the critical data about your website's performance in search engine results pages (SERPs) and the keywords driving traffic to your site.
If you're running a WordPress site and haven't connected it to Google Analytics yet, the best way to do this is by using Analytify. Here's why Analytify is your go-to solution for Google Analytics integration with WordPress:
Easy Setup: With Analytify, setting up Google Analytics is as simple as a few clicks. You don't need to mess around with code or hire a developer.
Real-Time Stats: Analytify offers a real-time statistics dashboard right within your WordPress admin panel. It makes it super convenient to check your GA4 organic search metrics without having to switch tabs or log into a separate account.
Enhanced E-commerce Tracking: Apart from organic search, you can track other Google Analytics metrics straight from WordPress dashboard. If you run an online store, Analytify makes e-commerce tracking a breeze. You can easily track product views, add-to-carts, and actual purchases.
User-Friendly Interface: The Analytify dashboard is designed to be intuitive and user-friendly, making it easier for you to find what you're looking for, even if you're new to Google Analytics or SEO.
For step-by-step guidance on connecting your WordPress site to Google Analytics using Analytify, you can read our guide: How to Integrate Google Analytics 4 with Analytify.
How to See Organic Search Traffic in Google Analytics 4 (Step by Step)
Here is a step-by-step guide on how to see search terms in Google Analytics 4:
First, sign in to Google Analytics 4 and choose the GA 4 property you want to look at.
Click on Reports on the left side of the screen.
Then click Acquisition>>Traffic Acquisition. You can see Organic Search below.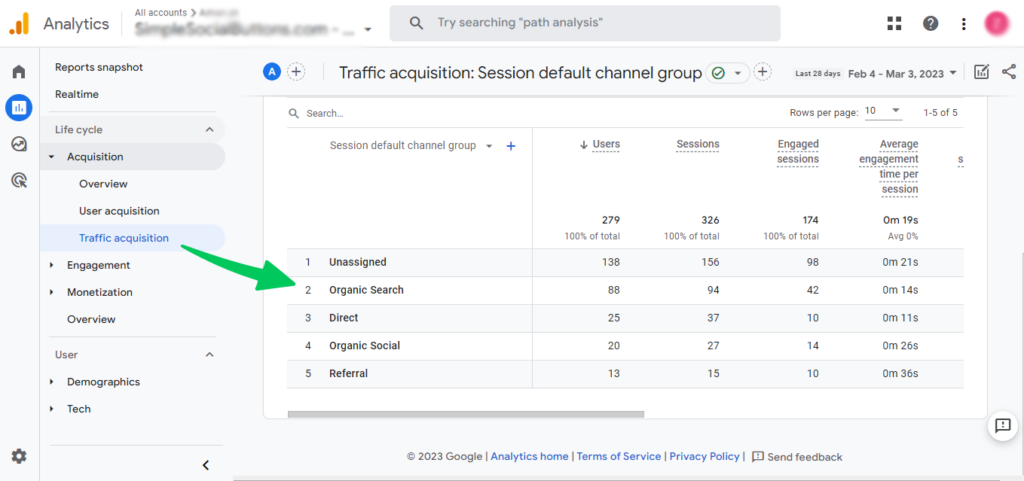 You can also see other 10 metrics regarding your organic search, e.g., users, sessions, engaged sessions, events per session, and engagement rate, as highlighted below.
Finally, you'll be able to see how many people have found your website through an organic search(unpaid). You can use the filters at the top of the page to get even more specific with the data based on the landing page, source, and keyword.
All done! We hope you've learned how to see search terms in Google Analytics 4.
After knowing the organic traffic, you may want to know which pages people visited. It is crucial in determining what those organic visitors did on your website.
How to Track Organic Search Pages?
To track organic search pages, first navigate to Reports>>Engagement and then click on Pages and Screens.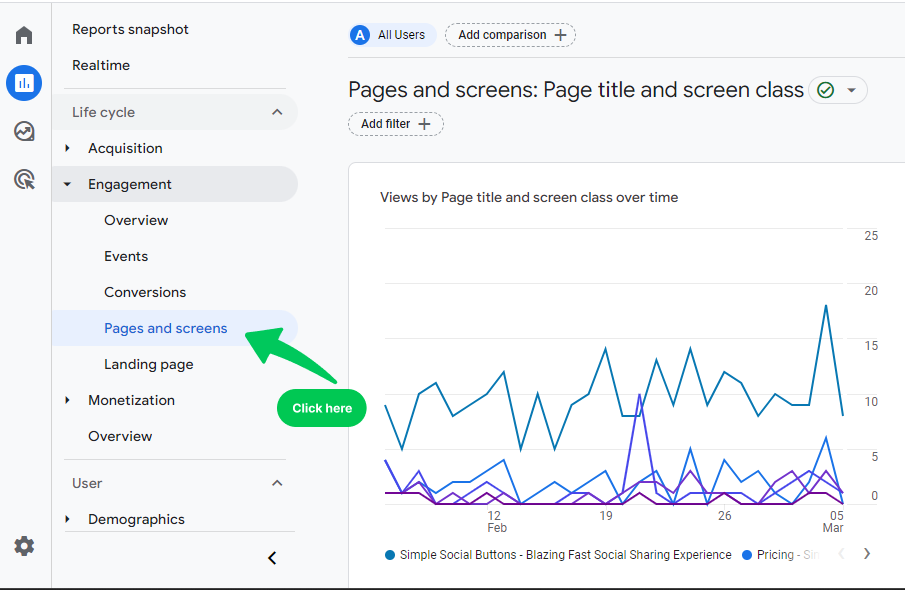 Scroll down the page. It takes into account all site visitors, not just organic ones.
Click the blue plus symbol to filter the report to see only the pages your organic search traffic has visited: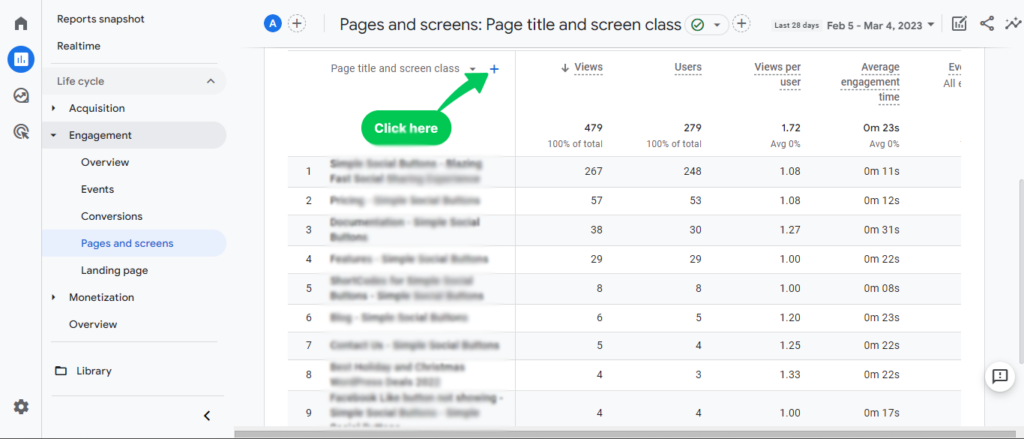 Click 'Traffic source' and choose whatever factor you want to see. Let's choose 'session medium'. Look at the picture below for help.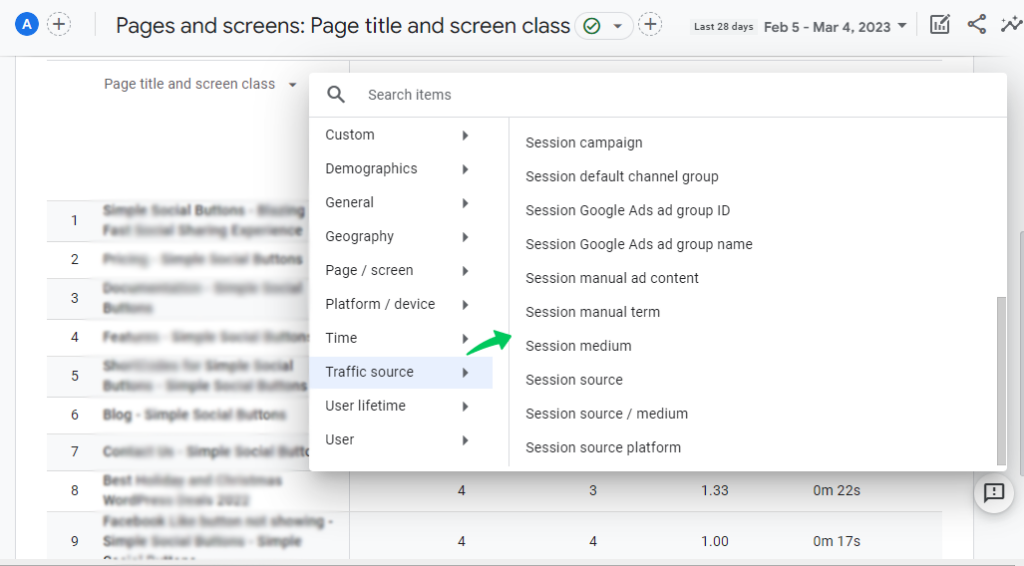 You will see overall data about the session medium.
After selecting "session medium," you will see a search tab highlighted below in the picture. Type "organic" into it because you are only tracking organic search.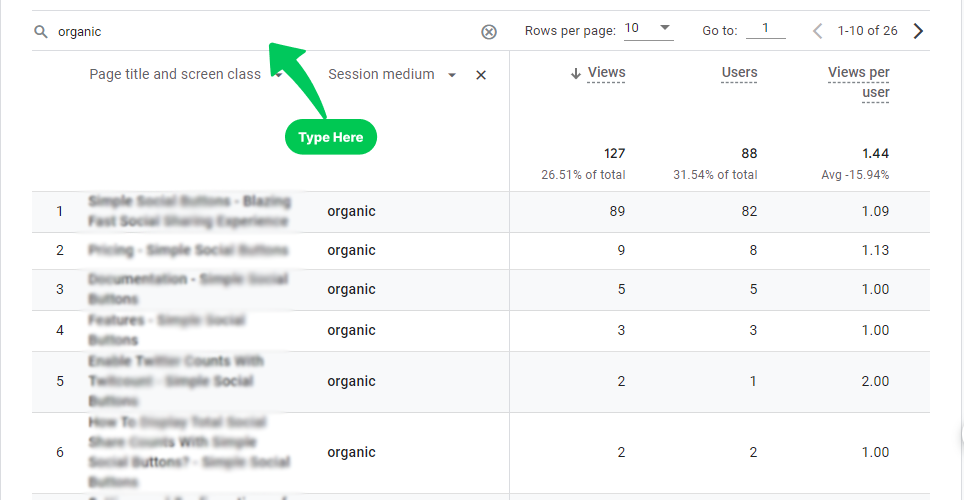 You will now have information exclusively about the pages viewed by your organic traffic.
Using the filters at the top of the page, you can check this organic traffic data by several criteria, including session medium, source, medium, keyword, and landing page.
Also, you can compare other measurements by selecting the plus button + as a comparison option at the page's top. See the picture below for assistance.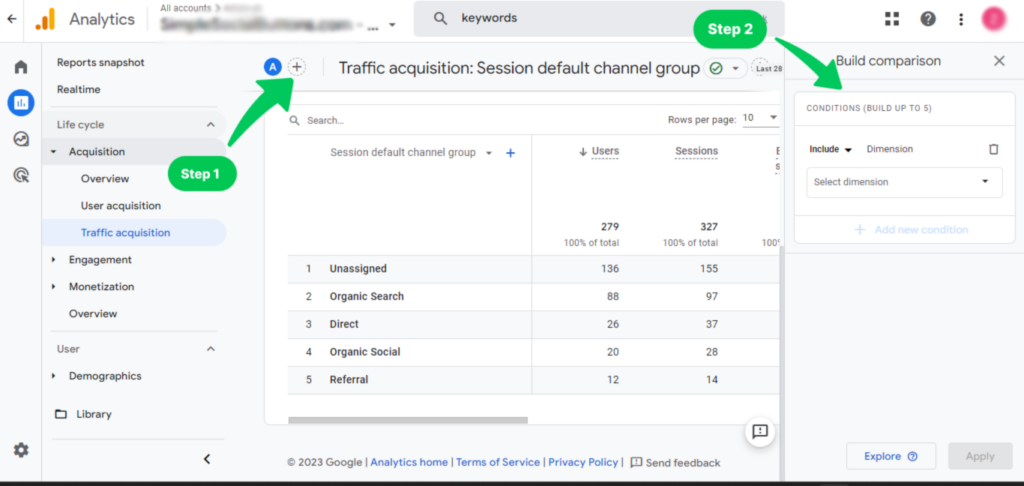 Google Analytics 4 has a lot of features to play with. You can check overall traffic, its sources, average engagement time, and bounce rate, and you can also check organic traffic, plus many more metrics to explore.
In Google Analytics 4, tracking organic search terms is now easy.
FAQs
What is the difference between organic search and paid search in Google Analytics?
 Organic search refers to the unpaid, natural search results in search engines, while paid search involves paid advertising campaigns. Google Analytics helps you differentiate between these two sources of traffic.
How can I track specific organic search terms and keywords in GA4?
 In GA4, you can track GA4 organic search terms and GA4 organic search keywords by setting up appropriate filters and segments. It allows you to gain insights into what users are searching for.
Can I connect my WordPress site to Google Analytics without using Analytify?
Yes, you can manually integrate Google Analytics with your WordPress site by adding tracking code to your website's header or using other plugins. However, Analytify offers a user-friendly and efficient way to do this.
Does Analytify work with Google Analytics 4 (GA4)?
Yes, Analytify is compatible with GA4, making it a suitable choice for tracking GA4 organic search metrics on your WordPress site.
Is organic search traffic more valuable than other types of traffic?
Organic search traffic is often considered more valuable because it consists of users actively seeking information, products, or services related to your content. It tends to have higher engagement and conversion rates.
Conclusion
In the world of digital marketing and website optimization, understanding and analyzing organic search in Google Analytics 4 is a game-changer. In this blog, we have discussed the importance of organic search, the benefits of doing organic traffic analysis in GA4, how to find organic search report in GA4, and how to connect your WordPress site to Google Analytics with Analytify.
Analyzing organic traffic in Google Analytics 4 is a great way to measure up to the competition and see how you stack up against industry norms and standards.
Do you want to learn about search engine ranking reports to achieve a high SEO ranking? Read our blog on Search Engine Ranking Reports: 5 Ultimate Tools and Tips.
We hope this article has helped you understand the most important source of your web traffic. Now we'd love to hear from you. What traffic source brings the most traffic to your website? Share your thoughts and queries in the comment below.