Print This page
Get Started With The Forms Tracking Addon
Would you like to track your WordPress website forms analytics/conversions?
Analytify forms tracking addon helps you to track the number of impressions and submissions for your WordPress website forms. This addon works with any WordPress form plugins like Gravity forms, Ninja Forms, and more including Custom WordPress forms.
A few benefits of using the Analytify forms tracking addon are:
You can easily identify which forms are getting more leads or submissions.
You can start optimizing your forms to get more leads or conversions.
With the forms tracking add-on, you don't need to add thank you page to track the submission goals.
Note: To start WordPress forms tracking on your website, you must have the Pro version of the Analytify plugin.
Here, we will examine how to install & activate the forms tracking addon and view forms analytics in Analytify dashboard.
How To Install & Activate The Forms Tracking Addon
To trigger the Analytify forms tracking addon, follow the steps given.
1. Navigate to Analytify in your WordPress Dashboard and click on the addons option.
2. In the Analytify add-ons window, you can easily activate the Google Analytics forms tracking by simply clicking on "Activate add-on".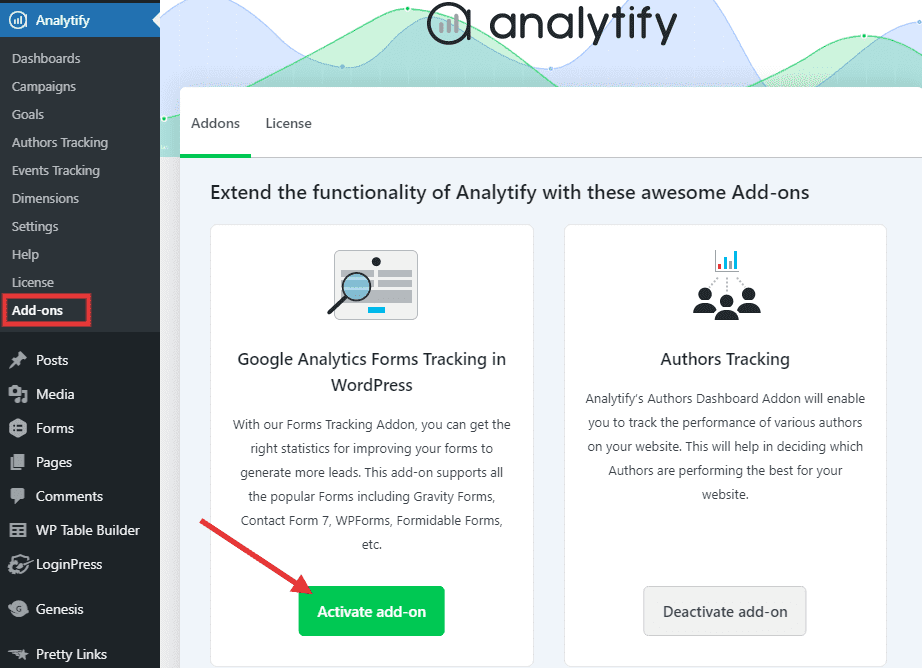 3. After the activation of the forms tracking addon, Go to your Analytify plugin Settings where you will find a Tracking option in the Settings window.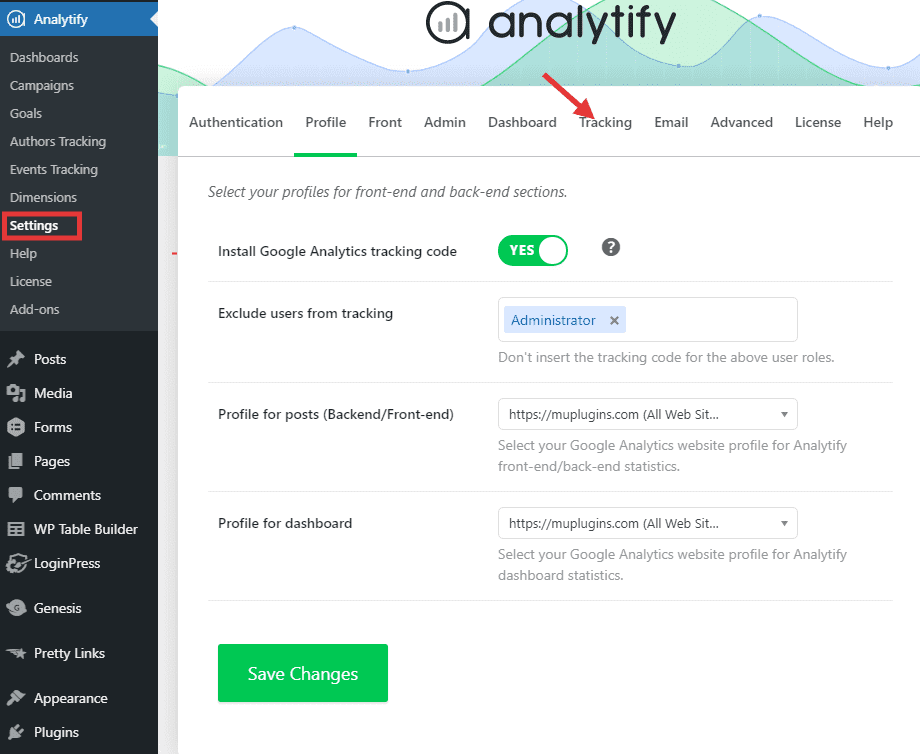 4. Move your cursor on the Tracking menu, a drop-down list will open with different options including the forms tracking option.

5. Now click on the forms tracking option.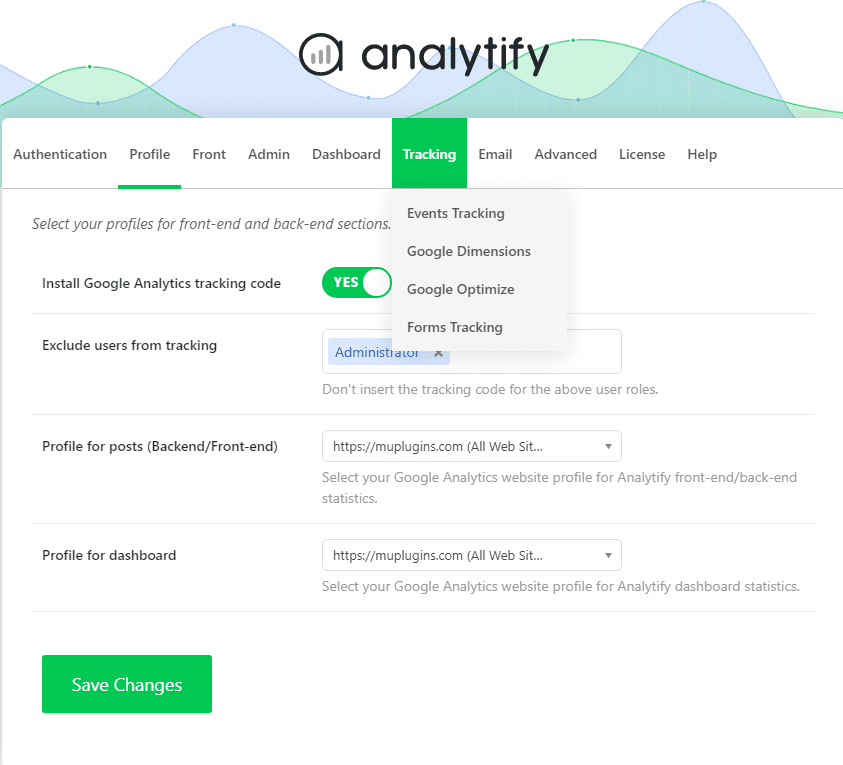 6. After clicking on the forms tracking option a new window will open, where you will find a list of forms that you can track, you simply need to enable the option of forms that you want to track.
Note: You can track or enable the tracking of those forms that you have Installed and Activate on your WordPress website.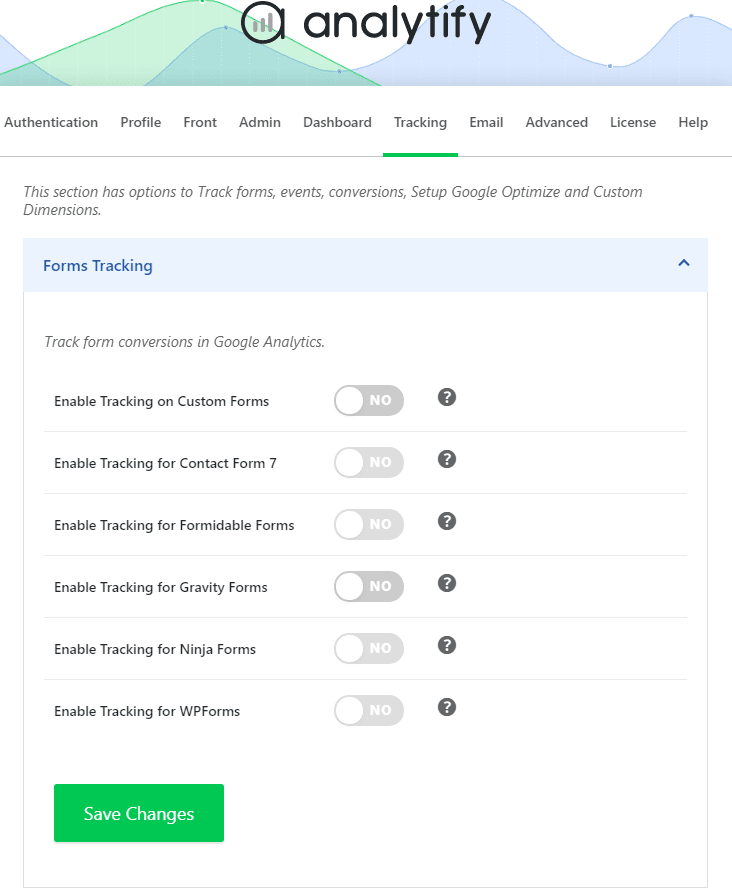 7. Now enable the tracking of forms that you have installed and activate on your WordPress website and click on the Save Changes button and your forms tracking will start.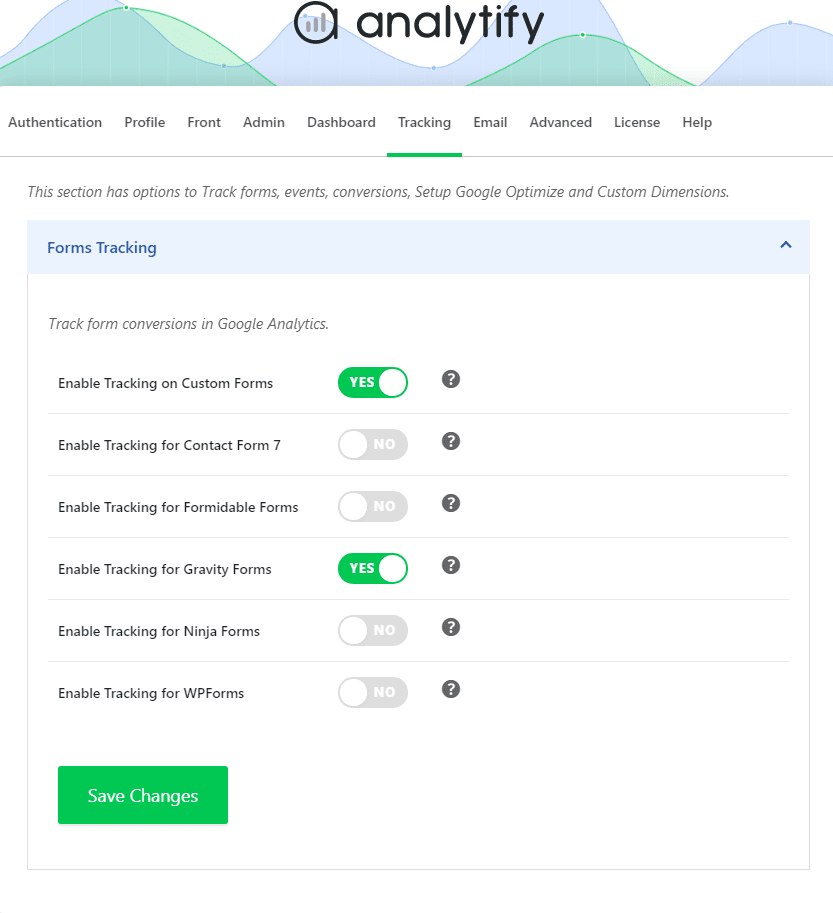 How To View Your Forms Analytics In Analytify
Note: After the activation and setting up the Analytify forms addon, it will take a minimum of 24 hours before the data starts populating in Analytify's WordPress dashboard.
1. Go to your WordPress dashboard and navigate to Analytify –> Forms Tracking.
2. After clicking on the forms tracking in Analytify you will get analytics of your WordPress website forms.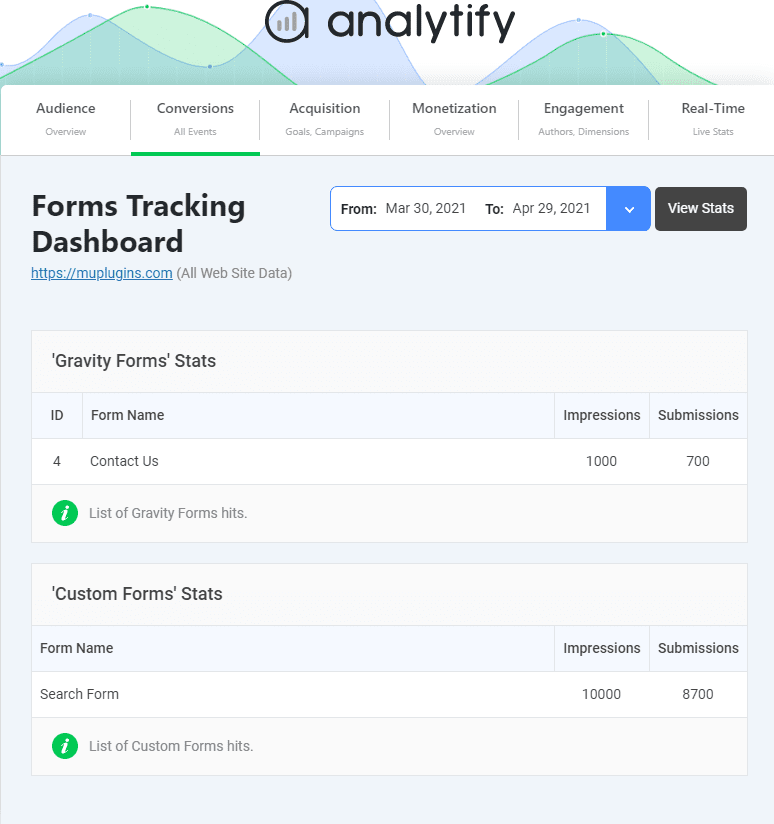 How To View Your Forms Conversions Insights In Google Analytics
It may take one or two days for Google Analytics to gather data of your form conversions & views. After two days of gathering data by Google Analytics, you can view your form conversions and views in your Google Analytics.
To view the form conversions & view in Google Analytics you need to follow the given steps below.
1. Sign in to your Google Analytics Account
2. Navigate to Behavior –> Events –> Overview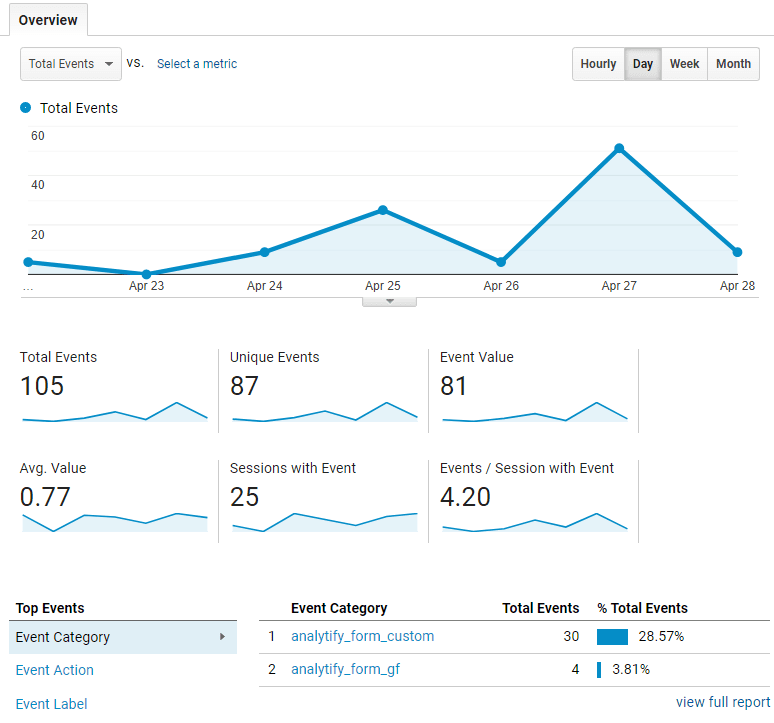 3. Now click on any form under the Event Category & then click on the Event label to view the stats of each form on your website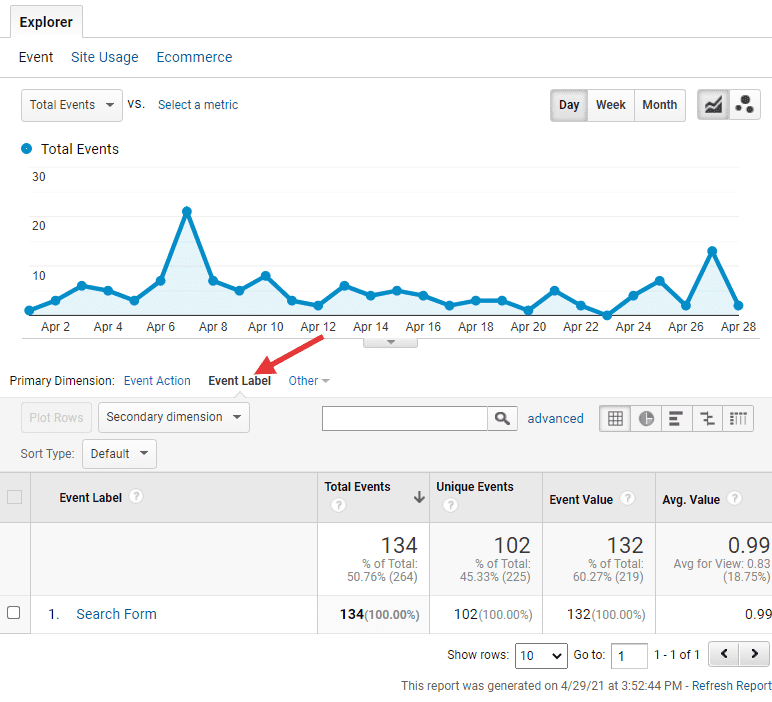 4. Now click on the form to view the Impressions & Submissions (Conversions)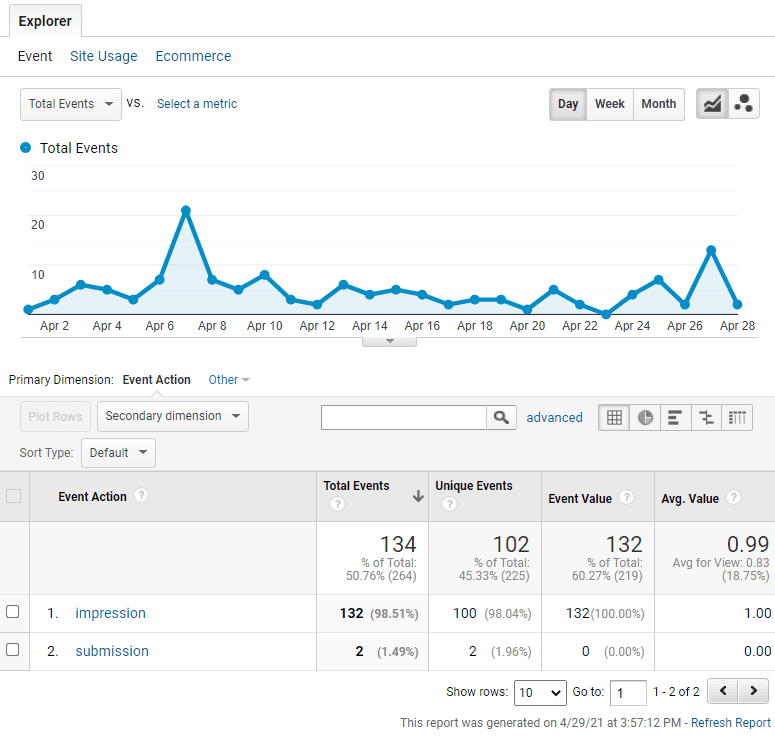 Note: If you have a form that you are using on more than pages or you want to check that on which page the following form you are using. Simply, you need to set the secondary dimension to Page Title to view the form pages.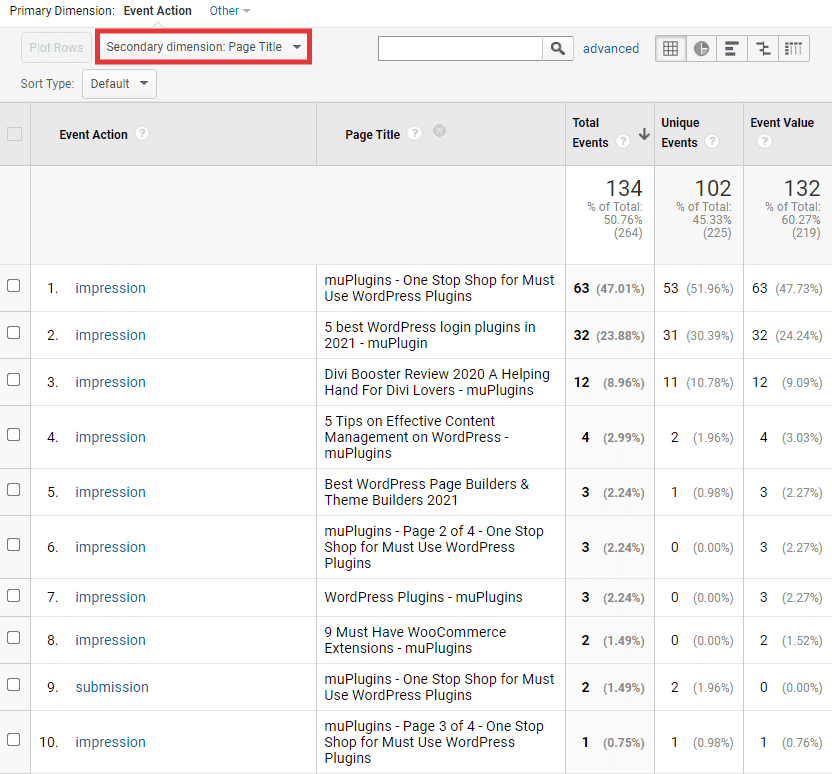 That's it!
You have successfully activated the forms tracking addon and enable the forms tracking on your WordPress website.
If you want to track the different events on your websites like file downloads, affiliate links, and external & internal links tracking, you should check our guide Google Events Tracking.
Last updated on April 29th, 2021