Print This page
How To Enable Google Analytics Ecommerce Tracking
Do you want to track your eCommerce sales data for your WooCommerce or Easy Digital Downloads store with Analytify?
To start tracking your eCommerce store, you need to enable the eCommerce tracking in your Google Analytics account. In this knowledge base article, we'll discuss how to enable Google Analytics eCommerce tracking for your online store.
Requirements
Before we start, you will need to have the following things for your eCommerce store.
Install and activate the pro version of Analytify.
Google Analytics account integrated with your WordPress site.
For WooCommerce Store: Install and activate WooCommerce Add-on as you did for the Analytify PRO license. License activation is necessary to automatically receive updates on your plugins page like other plugins/themes.
For Easy Digital Downloads Store: Install and activate the Easy Digital Downloads Tracking Add-on the same as you did for the Analytify PRO license. License activation is necessary to automatically receive updates on your plugins page like other plugins/themes.
Enabling Google Analytics eCommerce Tracking in GA4
Google Analytics 4 doesn't have one click Enhanced Ecommerce setting like Universal Analytics. Instead, GA4 uses an event-based model that lets you set up eCommerce tracking by creating custom events regarding your eCommerce purchases. Then, for eCommerce tracking, you need to send eCommerce events(activities) from your website to Google Analytics 4. Now there comes a question of how to send the data for these events.
Either you would need to add codes to your website manually to send these events to Google Analytics, or you can use Google Tag Manager or plugins like Analytify, which will automatically track without you adding codes.
Here comes the role of Analytify's WooCommerce and Easy Digital Downloads tracking add-ons to support the process of eCommerce tracking. These add-ons will automatically start tracking ecommerce events, and you won't need to do any technical coding. You'll be able to see eCommerce tracking analytics on your GA4 dashboard without any extra hassle.
How to Track eCommerce Sales in GA4
With the support of Analytify's Enhanced Ecommerce Addon for Woocommerce, you can track your Ecommerce sales in Google Analytics 4 without any obstacle. You can track the relevant data in Realtime Report. You can track Ecommerce Purchases under the Monetization heading.
You can have funnel exploration of the purchased journey right in your GA4 account under the Monetization section. This funnel will be automatically generated when you use Analytify's Enhance Ecommerece add-on.
To see your Ecommerce sales data in Google Analytics 4, follow the steps below.
Step 1. Check the Realtime Report
This step will also verify if your Ecommerce setup is right. You can see events relevant to your Ecommerce sales here.
Navigate to Reports >> Realtime in the menu on the left.
Scroll down to Events.
If Ecommerce events (view_item, add_to_cart) are happening on your site in real-time, they will be shown here. It means your Ecommerce setup is right.
Step 2: Check Ecommerce Purchases Reports
Once you've set up Ecommerce and approved it, you can look at Ecommerce reports.
To track Ecommerce purchases, navigate to Monetization>> Ecommerce purchases.
You can see Items viewed, Items purchased, Items revenue, and many more metrics.
Step 3: Analyze the User Purchase Journey
Navigate to Reports >> Monetization>>User purchase journey. You will see an automatically generated funnel of all the steps of the purchase journey from session start to purchase, as shown in the below screenshot.
Step 4: Make An Ecommerce Custom Report In GA4
You can also make your custom Ecommerce report in Google Analytics 4. To make a personalized report about Ecommerce sales:
Navigate to Explore >> Funnel Exploration. Funnel exploration is helpful for seeing customized shopping funnel reports.
You can change your report by dragging and dropping dimensions like the Event name and measures like Event count.
How to Enable eCommerce Tracking in Universal Analytics
Sign in to your Google Analytics account of your website.
Click on Admin and then navigate to Admin.
Now click on the eCommerce settings in the view Column of your admin Settings.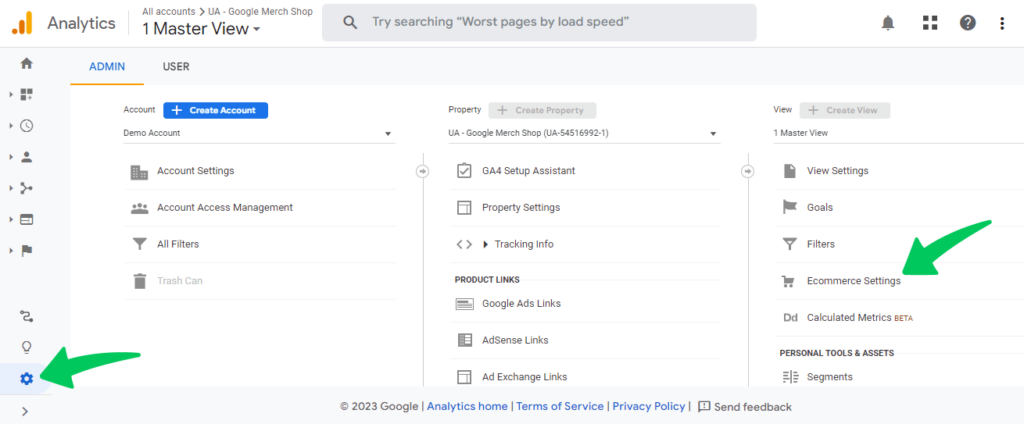 After clicking on the eCommerce setting, a new window Ecommerce setup will open, where you have to Enable the Ecommerce option (from Off to On). After enabling this option, you have to Enable the Enhanced Ecommerce Reporting option.
Then navigate to Funnel Steps to add your funnel or checkout steps according to your website checkout procedure and click on the Save button.
Now your eCommerce website tracking is started, and you will be able to see numbers other than 0's on the WooCommerce dashboard pretty soon.
However, if you want to know in detail how to track this data in Google Analytics and your WordPress dashboard, read our detailed guide on How To Track WooCommerce Sales Using Google Analytics [Analytify].
Note: Install Google Analytics tracking code javascript option should be checked for WooCommerce add-on tracking.
For this, go to your WordPress site and navigate to Analytify>>Settings>>Profile. Then turn on the Install Google Analytics tracking code button.
Check our guide on How to Install and Activate WooCommerce Addon, which will help you to learn how to install/activate WooCommerce addon.
If you need help with enabling eCommerce Tracking in Google Analytics, look at the FAQs on the Analytify website or contact the Analytify support team.