Print This page
How to Add Simple Shortcode in Post or Page
Would you like to check the analytics of your website page or blog post to view the performance of a specific page or post content that will help you to improve the performance of your content?
WordPress Analytify has tons of shortcodes, so users can use plugin functionality anywhere he wants. Yeah we know remembering all shortcodes are difficult that's why WordPress Analytify has the option to create the shortcode in the text editor with just a few clicks. Normally Analytify has two types of shortcodes.
1- Simple Shortcode
2- Advanced Shortcode
In simple shortcode, you just need to set the Metrics and Visibility role Only.
Metrics are the quantitative measurement, the Metrics session is the total number of sessions. The Metrics Pages/Session is the average number of pages viewed per session.
You can set any Session from Metrics and set the Visibility role for the present the total number of sessions.
Here is an example of getting the total number of users of this site.
Get the number of Visitors by using Simple shortcode
First Select the Simple type from the Analytify shortcode button.

In Metrics Select the option which one you want to show. (e.g Total number of user or page views)
Next, select the Visibility option. Who can see the result of this shortcode?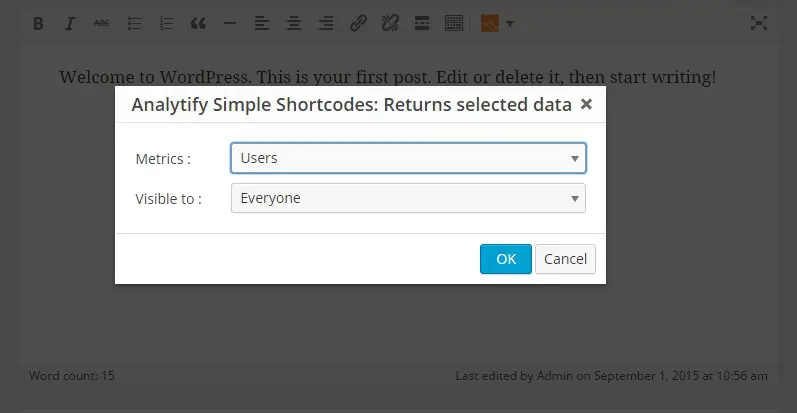 After setting the value you'll get the shortcode.

Now Update your Post/Page and get the result 🙂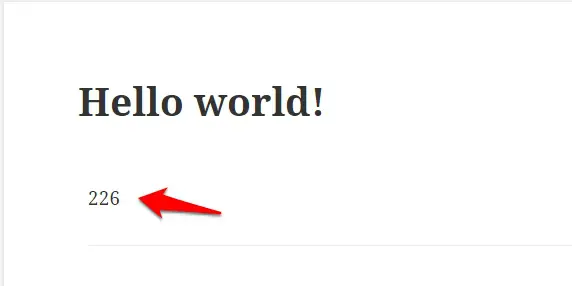 That's it!
This is how you can easily implement/add a simple shortcode in your specific page or blog post for analytics. Check our guide on how to add the advance shortcode on a page or post.
Last updated on June 1st, 2021