Print This page
How To Get Started With Analytify Google AMP Addon?
Getting accurate data for AMP-enabled pages is a major concern among many marketers.
In order to get accurate analytics for your AMP-enabled WordPress website, you will need to install and enable the Analytify AMP addon for your site.
Analytify AMP add-on helps you to add Google Analytics tracking code to your WordPress website amp pages to track the visitors of your AMP pages.
Google AMP Add-on Features
AMP Add-on stops double-tracking: By default, when a website visitor came to the AMP page and then visits the normal website page, Google AMP analytics count these visits as two sessions. But our Analytify Google AMP addon fix this issue and count visits as a single session.
Easily Integrate GA Tracking Code: With this addon, you can easily integrate your Google Analytics tracking code within your AMP pages, just you have to activate this Addon.
In this guide, we will show you how to enable the Analytify AMP addon on your website.
Important: To enable the Google AMP feature, you have to install and activate the Analytify Pro version.
How To Enable The Google AMP Addon
Note: Before enabling the Analytify Google AMP addon you have to install and activate the AMP Plugin to your WordPress website.
To enable the Analytify AMP Addon, follow the given directions.
1. Navigate to Analytify and click on the add-ons
2. In addons, you will find AMP Addon, just activate this addon and Analytics will automatically add to your AMP pages.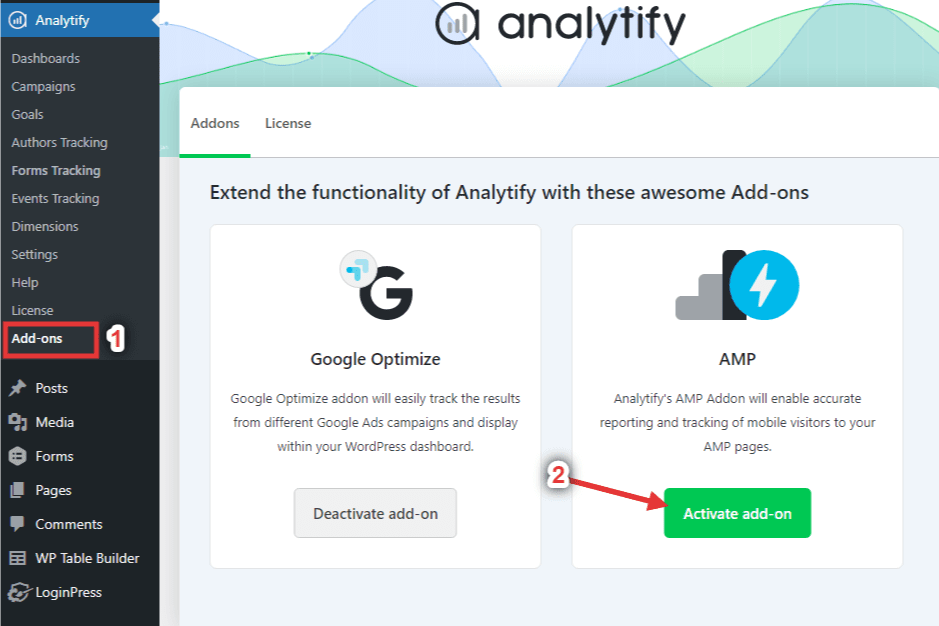 How To View Your AMP Page Analytics In Google Analytics
After the activation of the Analytify AMP addon and installation of Google Analytics tracking code to your website AMP pages, you can view your AMP pages analytics in Google Analytics.
1. Sign in to your Google Analytics account and select your website on which you have installed the Google Analytics tracking code.
2. In your Google Analytics dashboard navigate to behavior and click on the site content.
3. When you click on the site content, a sub-menu will open where you have to click on the All Pages Option
4. In all pages analytics report type /amp in the search bar and press enter, AMP page analytics reports will display.

That's it!
This is how you can install Google Analytics tracking code on your website AMP page and track it in your website Google Analytics account.
Check our guide on Getting Started with the Analytify Google Optimize Addon that will help you to integrate your website with Google Optimize for A/B testing.
Last updated on July 14th, 2021