Print This page
How To Get Started With The Authors Tracking Add-On?
Authors Tracking add-on is a premium feature in Analytify Pro. It provides detailed analytics about the authors on your website. It allows you to track the performance of individual authors by showing you data such as pageviews, bounce rates, and more.

Tracking the performance of your blog author and content engagement can help you understand which posts are performing the best and which authors may need some help with their content. 
In this knowledge base article, we'll show you how to enable Authors Tracking with Analytify.
Authors Tracking in Analytify
Authors Tracking add-on in Analytify enables additional tracking of your author's performances and analysis of user activity on your WordPress site, specifically focused on author-related metrics.

Individual Author Tracking: With the Authors Addon, you can track the performance of each individual author on your website. This includes tracking metrics like pageviews, sessions, bounce rate, and average session duration for each author.
Post Performance Tracking: The Authors Addon also allows you to track how well each post published by each author is performing in terms of page views, bounce rate, and other metrics.
Top Authors Report: The addon provides top authors report, which helps you identify the most popular and engaging authors on your site.
Customizable Dashboards: You can create custom dashboards that show specific author-related metrics and data in specific date ranges, so you can quickly and easily monitor the performance of your authors.
Multi-Author Blogging: If you run a multi-author blog, the Authors Addon is useful for tracking individual authors' performance and their posts to improve your content strategy and engagement.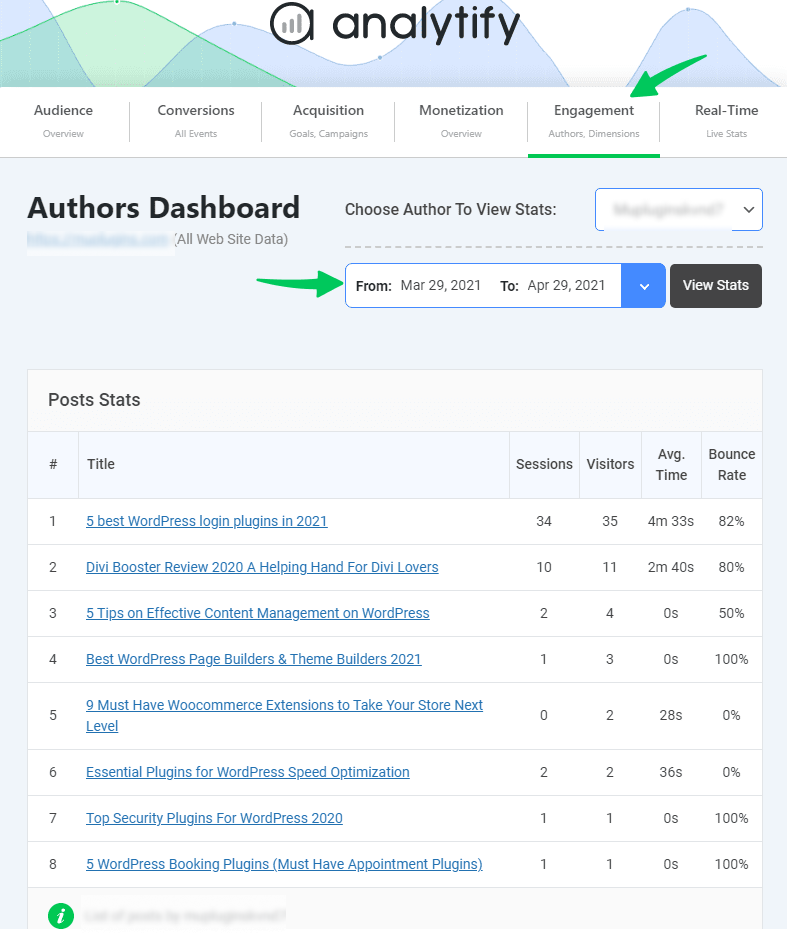 Note: We assume that you have already installed the Analytify Pro and add-ons. If not, check out our detailed guide on How to Install And Activate Analytify Pro?
Install & Activate Authors Add-on
Step 1: Login into Your Account
First, download and install the Authors add-on to proceed with Authors Tracking in Analytify.

Log In to your Analytify Account using your Username and Password.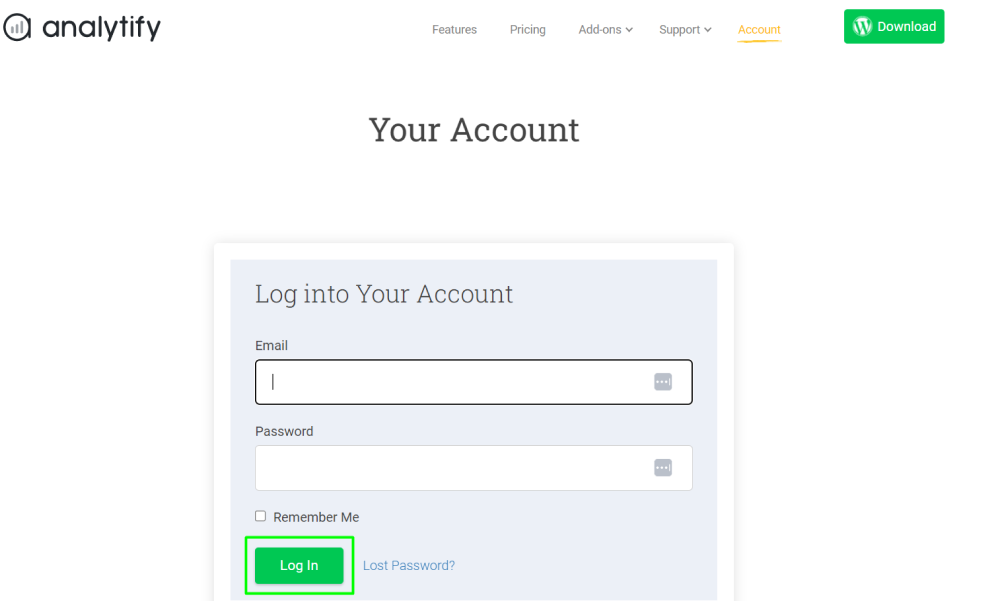 Step 2: Navigate Downloads
Next, navigate to the Downloads tab to download the .zip file of the Authors Tracking Addon.
Step 3: Install and Activate Add-On
Go to your WordPress admin dashboard, and navigate to the Plugins >> Add New. Next, click the Upload Plugin button at the top and Choose File. Then click to the Install Now button. 

Once the installation is complete, click the Activate Plugin button.

On Activating, it appears in your Installed Plugins.

Now, you have successfully installed and activated Authors Tracking addon. It's time to activate the license key.
Step 4: License Key Activation
To activate the License key, go back to your Analytify Account and click on the Licenses Tab. Next, you need to copy the License key.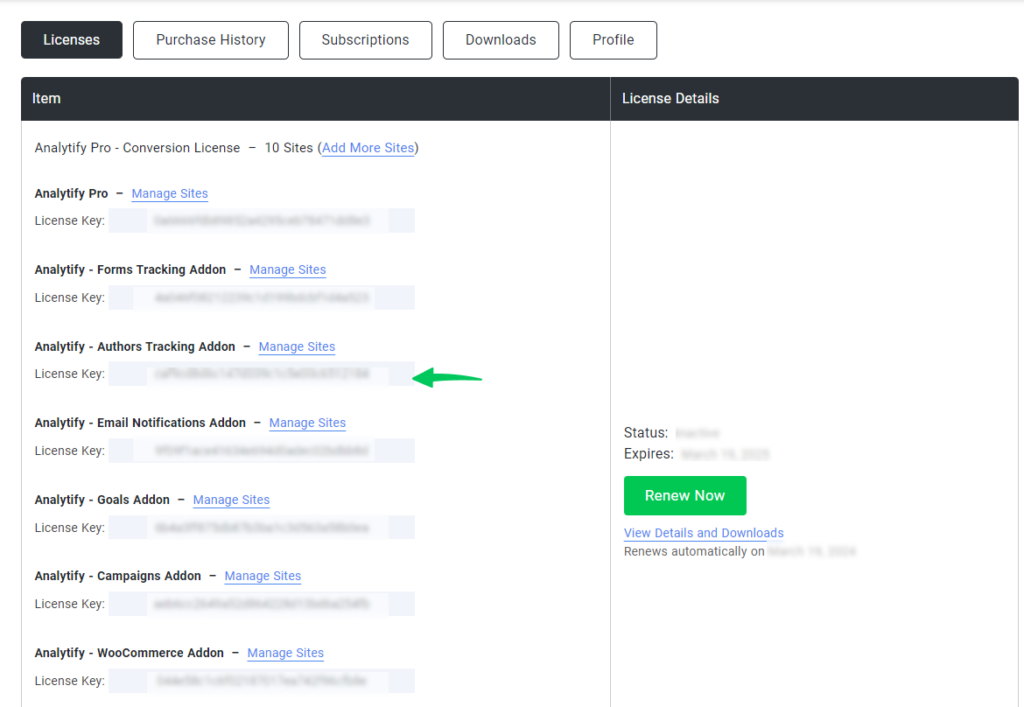 Now,  navigate to Analytify >> License option inside your WordPress admin dashboard.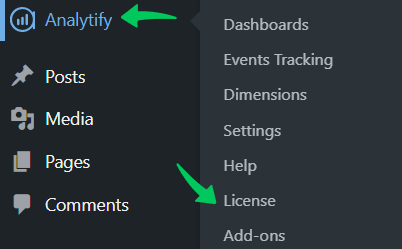 A new window will open with the License key field against Authors Tracking. All you need to do is paste the extracted License key from the Licenses Tab. After that, activate by clicking on the Activate License.

Once added, click on the Activate License button, and then you will get the success message.

Once the Authors Tracking add-on is installed and activated, it's time to Set it up.
Setting Up Authors Dimension (3 Easy Steps)
To setup Authors Dimension in Analytify, it is mandatory to activate the Custom Dimensions add-on. You can check our detailed guide on How to get started with Custom Dimensions.
Step 1: Add Author Dimension in Analytify
To add Authors Dimension in Analytify, navigate to Analytify  >> Settings in your WordPress admin dashboard.

Then, head toward Tracking >> Custom Dimensions to Add Dimension in a new window.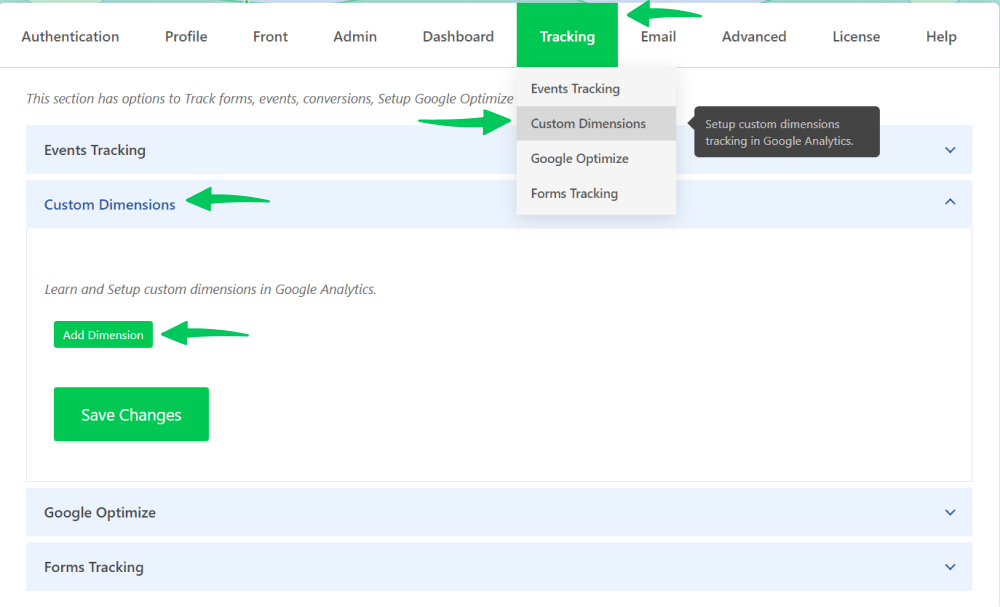 Once on this page, click Add Dimension to select the required Dimensions, such as Author.

Step 2: Setup Dimension in Google Analytics
Dimensions are attributes of your data that can be used to segment and filter your analytics reports. By assigning dimension IDs to your data, you can organize it to make it easier to analyze and extract insights.
To add Dimensions ID (values), we must set them up in Google Analytics.
Go to the Admin section of your Google Analytics Account. Select the Property for which you want to enable custom dimensions. 
Next, navigate Custom Definitions  >> Custom Dimensions. Then, click on the New Custom Dimension, as shown below.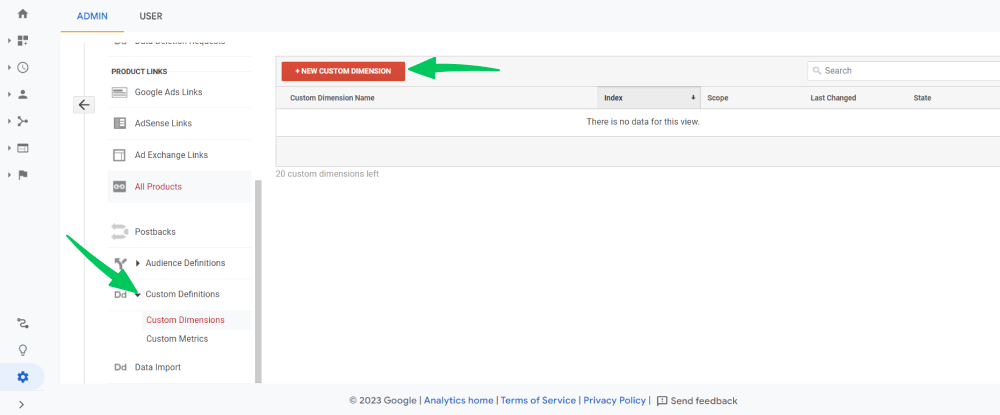 Simply enter the dimension name (Author), and click Create. You don't have to change any of the other settings.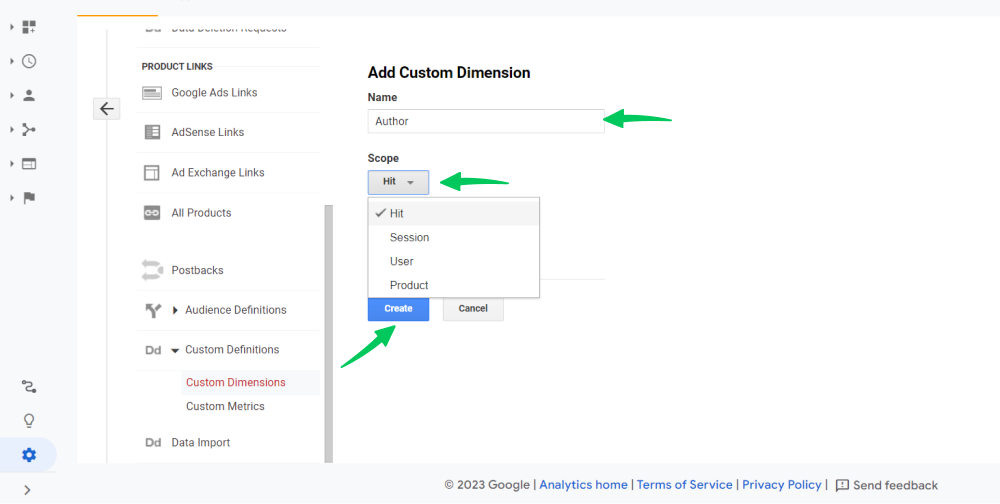 Note: When you set up a custom dimension to track the author of a piece of content, the author information is included in the hit that is recorded when a user views that content.
Step 3: Match Custom Dimension Values
After creating Author Dimension in Google Analytics Account, the last step is to add those Index numbers retrieved from Google Analytics.

Now,  go back to Analytify >> Settings >> Tracking >> Custom Dimension. Add Index numbers (values) against each Custom Dimension and click Save Changes.

How To View Your Authors Performance In Analytify
Once you have Activated and Enabled the Authors Tracking addon, start tracking the performance of your authors. The data is displayed in an easy-to-read Authors Tracking Dashboard within the Analytify dashboard in two ways. 

1- Hover to Analytify from the left side of the WordPress dashboard menu. And click Authors Tracking.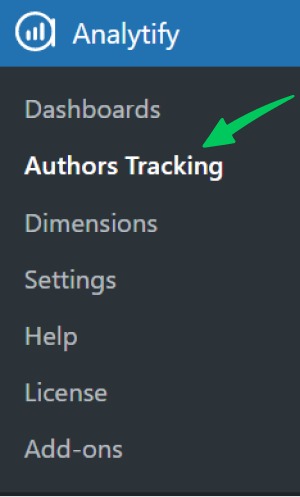 Navigate to Analytify >>  Dashboards >> Engagement >> Authors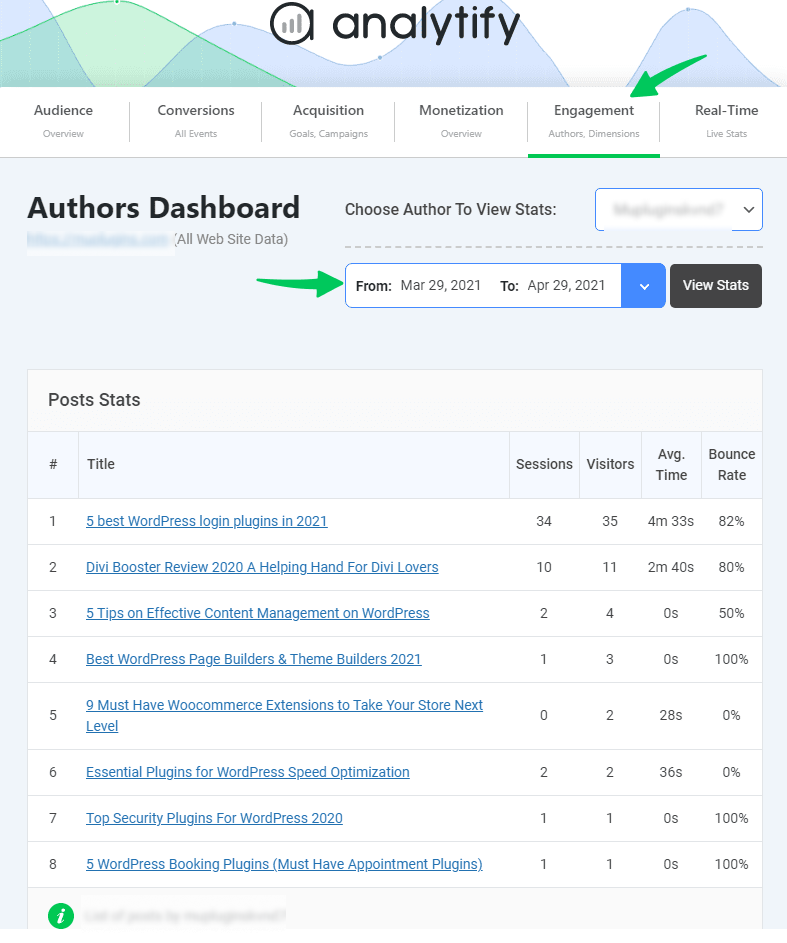 The Authors Tracking offers valuable insights into author performance and helps you make data-driven decisions to optimize your content strategy and engagement.
That's all. You have successfully installed and enabled Authors Tracking in Analytify. Are you interested to adjust the Bounce Rate of your blog/website with Analytify? See our guide on How to Adjust the Bounce Rate with Analytify.

If you have any doubts or questions related to this matter, please don't hesitate to contact our support team.
Last updated on April 15th, 2023