Print This page
How to Contact Analytify Support Team
If you're an Analytify user, you may encounter technical issues, have questions, or require assistance with the plugin functionalities. To ensure a seamless experience and prompt resolution of concerns, we have established a dedicated support team always available to provide support and guidance.
Analytify is the leading Google Analytics plugin for WordPress that empowers you with valuable information about your site's performance and user behavior, whether you're an entrepreneur, freelancer, developer, marketer, or website owner.
The Anaytify support team is there to assist you every step of the way. In this knowledge base article, we'll guide you through the various channel and methods to connect Anaytify support team.
1. Help Tab within Analytify Settings (For Pro Users)
If you are a Pro user of Analytify, you can access the support options directly from the Analytify Settings page in your WordPress dashboard.
Go to the Analytify plugin settings by navigating to Analytify >> Help Tab in the WordPress admin menu.
Click on the Help tab to access the support options provided by Analytify, which include a contact form, a support email address, or a link to a dedicated support page.
Using the provided contact information, you can ask specific questions or report any problems with the plugin to the Analytify support team.
Our Support Team will be able to assist you with any technical issues, questions, or inquiries you have regarding the Analytify plugin for WordPress.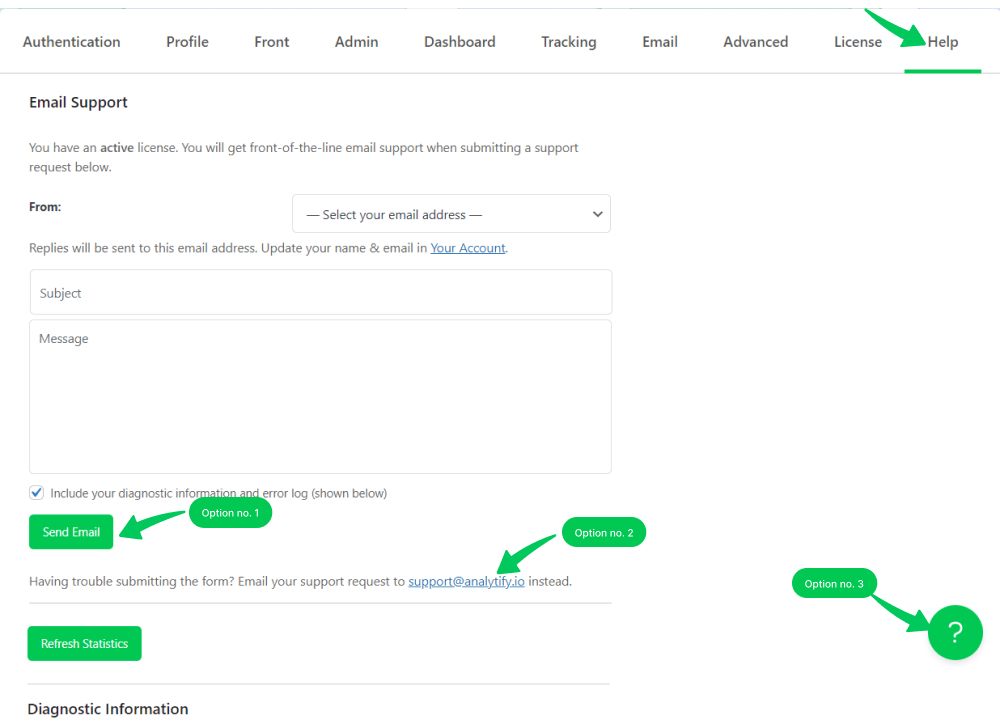 2. Official Contact Form
Another way to contact the Analytify support team is through our official contact form.
Visit the Analytify website and navigate Support >> Contact. Here is the direct link Analytify Contact Page.
Fill out the contact form with your name, email address, and a detailed message explaining your query or issue.
Submit the form and wait for a response from the Analytify support team.
When using the official contact form, provide all relevant details and clearly explain your query or issue. Using English for communication is recommended to ensure effective communication with the Analytify support team.
Note: We strive to respond to all inquiries within 24 hours during regular business days.
3. Support via Email Address
You can easily contact the Analytify Support Team via email at support@analytify.io. Email has always been a common channel for seeking support due to its convenience and ability to provide a documented interaction record. You can explain your issues or queries in detail to seek timely responses to queries related to general or technical issues.
When contacting the support team via email, including as much relevant information as possible in your message is important. This can include your name, website details, a description of the problem or question, and any other relevant details. 
4. Live Chat
You can engage in a Live Chat with the Analytify support team if you prefer real-time communication. Live chat provides an interactive and immediate way to communicate with the Analytify support team. It allows you to get instant responses and clarifications for any questions or problems you may have. Make sure to clearly explain your concerns and provide any necessary details during the live chat session. 
Analytify Live Chat option is available on the official site of Analytify, i.e., analytify.io. Our Live Chat Support team is available from 9:00 am to 5:00 pm, GMT +5 Timezone (Monday to Friday).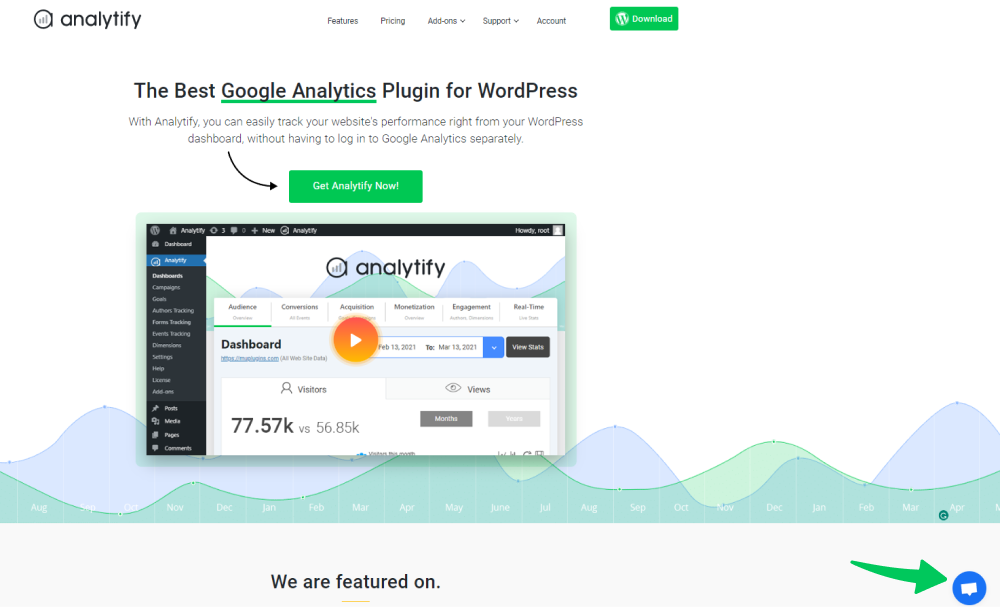 5. Ask for Analytify Support at WordPress.org Support Forum
Analytify has a dedicated support forum on the WordPress.org plugin repository. 
Since the WordPress.org support forum is entirely community-driven, users of WordPress can seek assistance and support from volunteers and experts in a threaded discussion format.

To locate the forum dedicated to a specific plugin, visit the plugin's page on the official WordPress repository. Once there, navigate to the 'Support' tab.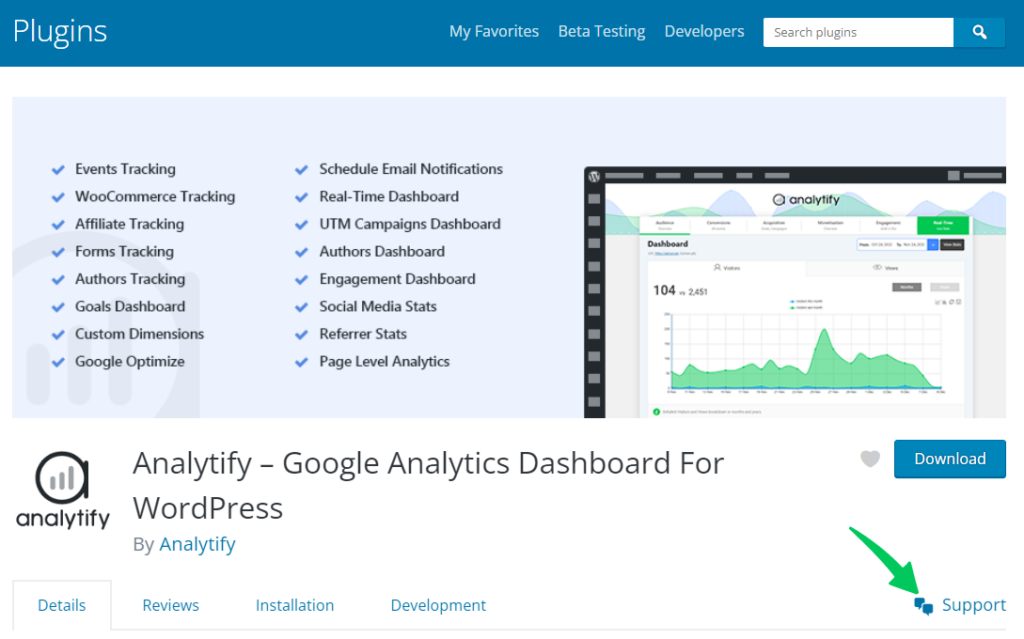 It will display the plugin's corresponding support forum.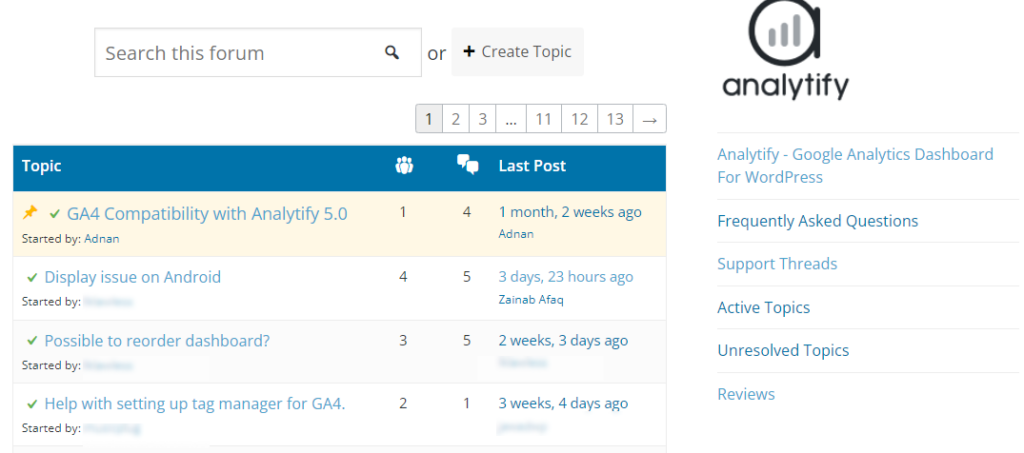 Note: To participate in the support forums, it is necessary to first log in to your WordPress.org account.
Once logged in, you can Create Topic, which generates a Support thread. That can be answered by the Plugin Author, Analytify Support Team, or volunteers who generously contribute their time and knowledge to assist each other.
6. Ask the WordPress Community on Facebook
If you're seeking assistance or advice from fellow WordPress users, you can turn to the WordPress Community on Facebook. Analytify Support Team has launched an official Facebook group called "Analytify User Group." This group is specifically designed for premium users who are looking for general and technical assistance, as well as for engaging in active discussions about product updates.
Participating in the Analytify User Group on Facebook allows you to connect with other premium users who may have encountered similar challenges or have valuable insights to share. Remember to maintain a respectful and friendly tone while interacting with other group members.
Last updated on June 13th, 2023