Print This page
Switch From Universal Analytics to GA4 [Analytify]
As of July 1, 2023, the old version of Google Analytics (Universal Analytics) has been phased out. This means that Universal Analytics will no longer receive updates from the Google Analytics Team. Instead, all new features and enhancements will only be available in GA4.
If you are currently using Universal Analytics, it is important to switch to GA4 in order to ensure that Google Analytics continues to function correctly.
Video Tutorial
If you'd prefer written instructions, just keep reading.
Switching to GA4 with Analytify
1. Go to Analytify >> Settings >> Advanced.
2. In the Google Analytics Version dropdown menu, select GA4 – Google Analytics 4.
3. Click Save Changes.

4. You will now be able to select a Profile GA4 Profile.
5. In the Profile tab, select your GA4 profile and click Save Changes.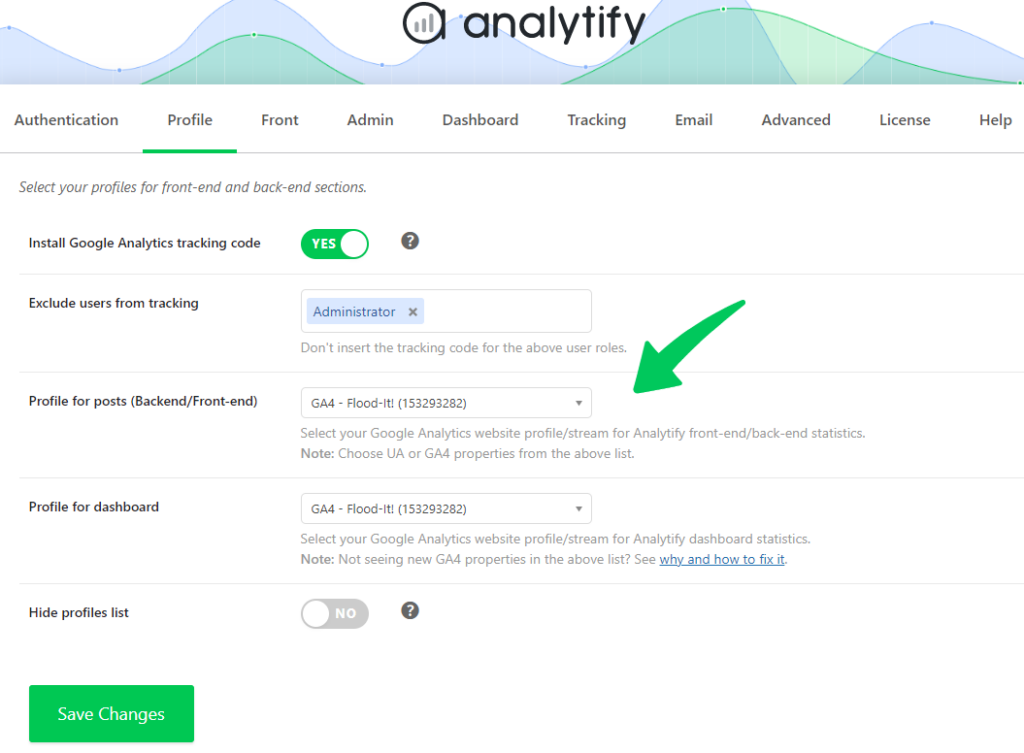 6. After switching to GA4, also update the tracking mode. It should be set to gtag.js, as shown in the below screenshot: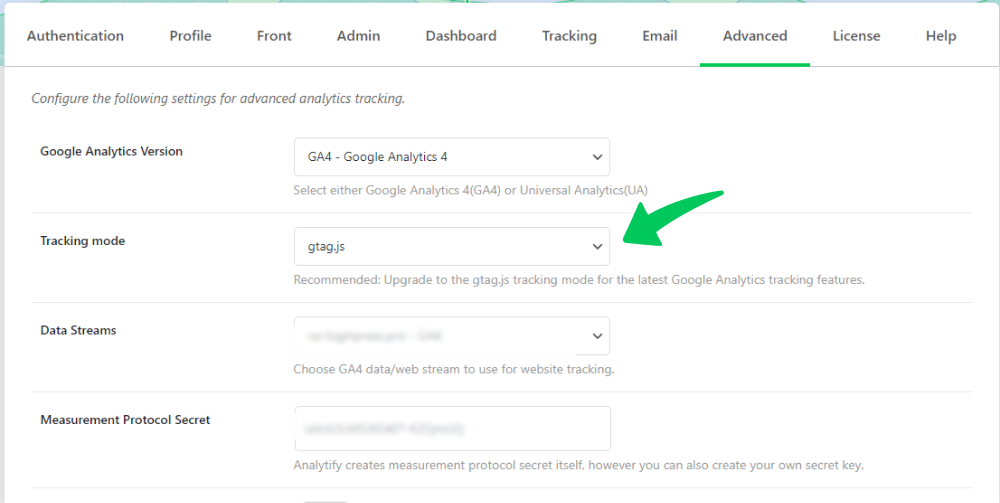 How to Switch to GA4 if You're Using Custom APIs
When switching to GA4 within the Analytify dashboard while using the custom APIs option, you can encounter an error that prevents data retrieval upon switching from Universal Analytics (UA) to GA4.
To effectively address this situation, you must enable the necessary Google APIs within your Google Cloud project. Follow the below steps:
Step 1: Enable Required Google APIs
Log in to your Google Cloud project associated with your Analytify account.
Navigate to the API Library section.
Identify the necessary Google Analytics APIs that need to be enabled for a successful transition to GA4. You can find detailed instructions on which APIs to enable in our article section titled as "Enable Required Google Analytics APIs."
Activate the specified APIs by following the provided instructions.
Step 2: Wait and Reauthenticate
After enabling the required APIs, please wait for approximately an hour.
Then, reauthenticate your Google Analytics account with Analytify by navigating to the Authentication tab, as shown in the below screenshot.
Your system should work fine once you have enabled all the required APIs.
Step 3: Verify Functionality
Once reauthenticated, test the system to ensure that data retrieval and tracking are working fine.
Monitor your analytics data to confirm that the transition from UA to GA4 has been successful.
Alternate Solution: Using Analytify Default API Keys
You can disable the custom API keys option if you prefer not to use additional APIs.
Follow these steps:
In the Analytify dashboard, navigate to Settings >> Advanced tab >> Setup Custom API keys.
Disable the custom API keys option and then save the changes.
Now, reauthenticate your Google account by navigating to the Authentication tab.
Verify the system to ensure that data retrieval and tracking are operational.
By carefully following these step-by-step instructions, you can easily switch to GA4 within the Analytify dashboard while using custom APIs, ensuring smooth integration and uninterrupted access to your Google Analytics data.
That's it! With a few clicks, you can switch your Universal Analytics to GA4.
Maximize GA4 with Analytify
Want to know more about GA4 being fully compatible with Analytify? You can read our announcement post here: Introducing Analytify 5.0: Fully Compatible with Google Analytics 4 (GA4)
If you have any doubts or questions related to this matter, please don't hesitate to contact our support team.