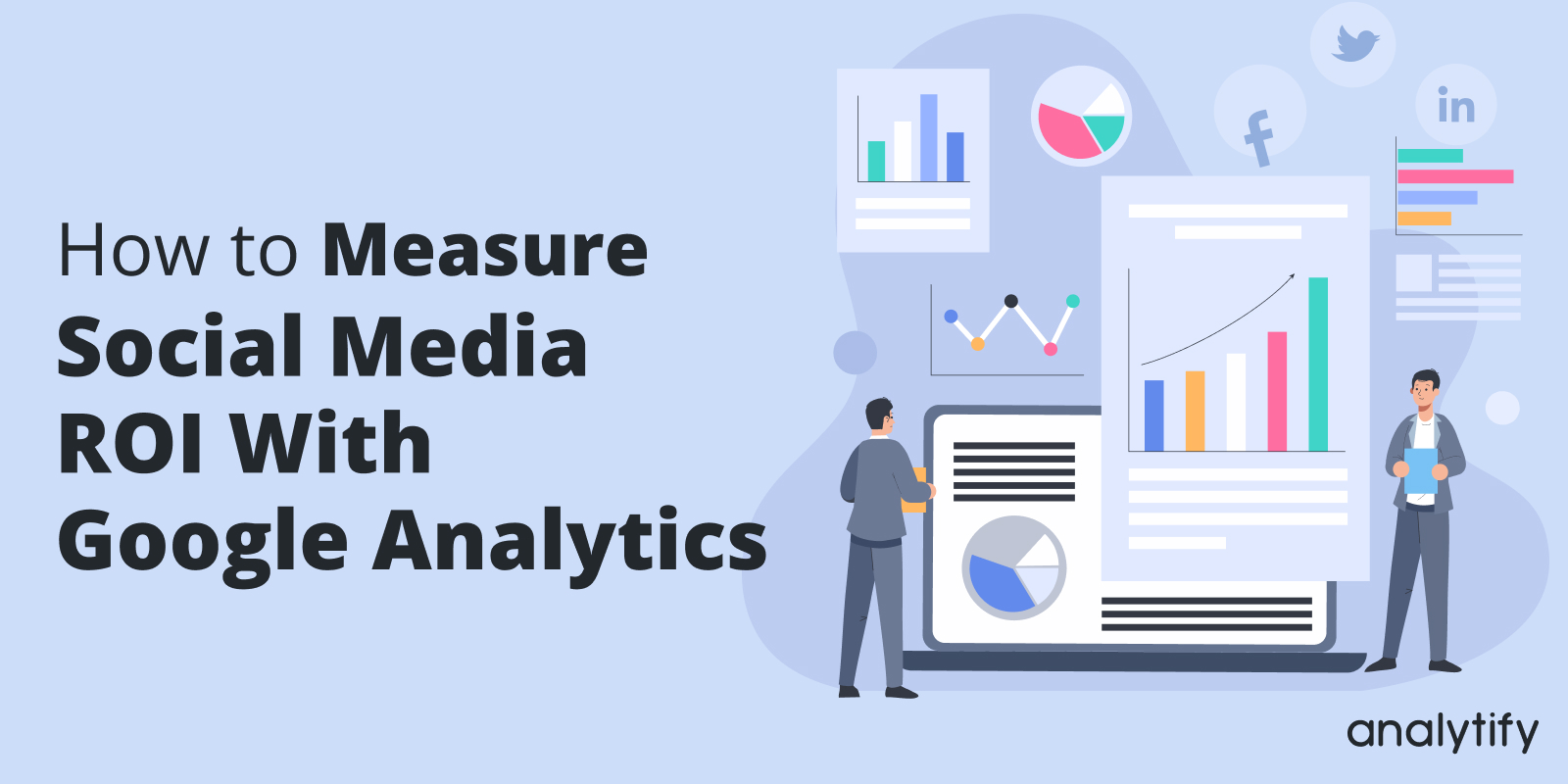 How to Measure Social Media ROI With Google Analytics (2023)
Do you run social media campaigns and want to know how to measure social media ROI?
Businesses need to track the outcomes and ROI of social media campaigns because they need to understand the return on the resources and budget invested in these campaigns.
In this article, we'll discuss how to measure social media ROI with Google Analytics.
Table of Content
What's Social Media ROI?
Let's start with the definition – Social Media ROI is the collective outcome of all activities you carry out to promote your business on social media platforms.
The idea behind ROI calculation is to find out the resources and time you invested in these campaigns and the goals these campaigns achieved for your business.
Why Should You Measure Social Media ROI?
Measuring social media ROI is all about working with data collected through several tools, including the native social media performance measurement tools such as Facebook Insights and additional tools such as Google Analytics.
Here are two reasons why you should invest time and effort in this activity
Social media campaigns affect the sales and revenue of the business. Therefore, you should clearly know the share of these campaigns in the total business revenue.
Social media campaigns consume business resources. By measuring the ROI of these campaigns, you can better plan resource allocation for these campaigns.
Metrics for Social Media ROI
When discussing how to measure social media ROI, the discussion should start with the metrics for the campaign.
In general, you can measure the performance of a social media campaign against these metrics:
Brand Awareness
Social media platforms are perfect for spreading the word about your brand. The number of likes, shares, and comments you receive on your social media posts directly indicates the brand's social media footprint.
When measuring the ROI in the context of brand awareness, you need to make sure you can separate earned (generated through the efforts of your followers) vs. owned (generated through your efforts) traffic.
By separating the social traffic in these two groups, you can discover the type of content your followers like to consume.
While Google Analytics might not measure the likes and shares of social media content, it can track the traffic generated by these activities.
Driving Traffic to Your Website
The second set of metrics deals with the traffic on your website as a result of social media campaigns.
Google Analytics is an excellent tool for this purpose and can accurately track the traffic coming from social media platforms.
Conversion
Like all digital marketing campaigns, the ultimate objective of all social media campaigns is to generate conversions for the business.
The challenge here is the challenge of assisted conversions that happen after several interactions. Unfortunately, it is often difficult to track these conversions because the actual conversion occurs after the initial website visit.
Google Analytics can track conversions and display a report of social conversion.
Use UTM To Measure Social Media ROI With Google Analytics
Users share your posts and links on social media platforms, where the content gets likes and comments from other users.
The idea here is to tag the links you share on social media with trackable links (also known as UTM) that pass information to Google Analytics.
UTM is a great way of adding information to your URLs so that Google Analytics can distinguish between the links and help you, deep dive, into the data.
For digital marketers, UTMs are essential for tracking social media ROI through Google Analytics.
The Structure of a UTM
Here's what a typical UTM looks like:
http://www.example.com/sales_page.php?utm_campaign=BFCM&utm_medium=facebook&utm_source=discount1
As you can see, UTM contains several pieces of information that remain intact as the link is shared and re-shared across social media channels. In addition, you can customize the UTM parameters to distinguish the URL from other website URLs and help Google Analytics record the information for further analysis.
How Can You Build UTM for Your Social Media Campaigns
UTM is so prevalent in social media marketing that all popular social media platforms and listening tools offer UTM builders. For instance, you can use UTM builders provided by Facebook, Google, and Analytify.
Each UTM builder works in the same way. You provide the parameters, and the builder offers a UTM you can use in your social media campaigns.
3 Ways You Can Measure Social Media ROI With Google Analytics
Now that you know all the essential facts about how to track social media ROI through Google Analytics, it is time to see how the platform helps you understand the performance of these campaigns.
In essence, Google Analytics helps you answer the following critical questions that determine the success of social media campaigns.
1. How Much Traffic is Social Media Sending to Your Website?
This is the "big picture" question that gives a great start to the social media ROI calculation.
Go to Acquisition and click Channels under All Traffic to see the website's traffic report. In this report, you can see the total website traffic attributed to social media channels. In addition, this report also shows user engagement metrics such as page views and bounce rate.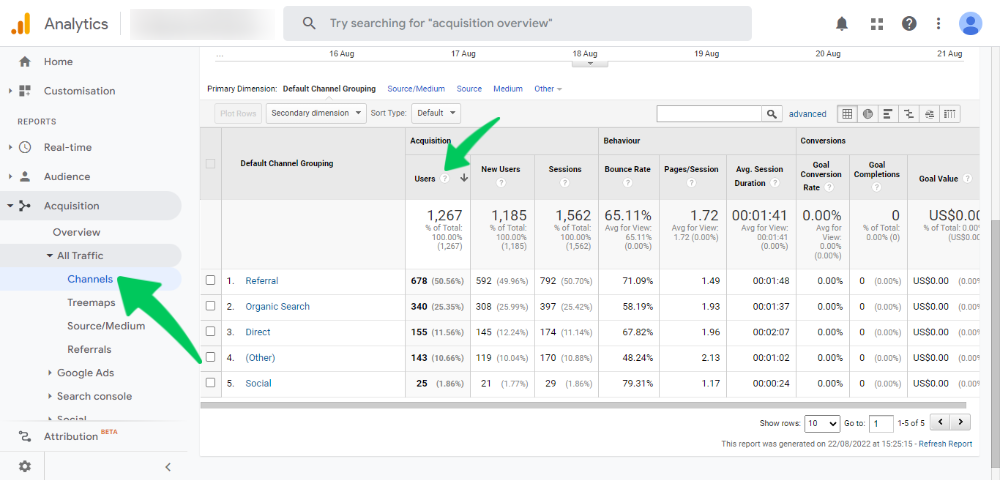 Following this report, you might want to see the share of each social media network in the total social traffic. You can also analyze social media traffic without leaving your website with Analytify.
2. What Specific Networks Are Sending Traffic?
To see the traffic sent by social media networks, simply click Social. You'll be taken to a new report where you can see a breakdown of the social traffic. This report is a great way of determining the effectiveness of social media marketing campaigns.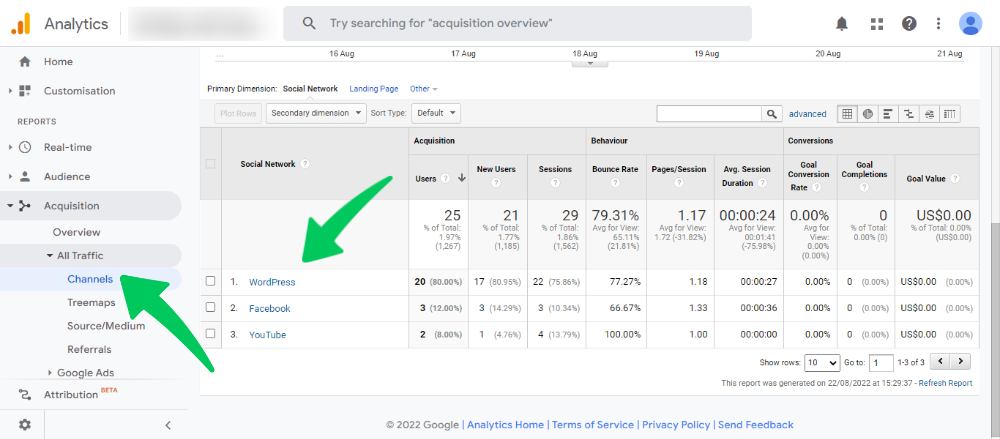 3. Which Website Pages Receive Social Media Traffic?
Often, social media campaigns have the end goal of sending traffic to a website's landing page. Therefore, you want to know how much traffic landed on a particular page from social media platforms.
To find this out, you need to generate the Landing Pages report that shows the breakdown of the traffic landing on the website pages. This report can be found by going to Behavior and clicking Site Content to expand the list. Next, click Landing Pages to see the full report containing all the website's landing pages that received visitors.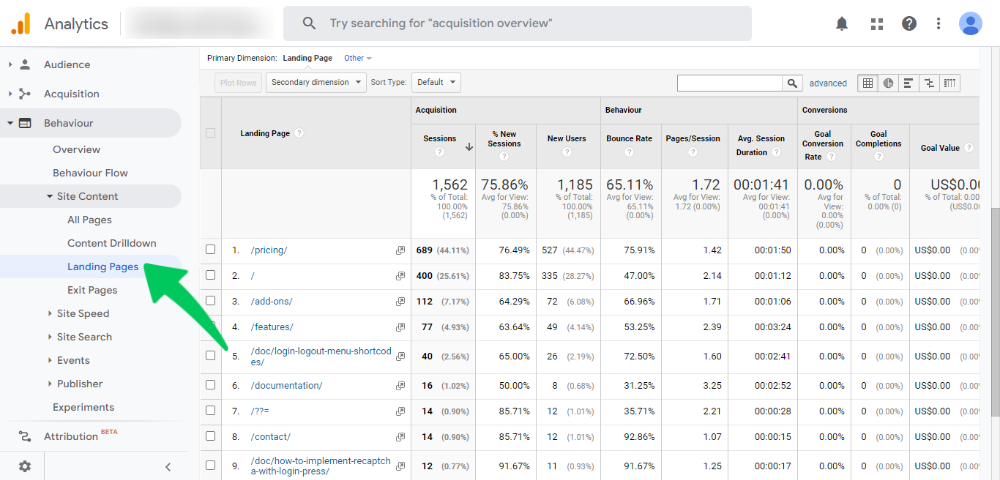 Now, to check the social traffic of a page, click its URL. You'll see a new report that contains just one row with the page's URL.
From the Secondary Dimension, choose Source/Medium to discover the traffic coming in from social media platforms.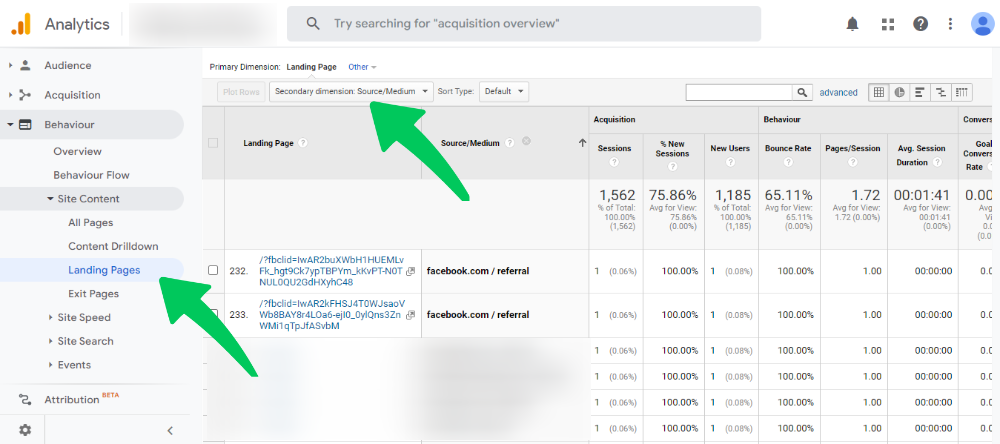 How Analytify Simplifies Social Media ROI Measurement?
Anlyify is a feature-packed Google Analytics dashboard plugin that brings all essential website traffic and user behavior information to your website's dashboard.
When it comes to tracking social media ROI, Analytify allows you to see all relevant information without going through multiple Google Analytics reports. This simplifies ROI measurement and helps you make informed decisions.
See Social Traffic in the Dashboard
The main Analytify dashboard has a dedicated card showing the traffic from social media networks. This information allows you to see the share of the social media networks in the overall website traffic.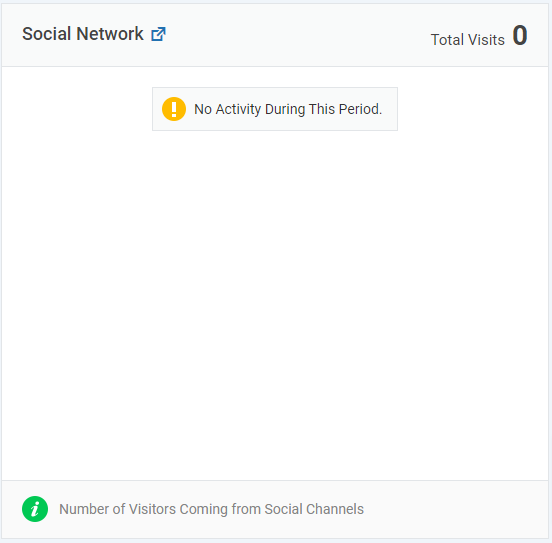 Track UTM Performance
If you use UTM in your social media campaigns (and we strongly recommend that you do), Analytify helps you see the traffic coming in for each campaign in a separate dashboard tab. To see this traffic, go to Analytify Dashboard, and hover over the Acquisition tab. Now, click Campaigns to see the details of the UTM traffic.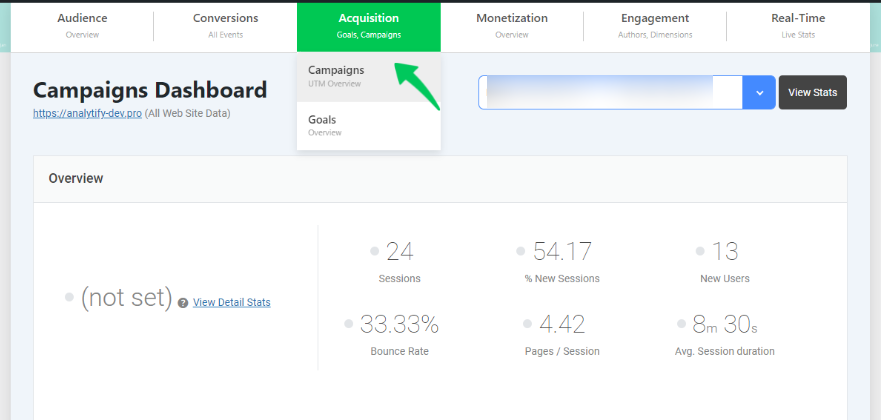 Conclusion: Measuring Social Media ROI
By knowing how to measure social media ROI, digital marketers can easily justify budget spend budgets. While the social media platform reporting tools do a great job of reporting user behavior, marketers rely upon Google Analytics to track the users on the website and find out their interactions and journey.
Let us know how you measure social media ROI with Google Analytics. Meanwhile, you can also check out 10 Facebook Ads Targeting Tips To Skyrocket Your Conversions.
Frequently Ask Questions
Is Google Analytics the Best Tool for Social Listening?
It would help if you combined Google Analytics with a social listening tool so that you can see what users are doing on these platforms and your website.
How often should I check social media ROI?
Ideally, you should include ROI measurements at the end of each campaign. You must make sure you carry out ROI calculations monthly to realign social spend allocation.
Should I create separate landing pages for social media traffic?
That depends upon the objectives of the social media campaigns. For example, you don't need to create new pages if you want to send traffic to the website's main pages. In other cases, you can create dedicated campaign-specific pages optimized for conversion.
That's all! You can also check out All About Google Analytics Events vs Goals (Simple Guide) and How to Track Facebook Ads in Google Analytics 4.
Not using Analytify yet? What are you waiting for?