Print This page
How To Get Started With The Authors Addon?
Would you like to track the performance of your website/blog authors? By tracking the performance of your blog author, you can easily analyze that which author's content is getting more engagement and visitors. With Analytify authors addon you can easily analyze your website/blog author's performance within your WordPress dashboard.
In this guide, we will show you how to enable and use the author addon to track the author's performance.
Note: To enable the Authors addon you have to install and activate the Analytify Pro version on your website.
How To Install & Activate The Authors Addon
To enable the authors addon, you have to perform the following procedure.
Note: After enabling the Authors addon, you have to create a Author dimension for proper author tracking in Google Analytics & Analytify.
1. Go to your WordPress dashboard and navigate to Analytify and click on the Addons.
2. In the Addons window, you will find the Authors Tracking addon, just click on the Activate Add-on button to activate the Authors tracking.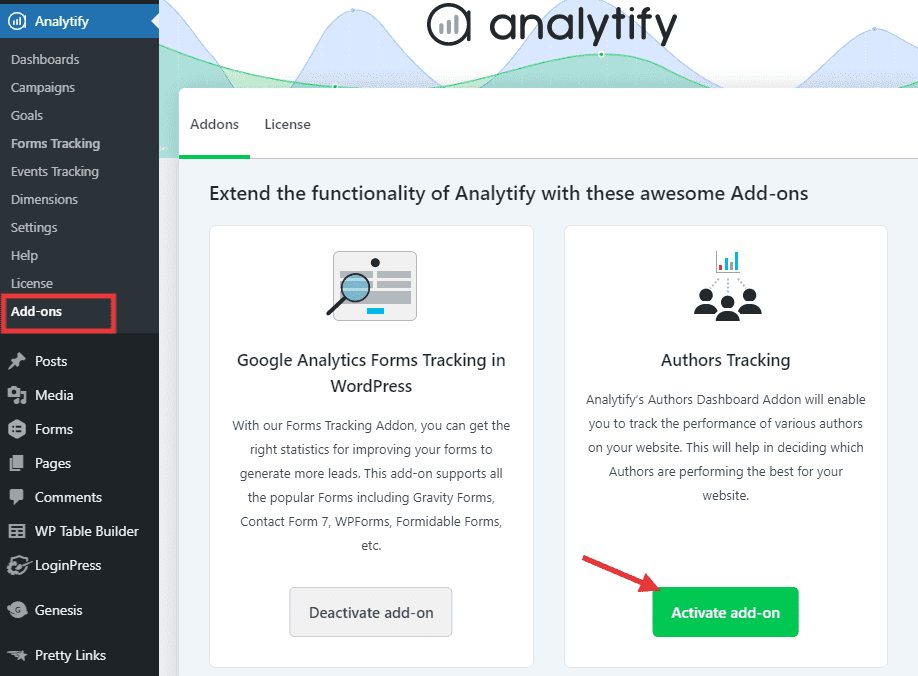 How To View Your Authors Performance In Analytify
To view the author's performance in Analytify, follow the given directions:
1. Go to your WordPress dashboard and navigate to Analytify and click on the Authors Tracking.

Or
2. Navigate to Analytify –> Dashboard –> Engagement and click on the Authors option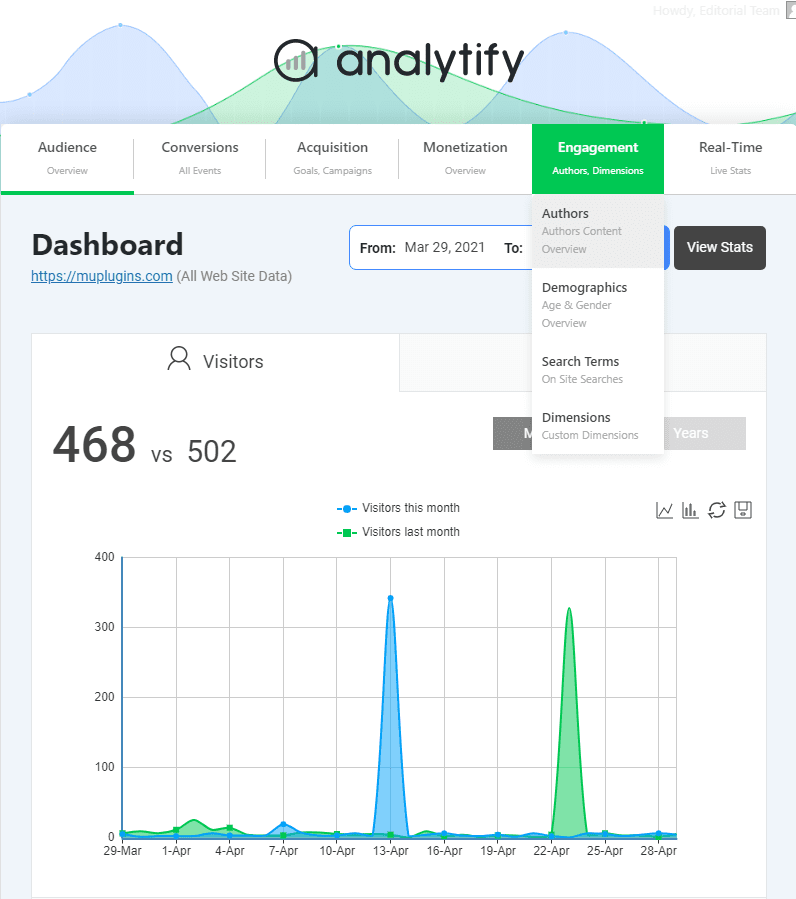 3. Authors Dashboard will open, choose an author from Choose Author to View Stats and select the date range to view the performance and click on the View Stats.
In the Analytify Author's report, you will get the following results about the author's content performance
Post Title

Sessions

Visitors of Posts

Average spend time on the post

Bounce Rate
This is how you can install and enable the authors addon in Analytify and track author's content performance that they have published on your blog.
Check our guide on How to Adjust the Bounce Rate with Analytify with this guide you can easily adjust or manage your website/blog bounce rate.
Last updated on June 23rd, 2021